Robert Johnson playing major role in Indiana's success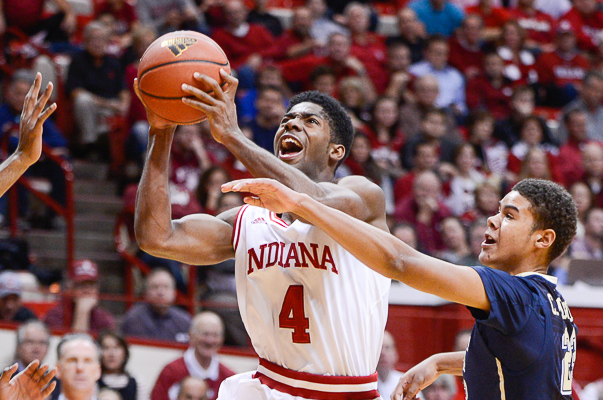 From the time he was recruited to Indiana, Robert Johnson knew he would have an immediate role to play for the Hoosiers.
Through seven games of his college career, Johnson has done just that. He has started every game in which he has played, averaging 29.7 minutes per game. He is scoring 11.3 points per game and producing 4.1 rebounds per game, four assists per game and an effective field goal percentage of 60.4. He also was named to the Wayman Tisdale Award Watch List — an award given to the nation's best freshman.
Johnson also is expected to start, once again, for Indiana's game against Savannah State at 7:30 p.m. tonight.
Despite the immediate pressure to succeed, though, Johnson said on Tuesday he is comfortable running the team. It's exactly what he came to Indiana to do.
"I think those are some of the things coach (Tom) Crean talked to me about when he recruited me," Johnson said. "When you come here as a guard you're expected to do multiple things, and he only recruits versatile players. You've got to be able to rebound, drive the ball, dish it out, make smart decisions, just be a complete player."
When Crean recruited Johnson from Benedictine College Preparatory (Va.), he quickly realized what value the 6-foot-3 guard could hold for his program. Playing under coach Ryan Marable, Crean saw Johnson as someone who was tenacious on defense and still had plenty of room to improve. He said the Hoosiers were "very, very fortunate" to have had Johnson join the program.
Marable and Johnson's family were in attendance during his first game as a Hoosier on Nov. 14 against Mississippi Valley State. Johnson, in his debut, scored 15 points, recorded seven rebounds, and had five assists and three steals.
"Robert had a very good week and just continues to improve," Crean said after the game. "His defense continues to be even more tenacious. Because, certainly, we saw that in him when we recruited him and saw his ability for that. I'm excited that he got to play in front of not only his family, but his coach who was in the back. He got to see a product of his work."
Johnson's desire to improve has stemmed simply from the skill on the team. Growing up with three brothers, he said, led to a competitive attitude that has translated on the court. And with Indiana's competitive players in similar positions to Johnson — from Yogi Ferrell to Nick Zeisloft to James Blackmon Jr. — it has led to bringing the best out of himself.
In his short time here already, Crean has noted Johnson has improved especially in playing with his eyes up, playing big despite his size and also playing off the ball.
But what has set Johnson apart on the Hoosiers has not been any of his physical attributes. It's his mental strength.
"Robert needed to be on the floor," Crean said following Indiana's win over Texas Southern. "He makes a lot of things happen. I think a great example tonight, we were trying to get the third foul on No. 1, and we called an action, and he got it isolated and he took it, and he had a path to the rim, but he also had a wide-open player in the corner, and he made the pass. That's maturity. For a guy that scored a lot of points in high school, that's tremendous maturity to give the ball up that way."
It still is early in Johnson's career, however, as a freshman he already is playing a significant role for the Hoosiers. Just this Tuesday he recorded a career-high nine assists in Indiana's win over Pittsburgh to go with 18 points.
Ferrell has praised him for making "great decisions" and being "very poised" on the court. Crean has described Johnson as a "gym rat," as well. Crean also has high hopes for the Richmond, Va., native.
He knows Johnson is capable of long-term success at Indiana.
"James and Rob are being asked a lot and they're capable of that," Crean said. "So, with that will come more growth, just like it does for everybody else on the team."
Filed to: Robert Johnson