The Inside the Hall Mailbag: December 5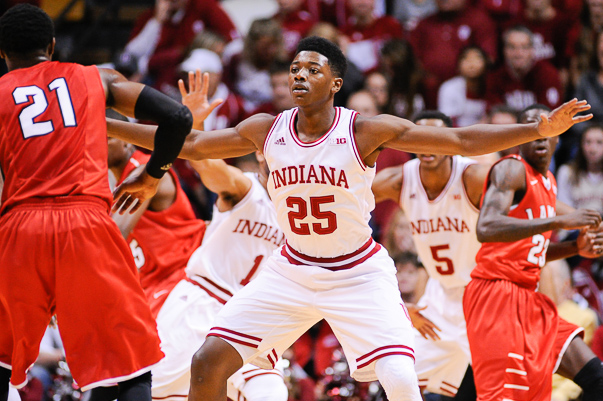 The Inside the Hall Mailbag is a collection of questions tweeted to us via Twitter (@insidethehall), submitted on our premium forum and sent to us via our Facebook page. Submit your questions and we'll answer as many as we can.
TroutyB on the premium forum writes: Given their production lately, could you see either Collin Hartman or Emmitt Holt in the starting lineup at some point this year? If so, who comes out?
I could see it with Holt, but I'm not sure on Hartman because I feel like he's settling into a role and I'm not sure how a move into the starting lineup would disrupt that. Holt certainly looked the part against Pittsburgh, but he's also lacking experience and it was just one game. Will he be able to string together production with consistency? If he's not able to do so, he's in the same boat as Hanner Mosquera-Perea who I assume he would supplant in the starting lineup if a change were to occur. I think Holt is definitely going to be a positive for this team, but I also caution against expecting too much from him after his strong play against Pittsburgh.
As for Hartman, I think so far he's epitomized what Tom Crean has talked about in the past when he references having depth because IU is not experiencing a drop off when he enters the game. If he's excelling in his current role, do you make a change when guys like Troy Williams and Robert Johnson are also playing well? I don't believe so. I like Hartman as a guy who can come in off the bench and provide energy, rebound, defend and drop in a perimeter shot when he's open. — Alex Bozich
@TheLucasCorley on Twitter writes: If IU wins the big games but loses against weaker opponents, how does that look to selection committee at end of season?
The Eastern Washington loss was certainly a setback for Indiana, but it's not going to make or break this team's NCAA tournament chances in my view. The Eagles have a legitimate shot to win their league and are by no means a complete bottom feeder in the computer numbers. Essentially what IU must do now is take care of the rest of the guarantee games on its non-conference schedule and at least win one and ideally, two, of the Louisville, Butler, Georgetown games to be in decent position when Big Ten play begins. Going into the season, I thought 10-3 going into conference play would give the Hoosiers a solid shot going into conference play and the possibility still exists.
However, I think IU's fate is ultimately going to be decided by how it fares in the Big Ten. The Hoosiers are going to have to protect homecourt as best they can and try to win more than just two league road games, which was a major reason last year's team finished 7-11 in the conference standings. So to answer your question, IU probably needs to go 10-3 in non-conference play and then at least .500 in league play to feel good about its chances. I think finishing at .500 or better in a Big Ten that looks brutal in the middle would negate the committee's feelings about a loss to Eastern Washington in November. — Alex Bozich
Zachary Farmer on Facebook writes: Many talk about the "Hanner" epidemic and he is seen as the source of our defensive issues. But nobody asks or talks about the fact Perea is forced out of position. Which brings me to the question: Is the problem much like Tom Pritchard's and D.J. White's (Freshmen year), where they are forced out of place or is it more than just that?
In Crean's system, Perea isn't playing out of position. You can argue that Noah Vonleh or Cody Zeller could have played the four at Indiana because both had some ball skills, but Perea is not a four in this system. He can't defend multiple positions, doesn't run the floor well, he can't handle the ball and he doesn't shoot any 3s. In today's college game, he's not a four.
As to your point of whether he's the source of the defensive issues, I don't think he is, at least not completely. The defense starts on the perimeter and if guys are getting consistently beaten off the dribble, there's very little Perea can do to stop that. Where he does have some culpability is on the defensive boards. Given his size and athleticism, he's got to do a better job of stopping teams in that regard. — Alex Bozich
@BiscuitsNDavey2 on Twitter writes: When do you expect to hear anything on Devin Davis playing this season? Is he even eligible to play next semester?
I don't really have any expectation on when we might hear anything because IU has been quiet on that issue and the updates, at least in an official capacity, have slowed down considerably in recent weeks.
Davis did have this post on Twitter yesterday that seems to indicate that he's progressing well and his presence at recent games suggests he's doing well:
This morning speech therapy and physical training was great. Running and jumping felt to good #readytobeback

— Snacks (@DevDavis15) December 4, 2014
As for the eligibility question, I'm not sure what Davis' academic status has been throughout this process. My understanding is that as long as he's enrolled and in good academic standing with the university, he is eligible to play.
pgwhalen on the premium forum writes: After a solid showing from both Hanner and Emmitt against Pitt, do you see Crean playing them together ever to create more of a traditional frontcourt?
Against an opponent like Louisville where the size discrepancy is going to be a problem, I could see it. But otherwise, probably not with any regularity.
This team is very much built around its perimeter pieces and that's the strength the coaching staff is going to try to utilize. Going with Williams or Hartman at the four provides more versatility in that regard as long as IU's offense is playing well and the defensive boards don't cripple IU's chances to stay competitive. — Alex Bozich
twoturntables on the premium forum writes: You predicted an 8th place Big Ten finish for the Hoosiers before the season started. After seeing our team and the rest of the conference play a few games, would you change your prediction today?
I'd stick with the prediction because I haven't seen anything to suggest that there's much separation in the league besides Wisconsin at the top and Rutgers at the bottom. Every program in the middle has its warts. A prime example is Michigan State, which has been ranked all season, but lost all three of its major non-conference games. I suspect the Spartans have seen the last of the polls for at least a few weeks.
Now, if Indiana's defense continues on the same path (currently 160th nationally), finishing eighth isn't going to be realistic because a major part of winning in the Big Ten is the ability to survive a halfcourt grind where stops, not offense, typically wins. — Alex Bozich
BK39 on the premium forum writes: What Louisville weakness do you foresee IU being able to possibly exploit?
Louisville hasn't been great on offense (28th nationally), which is really their only weakness. The defense is a juggernaut (allowing .84 points per possession), so the best shot for most teams to beat the Cardinals is going to be an off shooting night.
As Luke Winn of SI.com pointed out yesterday, Louisville guard Chris Jones is using a ridiculous amount of possessions (27 percent) for such an inefficient player (92.9 offensive rating), so perhaps the play is to let the guards try to win the game while packing in the paint.
Beyond that, this isn't a good matchup for Indiana. The Cardinals are super physical and dominate the offensive glass, which presents a challenge unlike any this IU team has experienced to this point. — Alex Bozich
OldeHoosier on the premium forum writes: Despite sending all five guys to the boards against Pittsburgh we were still out rebounded by 20% totally and 100% on the offensive boards. What are we going to have to do to improve our rebounding?
I typically ignore raw rebounding numbers as I much prefer offensive rebounding percentage and those numbers for the IU-Pittsburgh game weren't all bad. Yes, Pittsburgh may have had 25 offensive boards to IU's 13, but look at the percentages. IU rebounded 40.6 percent of its misses and Pittsburgh rebounded 52.1 of the 46 (!) shots it missed.
As for how the rebounding improves, there's no easy answer. It just has to remain a focus of improvement by the coaching staff and players. There's no magic wand or elixir that will change anything, but things like boxing out and positioning must remain a focus. There are going to be games that Indiana is going to get beaten badly enough on the glass that it's the difference between a win and a loss and there are going to be games where Indiana's offense will overcome its deficiency on the glass. Like it or not, I think that's reality with this group. — Alex Bozich
Filed to: Twitter Mailbag