Five takeaways from Indiana's win over Pittsburgh
Indiana moved to 6-1 with a comfortable 81-69 win over Pittsburgh in the Big Ten/ACC Challenge on Tuesday night at Assembly Hall. Here's a look at five takeaways from the win over the Panthers:
· This was Indiana's best performance of the season to date: If the Hoosiers are to find success with any consistency this season, last night was a decent blueprint of what needs to occur, sans the poor defensive rebounding. Indiana shot it at a very high rate (59.1 effective field goal percentage), didn't turn it over much (14.1 turnover percentage) and put in strong work on the offensive glass.
The defense wasn't great as Pittsburgh scored 1.08 points per possession, but when Indiana is shooting it so efficiently and getting easy baskets (48 points in the paint), the Hoosiers are tough to stop. Last night, Indiana not only got easy baskets at the rim, but also hit timely perimeter shots against a defense that was allowing teams to shoot just over 20 percent on 3s coming into the game.
Here's a look at how Indiana scored last night, via Shot Analytics: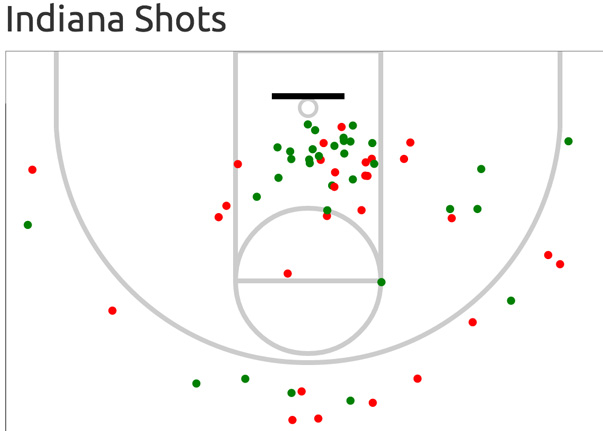 · Emmitt Holt emerges as a legitimate rotation piece: Indiana fans had been clamoring to see more of Holt, a freshman from Webster (NY), and when Hanner Mosquera-Perea picked up two early fouls, he was called into action early. Holt, who is just 6-foot-7 but has a 7-foot-1 wing span, not only held his own, but he changed the game.
There was nothing flashy about Holt's play, but his solid positioning and instincts led to several easy baskets. He finished 6-of-6 from the field and hit three free throws for a career-high 15 points. And even though Pittsburgh still dominated the offensive glass, Holt's length helped change some shots around the rim that may have resulted in more second-chance points for the Panthers.
Like any freshman, Holt will still have plenty of ups and downs as the season rolls along, but his play suggests that Tom Crean won't have to give Mosquera-Perea such a long leash if he isn't playing well. That friendly competition for minutes will be good for both players.
Join DraftKings.com's 1-day fantasy basketball league. Inside The Hall readers will receive FREE entry with their first deposit.
· Indiana's scoring was balanced and survived a couple of off nights: Maybe 13 points will become more of a norm for James Blackmon Jr. come conference play, but entering last night's game, it wasn't. Blackmon Jr. shot just 3-of-8 from the field and came up more than seven short of his season average, but Indiana still managed to pour in 81 points. Yogi Ferrell also struggled to get into the flow of the game because of foul trouble and Indiana's offense didn't struggle as a result, which was unthinkable a season ago.
So how did the Hoosiers survive a less than average night from both guys? Balance.
Robert Johnson scored six points, but took a role as a playmaker and dished out nine assists. Nick Zeisloft came off the bench and scored eight points. Mosquera-Perea converted his offensive opportunities and scored eight points. Troy Williams also got into double figures with 10 and proved once again that he's best suited as a guy who can score from the baseline. And there was also Collin Hartman, who we'll talk about more in a bit, who continued his early season success with seven points.
· Hartman's offseason work paying off: Hartman's offseason got off on the wrong track as he suffered a torn ACL in a workout just after the Big Ten tournament, but he's come back from the injury as a more confident and more complete player. He's really worked on his perimeter shot after showing very little confidence in it as a freshman and is hitting 46.2 percent of his attempts from distance through seven games.
But the scoring almost feels like a bonus with Hartman at this point because he's doing so many other little things. His turnover percentage (3.7) is the lowest among rotation players and he's got five steals, five assists and four blocks despite playing just under 15 minutes per game. Hartman may never be a double figure scorer or even a starter, but he's providing depth and no dropoff when Crean goes to him off the bench, which is a major plus from a guy who is coming off major knee surgery.
· Defensive rebounding is a continuing challenge: It's hard to believe, but Indiana gave up 27 offensive rebounds and still had a lead as big as 23 points in the second half in the win last night. The final offensive rebounding percentage for the Panthers (52.1) is a season-high against the Hoosiers and the only other opponent to eclipse 40 percent, Eastern Washington, came into Assembly Hall and won. The difference last night was that Pitt shot horribly from the field and didn't get to the free throw line.
Figuring out ways to shore up the defensive boards isn't a challenge that will be going away anytime soon for the coaching staff and players. There will be more nights like Tuesday when opponents grab more than 50 percent of their misses and IU loses, but with a young and undersized group, things like positioning and blocking out are areas that still need improvement.
Filed to: Collin Hartman, Emmitt Holt, Pittsburgh Panthers