Five takeaways from Indiana's win over UNC Greensboro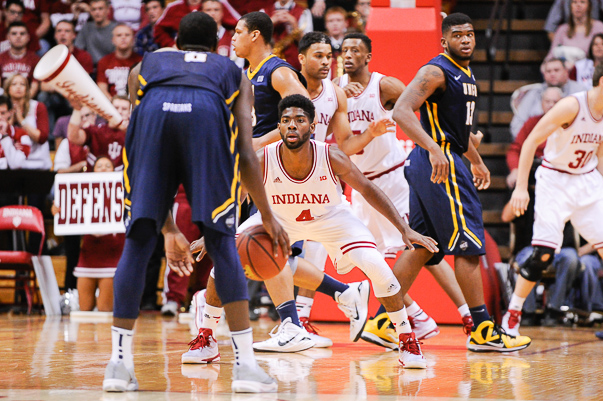 Indiana moved to 5-1 on Friday night with a 87-79 win over UNC Greensboro at Assembly Hall. Here's a look at five takeaways from IU's win over the Spartans:
· Indiana has a long way to go defensively: Despite coming away with the win, the numbers were not pretty for IU's defense. 1.13 points per possession allowed to UNC Greensboro, a team that came into Friday night's game averaging .95 points per trip. The Spartans also posted an effective field goal percentage of 60.3, which was eight percent higher than they'd shot through their first five games.
Rather than struggling to defend the paint, Indiana allowed UNC Greensboro to hit 14 of its 23 attempts from behind the 3-point line. Afterward, Tom Crean shouldered the blame for where this group is defensively at this point.
"I got to take full responsibility," he said. "It's not on the assistants, on nobody else but me to get our communication right. And whatever that's going to take we're going to have to get that right because all it is is calling out who you have and calling out when you switch and calling out when we switch a defense."
· Balanced scoring effort: As poor as Indiana played defensively, its offense continues to put up points at a healthy rate. Through Friday's game, the Hoosiers had the country's 17th best offense according to Ken Pomeroy's ratings and also ranked in the top 15 nationally in both effective and 3-point field goal percentage.
Friday night saw a change in the starting lineup with Troy Williams replacing Nick Zeisloft and all five of IU's starters finished the evening in double figures with James Blackmon Jr.'s 24 points leading the way.
"Offensively we can get shots. Our ball is moving," Crean said. "They were doing a great job of taking away the middle of the floor on the break. So we got the ball into the corners. We were getting what we wanted in that sense.
Join DraftKings.com's 1-day fantasy basketball league. Inside The Hall readers will receive FREE entry with their first deposit.
· Holt shows potential to contribute: After not using him in Monday's 88-86 loss to Eastern Washington, Crean inserted Emmitt Holt for 12 minutes on Friday night and the freshman from New York delivered hustle, rebounding and a couple of blocked shots.
Holt is still going to need time to develop, but the potential is there for him to claim a rotation spot and perhaps push Hanner Mosquera-Perea for minutes as the season rolls along.
"We've got to be much more attentive, much more physical. We just have to," Crean said of his team. "Emmitt brings that. Emmitt will bring that, especially as he gets used to the pace of this game, the speed of this game, the speed of the college game. He's reacting very well. His quickness has improved. He's improved athletically. I thought he played pretty comfortable out there."
· Indiana keeps another opponent off the foul line: As poor as Indiana's defense has been at times through the first six games, there's one encouraging number on that end of the floor: opponents aren't getting to the line against the Hoosiers.
UNC Greensboro was no different as the Spartans posted a free throw rate (defined as free throws attempted divided by field goals attempted) of just 11.1 percent. Through six games, Indiana is allowing an opponent free throw rate of just 24.1 percent, which ranks 10th nationally. The only team to post a free throw rate of more than 29 percent against IU so far was Eastern Washington.
If Indiana is able to tighten things up defensively and develop some consistency, keeping opponents off the foul line could prove pivotal, particularly with a thin frontcourt rotation.
· Mosquera-Perea's inconsistent night: The evening started off well for the Colombia native, who amassed a solid first half line of nine points and five rebounds in 11 minutes. But by the end of the evening, Mosquera-Perea would tally just one more point and one more rebound in 12 additional minutes of action, which caught the eye of Crean.
"I said to Hanner, 'you can't get one point, one rebound.'Be aggressive, play the way we need to play," Crean said. "That's why it's a process with Hanner. Everything is about building up, becoming more consistent. The moment Hanner thinks he's arrived at some point, he hasn't. He has to keep building it up. He's got to have a hunger."
Indiana is asking a lot of Mosquera-Perea, but his rebounding (or lack thereof) to this point is a concern. Offensively, he doesn't have to bring much because the Hoosiers have plenty of weapons, but 4.7 rebounds per game isn't going to get it done in the long term. And with six games already in the books and a rough slate of non-conference games quickly approaching, the time for Mosquera-Perea to bring more has arrived.
Filed to: UNC Greensboro Spartans