What to Expect: UNC Greensboro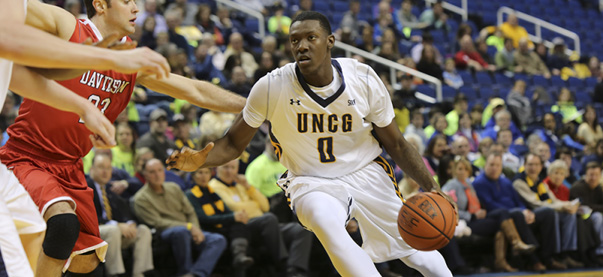 After nearly a four-day break between games, Indiana resumes its 2014-2015 season tonight at Assembly Hall with UNC Greensboro, a member of the Southern Conference (SoCon).
The game will be broadcast live on the Big Ten Network at 9 p.m. ET with Josh Lewin and Stephen Bardo on the call.
Indiana (4-1) was humbled on Monday evening when Eastern Washington came into Bloomington and upset the Hoosiers, 88-86, ending Indiana's 43-game non conference winning streak in Assembly Hall.
Tonight, the Hoosiers will have their first chance to rebound from the loss with a game against the UNC Greensboro Spartans, who come into Bloomington with a 1-4 record and a lowly No. 302 rank on KenPom.
PERSONNEL
The Spartans have heavily relied on their starters through their first five games this season as bench players have played a total of just 22.9 percent of total minutes. Only 25 other teams in the country have had their bench players play fewer minutes.
That starting lineup consists of three sophomores, one junior and one senior — all of whom are at least averaging 65 percent of UNC Greensboro's minutes this season.
Sophomores Tevon Saddler (a 6-foot-6 guard) and RJ White (a 6-foot-8 forward) are two of the most active Spartans. Saddler (pictured), who chose to return to the program after considering transferring, is averaging a whopping 35 percent assist rate this season and has been directly involved in 34.3 percent of the Spartans' possessions this season — ranking No. 19 in the country. White, meanwhile, is strong on the boards with a 24.4 percent defensive rebound percentage and also has a 4.8 percent steals rate thus far this season.
6-foot guard Clay Byrd rounds out UNC Greensboro's sophomore starters and is playing in 82.4 percent of the Spartans' minutes this season. He also rarely turns the ball over — at just a 3.4 turnover percentage.
6-foot-5 Kayel Locke is the lone usual junior starter for the Spartans and is most effective in getting to the free throw line. 6-foot-7 senior Nicholas Paulos rounds out the UNC Greensboro starting lineup, and he has played in almost all of the team's minutes this season (93.9 percent). He also rarely gets fouled — at just a 1.3 foul rate per every 40 minutes of action.
Other Spartans the Hoosiers should expect to see include 6-foot-8 sophomore Jordy Kuiper and 6-foot-9 junior Ben Dickinson — both of whom are averaging an offensive rebound percentage of above 10.
A QUICK TEMPO-FREE GLANCE
UNC Greensboro has been a middle-of-the-pack team through its first five games in most efficiency ratings, and its 1-4 record certainly does not back up any of its performances thus far. The only win has come against DII team Chowan University — and even then the Spartans only won by 14 points.
What the Spartans do better than average as a team, though, is offensive rebounding. Their 32.9 percent rate ranks No. 137 in the country, and their 49.6 effective field goal percentage also ranks above average at No. 122. Still, as an overall offense, UNC Greensboro averages just .95 points per possession, ranking No. 259 in the country.
On the defensive side, while the Spartans force turnovers (a 21.6 turnover percentage, ranking No. 109) and steals (11.0 percentage, ranking No. 80), overall the defense as a whole struggles. They have allowed 1.06 points per possession to their opponents — 28th worst in the country — and have allowed a 56.8 eFG%, as well.
WHAT IT COMES DOWN TO
Indiana's offense shouldn't have much of a problem with UNC Greensboro. The Spartans struggle to stop the 3 (allowing a 41.5 3-point field goal percentage this season), and given the rate they have allowed opponents to score, the Hoosiers shouldn't have a problem putting points on the board tonight.
Where the Hoosiers might struggle, though, is on the boards once again. Through their past two games, the Hoosiers have allowed 96 points in the paint. And though the Spartans don't necessarily score much inside — just 47.1 percent of their points are 2s — they have capable rebounders and a size advantage that the Hoosiers could once again struggle with.
UNC Greensboro also does not have the 3-point shooting threat that Eastern Washington possessed, however, the Hoosiers will have to find a way to keep the Spartans from making easy baskets in the post if they want to ease their way to a fifth win.
Otherwise, Indiana might have another battle on its hands tonight.
QUICK FACTS ON UNC GREENSBORO
Location: Greensboro, North Carolina
Enrollment: 18,400
Established: 1891
Filed to: UNC Greensboro Spartans