Five takeaways from Indiana's loss to Eastern Washington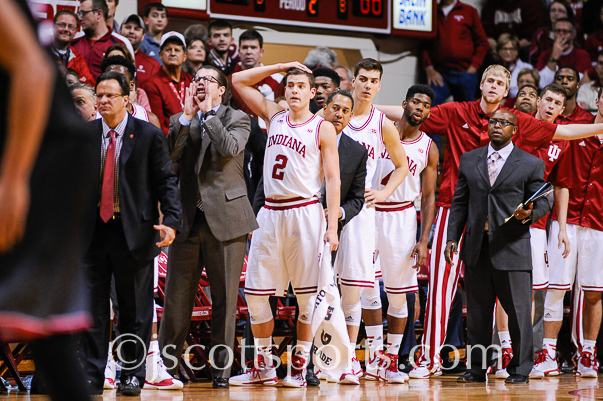 Indiana suffered a disappointing 88-86 loss to Eastern Washington on Monday night at Assembly Hall. Here's a look at five takeaways from the loss to the Eagles:
· Defense fails Indiana throughout: Aside from a strong start when the Hoosiers went up 14-2, Indiana's defense was simply poor across the board. Eastern Washington, a team that was relying more on the 3-pointer than any other school in the country, scored 48 points in the paint and 1.18 points per possession against the Hoosiers.
The Eagles scored off of drives, put backs and even grabbing a 78-75 lead late, the Hoosiers simply couldn't stop the trio of Venky Jois, Tyler Harvey and Drew Brandon from that point on. As good as Indiana's offense has looked early on, its defense has a long, long way to go.
· Indiana has no post presence right now: Junior Hanner Mosquera-Perea is improved, but he's simply not to the point where he can be counted on to produce consistently. Over his last three games, Mosquera-Perea has a total of five rebounds and he's done little to stop shot attempts at the rim.
As a result, Tom Crean has been using guards to defend the post, which isn't working either. So what's the solution?
There's no easy answer to that question. Indiana has to continue playing Mosquera-Perea and also try to get freshman Emmitt Holt into the rotation in hopes that by the time that Big Ten play rolls around, there's enough experience there to at least become respectable down low. Indiana was never going to be a team that scored many frontcourt points, but the lack of post defense and rebounding has a chance to truly cripple this team's chances. Through five games, IU's opponents are making 53.2 percent of their 2s, which is simply too high of a percentage.
· Ferrell tries to take over late: For a while late in the game, Indiana looked like the team it put on the floor a season ago offensively. Yogi Ferrell took the offensive burden on his shoulders and attempted to take over while everyone else contributed little else.
Join DraftKings.com's 1-day fantasy basketball league. Inside The Hall readers will receive FREE entry with their first deposit.
It was a tough night for James Blackmon Jr. and Robert Johnson, which is going to happen with freshmen, but Indiana simply has too much perimeter talent to have one guy attempting to take over the game single handedly.
· Turnover numbers regress, but only slightly: Aside from Johnson, who had four turnovers, Indiana didn't do too bad of a job taking care of the ball in the loss. The Hoosiers turned it over 13 times for a turnover percentage of 17.5 and after five games, have a turnover percentage of 17.1, which is in the top 100 nationally.
It's obviously difficult to come out of this loss with much in the way of positives, but with five games under its belt, Indiana is taking care of the ball better.
· This loss just made postseason aspirations even tougher: It's an overreaction to call one loss in November a season-changer, but that's the way many are viewing it. The reason? If IU's defense can't stave off Eastern Washington at home, what will the Hoosiers do away from Assembly Hall or in games against even better competition?
To get into the tournament conversation heading into Big Ten play, Indiana was going to need a couple of strong wins and was also going to need to avoid any missteps. The Hoosiers still have four non-conference games that figure to be tough — Pittsburgh, Louisville, Butler and Georgetown — but last night's loss leaves little room for error and puts even more pressure on a .500 or better record in the Big Ten, which seems like an awfully tall task at this juncture.
Filed to: Eastern Washington Eagles