Eastern Washington's Venky Jois on Indiana's defense: 'They weren't doing anything'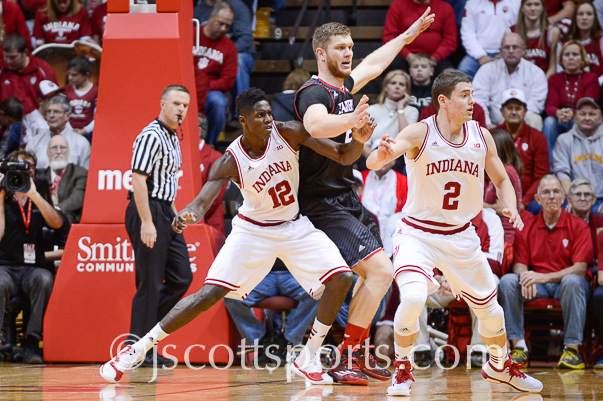 From far outside the Eastern Washington postgame locker room on Monday night, you could hear the screaming and the celebrating.
During his postgame interview, Eagles star Tyler Harvey mouthed to teammate Venky Jois, "Oh my god."
As Eastern Washington (4-1) walked off Branch McCracken Court after their upset over Indiana (4-1), ending the Hoosiers' 43-game non-conference home winning streak, the Eagles could barely even contain themselves. Parker Kelly looked up to Eastern Washington fans and shrugged, as if he could not believe what just happened. Players yelled as they left the court.
All that shock came from the performance the Eagles had against the Hoosiers on Monday night. They had won, 88-86.
"We deserved it," Eastern Washington guard Drew Brandon said. "We work hard every day, and it just felt great to finish with the win."
Indiana, meanwhile, was left reeling. After giving up 48 points in the paint in their win over Lamar on Saturday, the Hoosiers allowed another 48 points in the paint to Eastern Washington on Monday.
Though the Eagles were a very capable team from 3-point range — with 48.5 percent of their points coming from beyond the arc in their first four games — they barely even needed to shoot from behind the arc against the Hoosiers. 75 percent of their 88 points came from inside the paint or from the free throw line.
"Whenever teams want to pick their poison and it just so happens that they pick me, I'm happy," said the 6-foot-8 Jois, who finished with 20 points and 14 rebounds (eight of which were on the offensive end). "It was good because more-so the second half, we got more looks inside.
"They were not double teaming. They weren't doing anything."
Heading into the game, Indiana coach Tom Crean admitted they wanted to stop the Eagles' three-point shooting threat. But with junior Hanner Mosquera-Perea sidelined for much of the game due to poor performance and no other capable post defenders on the court, Eastern Washington quickly exploited the weakness.
The Hoosiers led for much of the game, though, reaching their biggest margin — 12 points — with 15:11 remaining. But Harvey, who came into the game a 47.5 percent 3-point shooter, quickly made two 3-pointers to trim Indiana's lead. The Hoosiers had to respect Eastern Washington from behind the arc, too.
Indiana got back to a nine-point lead with 10:11 left, a 61-52 game. But the Eagles rattled off 14 points — all either from in the paint or at the free throw line — to grab for a 66-65 lead.
"We've got to get better at defending that paint," Crean said following the game. "And we will. … You have to stop that first line of attack much better."
After the teams exchanged baskets through the closing minutes — junior Yogi Ferrell scored 14 of Indiana's final 22 points, and admittedly Eastern Washington coach Jim Hayford said "we didn't have an answer for him" — the Eagles continued to penetrate the paint. They were able to get the knockout punch with less than a minute to go.
On an inside-out play, guard Parker Kelly, who had attempted only one shot in the previous 39 minutes, drained an open three-pointer to put the Eagles up four. Indiana would not see the lead again.
Following the game, Crean praised Eastern Washington by saying its performance is what "attack basketball looks like." It's what Crean wants to see his team get to, offensively, and to be able to stop, defensively — at some point.
But on Monday night, the Hoosiers were unable to do that. And the Big Sky squad came away with a big win.
"Defensively, our communication wasn't there to let that teammate know down the stretch," said Ferrell, who finished with 27 points. "We had guys not communicating in switches and that's how they got to the lane so easily for those couple of late baskets for them. For that, we just didn't do a great job of keeping our chest in front of the ball and stopping penetration."
"We just gotta get out there, play defense. Just tell everybody we'll be OK. Watch film, get in practice and we'll just get back to the basics."
Filed to: Eastern Washington Eagles