What to Expect: Eastern Washington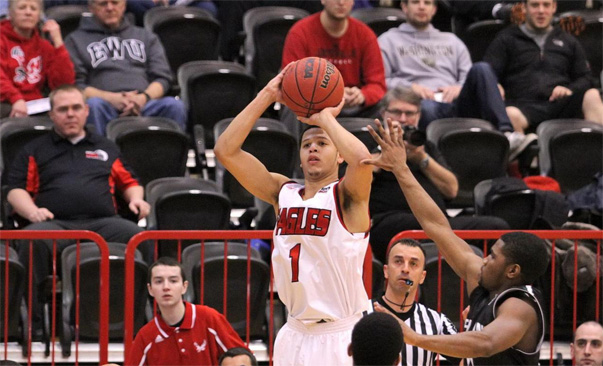 Indiana concludes the four-game "Hoosiers Showcase" tonight in Assembly Hall with a meeting with Eastern Washington, which was picked to finish second in the Big Sky conference by the league's coaches.
The game tips at 7:30 p.m. ET on ESPNews with Mike Couzens and Mark Adams on the call:
If Indiana is going to move to 5-0 on the young season, the Hoosiers will need a much sharper effort than the one produced on Saturday night against Lamar. Eastern Washington, which is 3-1 and is coming off a nine-point loss at SMU, brings its 3-point shooting attack to Bloomington tonight.
It's a game that didn't jump out on the non-conference schedule when it was released, but the Eagles are just outside of the top 150 in the current KenPom ratings. After Saturday's poor defensive performance against Lamar, Indiana will need to be much more engaged against a team that is fully capable of knocking down enough 3-pointers to walk out of Assembly Hall with a win.
PERSONNEL
Junior lefty guard Tyler Harvey (pictured) led the Big Sky in scoring last season at 21.3 points per game and hit 43.3 percent of his 3s and is off to another strong start. Of Harvey's 55 field goal attempts in four games, 40 of them have been 3-pointers. He's knocked down 19 of those shots. Harvey also has an excellent assist-to-turnover ratio (4.5 to 1) early in the season.
Joining Harvey in the backcourt are 6-foot-4 senior guards Parker Kelly and Drew Brandon. Kelly has taken 19 of his 22 shot attempts from behind the 3-point line, so he's another guy that must be marked on the perimeter. Like Harvey, Kelly is hitting north of 47 percent on 3s so far this season. Brandon takes a fair amount of 3s, but is far less efficient than Harvey and Kelly as he hit just 32.6 percent from distance a season ago.
The EWU frontcourt isn't imposing from a size perspective, but it does have a 6-foot-8 presence in Venky Jois who is capable of finishing his attempts around the rim and hitting the glass at both ends. Jois averaged 13.4 points and eight rebounds last season and is making 74 percent of his 2s through four games. Joining him at forward is 6-foot-7 sophomore Ognjen Miljkovic, who has taken 17 of his 22 field goal attempts from behind the 3-point line.
A trio of other forwards — Felix Von Hofe, Kyle Reid and Bogdan Bliznyuk — could see limited minutes. Reid is the best defensive rebounder of the group, but is basically invisible offensively. In Saturday's loss at SMU, coach Jim Hayford played four different guys more than 30 minutes, so unless foul trouble becomes an issue, look for EWU to stick with its starters for the majority of the night.
A QUICK TEMPO-FREE GLANCE
Tom Crean mentioned EWU's ability to knock down 3s in his postgame comments following the win over Lamar and he wasn't exaggerating. Through four games, Eastern Washington has taken 230 field goal attempts and 114 of them have come from behind the 3-point line. They're making a healthy percentage as well (41.4), so this isn't a gimmick team that is chucking 3s without regard. The Eagles can really shoot.
As solid as the offense has been, however, the defense is just 231st nationally in the KenPom ratings. After turning it over 19 times in Assembly Hall, SMU only had 10 turnovers against Eastern Washington on Saturday and also hit close to 50 percent of its field goal attempts.
The sample sizes aren't really enough yet to draw many conclusions, but here's a KenPom comparison of the two teams: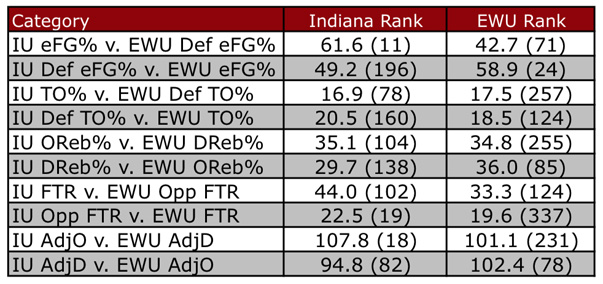 WHAT IT COMES DOWN TO
The line on this game is a bit spread out as Sagarin likes IU by just seven, Pomeroy likes the Hoosiers by 12 and the Vegas number is currently IU by 12.5. This figures to be a game with a lot of 3-point shooting, but Indiana needs to make getting to the foul line a priority in this one as Eastern Washington is truly a team that lives and dies by the 3 and rarely gets to the line.
Indiana was actually a very strong team a season ago at defending the 3 and guys like Yogi Ferrell and Stanford Robinson have shown capable of getting into shooters on the perimeter and forcing them into uncomfortable attempts. But this matchup isn't about one or two guys as EWU is going to fill the floor with three or four guys who can hit attempts from deep, so IU's newcomers are also going to have to show themselves capable of leaving shooters unattended.
The Hoosiers should also be able to find some second chance opportunities in this game as EWU has never been particularly strong on the defensive glass under Hayford. This is a game that Indiana simply can't afford to overlook and after Saturday's defensive performance against Lamar, it'll be interesting to see how this group responds to the challenge of stopping a potential 3-point barrage.
QUICK FACTS ON EASTERN WASHINGTON
Location: Cheney, Washington
Enrollment: 12,791
Established: 1882
Filed to: Eastern Washington Eagles