Five takeaways from Indiana's win over Lamar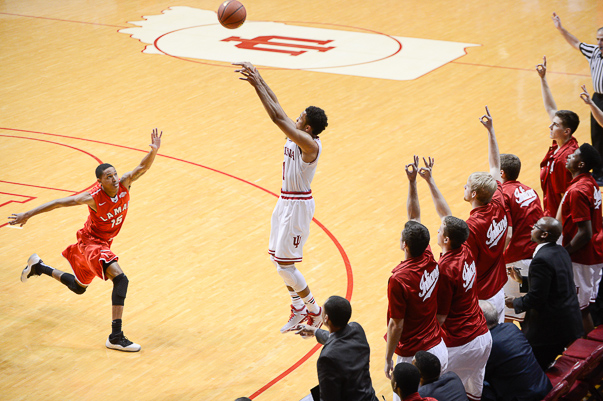 It wasn't the decisive win that was expected, but Indiana moved to 4-0 with a 85-72 win over Lamar on Saturday night in Assembly Hall.
Here's a look at five takeaways from IU's win over the Cardinals:
· IU's defense struggles: Lamar came into Assembly Hall averaging .88 points per possession through its first three games. When the final buzzer sounded on the IU victory, the Cardinals had carved the Hoosiers up to the tune of 1.09 points per trip.
Most concerning from the performance was how easily Lamar was able to score inside. The Cardinals amassed 48 points in the paint and shot 65 percent on their 2s. A majority of the easy looks were the result of poor perimeter defense as Lamar found driving lanes with ease and either took them directly to the rim or dished off when help arrived.
"The bottom line is that we've got to do a better job of containing penetration, understanding scouting report defense and not stepping up on penetration when it comes," Tom Crean said. "I thought we didn't do a very good job of perimeter defense at all when it came to ball pressure in the first half and it came to dribble penetration in the second half, and then we got careless with our step-ups which gave them too many easy baskets."
· Another efficient performance for James Blackmon Jr.: Another game, another strong effort from IU's McDonald's All-American freshman guard. Blackmon Jr. hit six of his 10 field goal attempts, knocked down all four of his free throws and finished with 21 points. He also grabbed six rebounds, a team-high.
Through four games, Blackmon Jr. has knocked down 16 of his 25 attempts from 3-point range, which puts him well ahead of the pace to break Steve Alford's single season record for 3s made in the season (107, 1986-1987).
There will be plenty of nights still to come where Blackmon Jr. goes through the struggles that all freshmen experience, but he's started off his first season in an IU uniform in an impressive fashion.
· Indiana takes care of the ball again: After a shaky first half in which it turned the ball over seven times, Indiana only turned it over twice in the second half and finished the game with a turnover percentage of 13.6. Through four games, the Hoosiers are turning it on just 16.9 percent of their possessions, which is solid progress.
Yogi Ferrell in particular has been impressive over the last two games as he's played 69 minutes, has 10 assists and just one turnover.
"I just want to cut down on the turnovers," Ferrell said. "I feel like the assists will come with shooters like James, Rob (Johnson), Nick (Zeisloft), Max (Hoetzel), guys like that, so if I just cut down the turnovers, make the simple pass to them, just drive and kick, my assist-to-turnover ratio will be really good."
Join DraftKings.com's 1-day fantasy basketball league. Inside The Hall readers will receive FREE entry with their first deposit.
· Holt shows promise in debut: After serving a four-game suspension and then not playing against SMU, freshman forward Emmitt Holt finally made his Indiana debut on Saturday night.
In five minutes, he scored four points and grabbed two rebounds. His first basket was impressive in that he got a steal and then took it all the way to the other end and finished with a layup. As Holt gets more acclimated to the pace and speed of the game, the expectation is that his minutes will increase.
"He gets to the rim, he's got quickness and speed, he's going to be a key guy for us moving forward, especially without Devin (Davis)," Crean said. "Devin covered so much ground defensively for us and with his rebounding and was an excellent guy at position defense and could come off the ball and block shots at his size, and he's got to bring us some of that. It was good to get him out there, and he needs to become a key contributor for us."
· After emotional win over SMU, Indiana had a bit of a letdown: Given the quick turnaround from Thursday's win over SMU and the level of opponent Indiana was facing, it wasn't particularly surprising to see a less engaged IU team. In theory, each game should be taken with the same approach from an intensity and focus standpoint, but that's not reality.
Crean said that he showed his team film of several of the good things they did against SMU and admitted that IU didn't do many of those things well enough against Lamar. Freshman Robert Johnson mentioned that Indiana needs to bring the "intensity and intent" from the beginning of the game.
"You're going to have quick turnarounds like that," Johnson explained. "We've got another one coming Monday, so it's going to be the same thing so you've got to find a way to come out and still find your own and bring intensity from the beginning."
Filed to: Emmitt Holt, James Blackmon Jr., Yogi Ferrell