The Minute After: Lamar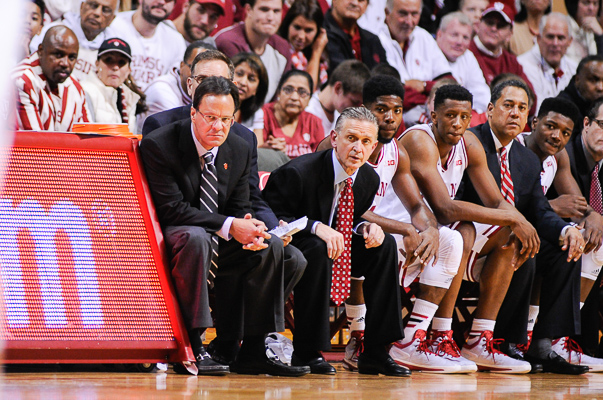 Thoughts on a 85-72 win over Lamar:
I. With 5:09 to go in the first half, Indiana punched the lead out to 17 points (37-20) and looked well on its way to a blowout victory in a game in which it was favored by 30 points. But due to some turnovers and only two points over the final 3:14 of the half, the Hoosiers entered the locker room with only an eight-point advantage.
The second half didn't go much better. An Assembly Hall crowd missing students on break was mostly flat. The Cardinals got as close as seven (77-70) with 3:42 to go before Indiana finally shut the door for good and closed this one out.
So what was the culprit for the sluggish victory? It wasn't the turnover bug, as Indiana only had two in the second half and had a strong turnover percentage of just 13.6. Nor was it an off offensive night, as the Hoosiers shot it pretty well (59.5 eFG%) including a 9-of-20 mark from distance. It also got to the line at a decent clip (41.4 free throw rate) and scored 1.29 points per possession. Had we seen all these numbers without the final score, it would have seemed like Indiana cruised to victory here.
What allowed the Cardinals to stay in this was Indiana's defense. It was one which allowed the Cardinals to score on seven straight possessions at one point in the second half. It was essentially a game of shot-trading after the break. Indiana allowed 48 (!) points in the paint to a Lamar squad that came into the game as the No. 346 offense from an efficiency standpoint, per KenPom. The Cardinals also scored 1.09 points per possession after averaging just .88 entering tonight's contest. Too many times, Indiana let Lamar drive into the paint for scores.
While the Hoosiers should have performed better on defense against a team such as this, some credit is due to Lamar. It played with confidence inside Assembly Hall and got a strong performance from a host of players, including Tyran de Lattibeaudiere (18 points).
Still, this one probably shouldn't have been so close.
II. Emmitt Holt made his Hoosier debut this evening and probably would have had the opportunity for more playing time had Indiana built more of a lead. The freshman only saw five minutes of action but scored four points and snagged two boards. Holt has a lot of length and looked solid in his limited run, which included a nice score in transition. Time will tell how much of the court he'll get over the next few weeks, but for now he appears to be a player that should be able to carve out a rotation role with Devin Davis still sidelined.
Join DraftKings.com's 1-day fantasy basketball league. Inside The Hall readers will receive FREE entry with their first deposit.
III. James Blackmon Jr. continues to be a flat-out shooter. As Shon Morris noted on the TV broadcast, every shot goes up the same with great mechanics, and it feels as if every one of them has a chance of finding the bottom of the net. Blackmon Jr. scored over 20 points (21) for a third time this season and hit 5-of-7 from distance and 4-of-4 from the free throw line. Yogi Ferrell turned the ball over just once in in 33 minutes on his way to 19 points on 7-of-12 shooting. Troy Williams is impressing with his ability to make the smart pass (team-high three assists) and work the baseline for sneaky scores (10 points). Both he and Stanford Robinson — who seemingly can get fouled whenever the heck he wants on the drive (4-of-4 from the line) — haven't skipped a beat since returning to the lineup this week.
Filed to: Lamar Cardinals