What to Expect: SMU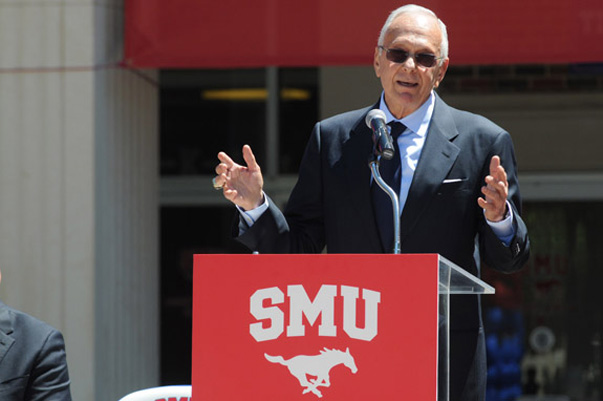 After just two days off, Indiana returns to action on Thursday night at Assembly Hall for a meeting with No. 22 SMU.
The game will tip at 8 p.m. ET on the Big Ten Network with Eric Collins and Jim Jackson on the call:
What was once billed as a marquee non-conference home game for Indiana has lost some of its luster. Southern Methodist University, coached by Hall of Famer Larry Brown, was once thought of as a potential top 10 team this season.
But the Mustangs suffered a season-changing blow in the summer when the nation's No. 2 recruit, Emmanuel Mudiay, headed to China to play professionally, rather than to SMU's campus. The news for SMU hasn't gotten better in recent weeks as last week it was announced that big man Markus Kennedy will miss the first semester for academic reasons.
SMU is still a very solid team that appears plenty capable of making its first NCAA tournament appearance since 1993, but without Mudiay the ceiling for this group is much lower. While it's not the marquee non-conference home game that the IU administration is still searching for after Kentucky fell off the schedule following the 2011-2012 season, it's an early chance for the Hoosiers to get a win that could hold some water come March.
PERSONNEL
With no Mudiay, an even heavier burden has been passed to junior guard Nic Moore, a product of Warsaw and no stranger to basketball in this state. Moore, an Indiana All-Star in 2011, signed with Illinois State out of high school, spent his first season there and was a teammate of Nick Zeisloft. But after Tim Jankovich left Illinois State, Moore followed him to SMU, and his career took off last season.
Moore is on the Wooden Award preseason top 50 and was one of the country's better offensive guards last season. He hit 43.6 percent of his 3s and according to Shot Analytics, he's most dangerous from the left wing, where he hit 51 percent from distance. He's also a very solid distributor (30.5 assist rate last season) and has hit more than 80 percent of his free throw attempts in his career.
Joining Moore in the SMU backcourt are a pair of 6-foot-5 sophomore guards, Ben Emelogu and Keith Frazier. Emelogu spent his freshman season at Virginia Tech and was granted a waiver to play immediately at SMU. Emelogu averaged 10.5 points and 3.1 rebounds and hit 37 percent of his 3s last season as a Hokie.
Frazier, a top 30 RSCI recruit, is another capable perimeter shooter who hit close to 40 percent of his 3s as a freshman. Frazier is particularly dangerous from the right wing (50 percent) and right corner (45 percent) according to Shot Analytics data.
Ryan Manuel and Sterling Brown figure to get the majority of the backup minutes at guard. As a freshman, Brown, who is 6-foot-6, took 50 percent of his field goal attempts at the rim while also shooting better than 40 percent out of both corners on 3s. Manuel, a starter in Brown's first season at SMU, has watched his role diminish as the talent level has increased in the program.
Even without Kennedy, who averaged 12.4 points and 7.1 rebounds last season, SMU has size on its frontline. Senior Yanick Moreira, who is 6-foot-11, is a decent shot blocker who can finish at the rim. And his backup, 6-foot-10 senior Cannen Cunningham, who will see more minutes with Kennedy out, finished 70 percent of his shots at the rim last season.
Sophomore Ben Moore, who starts in the frontcourt alongside Moreira, may be the toughest matchup for Indiana and one that Troy Williams could draw quickly. Through two games, the 6-foot-8 Moore is averaging a team-high 16.5 points and is hitting close to 60 percent of his field goals. He's been very good on the offensive glass with a 17.5 percent offensive rebounding percentage thus far, so he's a guy that Indiana must get a body on.
Xavier transfer Justin Martin, a Lawrence North product, is another guy that can knock down corner 3s and finish at the rim. As a junior at Xavier, Martin finished 60 percent of his shots at the rim and hit 50 3s in 33 games. Martin had 10 points in the loss at Gonzaga but hit just 3-of-8 shots.
TEMPO-FREE PREVIEW
SMU struggled to take care of the ball last season — the Mustangs were 290th nationally in turnover percentage — and while the numbers are slightly better through two games, it's been an issue the past two seasons and bears watching.
Given IU's struggles on the defensive glass through two games, keeping SMU off the offensive glass is going to be a major factor. The Mustangs are rebounding north of 40 percent of their misses through two games and given the athleticism and size that Brown has at his disposal, SMU will be crashing the glass relentlessly looking for second chance points and trips to the foul line.
SMU had a top 20 defense nationally last season, but Gonzaga was able to get free to hit 10 of its 24 attempts from 3 on Monday night. The Zags are also a top 15 team in the country, so it'll be interesting to see how Indiana fares from distance against a team that is more capable of tightening the grips defensively than Mississippi Valley State or Texas Southern.
Pace, particularly who is able to control it, should also be a factor. Through two games, SMU is averaging just over 65 possessions and the Mustangs averaged just under 66 a season ago. Simply put, as we see in the Big Ten every year, being able to execute in the half court when the game slows down is paramount. Indiana is better equipped to do that this season than it was last season because of its shooters, but in a lower possession game, finding quality looks and avoid careless mishaps looms large.
WHAT IT COMES DOWN TO
Indiana hasn't had great crowds early in the season, but with a ranked opponent coming to Assembly Hall and the returns of three suspended players, the atmosphere should be flipped up a notch tomorrow night.
The Moore-Yogi Ferrell matchup is obviously key, but Indiana will also need guys like Robert Johnson, Nick Zeisloft, James Blackmon Jr. and Stanford Robinson to stay out on shooters. SMU isn't a team that heavily relies on the 3-point shot, but it does have the personnel to make teams pay when left open.
Hanner Mosquera-Perea will also be tested for the first time against a pair of players who are both bigger and more experienced. He's done a good job of avoiding fouls through two games, but not only will he have to worry about contesting shots without fouling, IU needs him desperately on the defensive glass.
Indiana also welcomes back two of its more experienced players, Williams and Robinson, and given some of the defensive mishaps the Hoosiers have had early in the season, it'll be important for both guys to come in and make an impact in that area right away.
The KenPom prediction likes Indiana by 5 with a 71 percent chance of victory, and with only five non-conference games that will carry much weight with the selection committee come March, this is a game that Indiana could use to gain confidence and begin building a resume to get into the conversation for the NCAA tournament.
(Photo credit: ParkCitiesPeople/Chris McGathe)
Filed to: Southern Methodist Mustangs