Q & A: On eve of return to Indiana, former coach Mike Davis discusses his past and present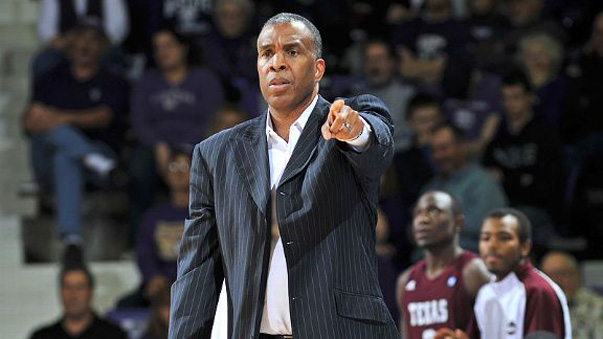 On Thursday evening, as Texas Southern coach Mike Davis spoke on the phone from Cheney, Wash., the Tigers coach said he didn't even want to be playing Eastern Washington the next day in their season opener. He wanted to be in Bloomington.
More than eight years after his departure as Indiana's head coach, Davis is set to make his return to the place he once coached, as his Texas Southern squad faces the Hoosiers on Monday at 6 p.m., as part of the Hoosiers Showcase.
Inside the Hall spoke expansively with Davis — on his time coaching at Indiana, his current situation at Texas Southern and his anticipation surrounding Monday's game. Our full conversation with the former Hoosiers' coach is posted below:
How did the opportunity to play Indiana this season present itself? Is it something you have wanted to do for a while?
I've never thought about it but it was because no one asked me. But I definitely wanted to come back and play a game at Indiana. And a guy called me and asked me do we want to be in the event that they were in, we'd get a chance to play them now. It'll be great for our team and our program.
When you first accepted the invitation, what were your immediate thoughts?
I was excited. A good chance for my older son, he's my assistant coach on my team, and my younger son that is playing ball and hopefully can be recruited one day by Indiana. We homeschooled him so he could get a chance to travel with us a lot. And as I've said before, Indiana gave our family the biggest pure memory that we could ever have, and that was getting an opportunity to coach at Indiana, first of all, and then play for a national championship where our whole family came down — brothers and sisters, cousins and friends — everyone came in to watch us play.
Do you, personally, feel ready for a return to Indiana?
I just think the older you get, you start to appreciate things that really have been good to you. And I really appreciate what they have done for me and for my family. So when the guys called me about the game, I was excited. No way I was going to turn it down. I think I was surprised and shocked. We're just going to go in there — and it's not about winning or losing the game. It's more about us getting the chance to see what big-time basketball is all about.
Obviously, you came in right after Bob Knight was fired. How difficult was the situation you inherited?
The one thing people don't realize was that I was with coach Knight for two or three years and he did a lot for me as a basketball coach. Just the little things that I think a lot of people take for granted, like doing scouting reports. So from a basketball standpoint, I think I was OK. It was just other things that made it a difficult first job at a place like that. Understand that this was really more than just basketball.
What was your favorite memory from your time at Indiana?
My favorite memory was when we beat Kent State. Everybody wanted to fly home that night, all the players wanted to come back. And I wanted to stay there and just kind of enjoy it. But they wanted to fly back. And when we flew back, there were thousands and thousands of people at the airport. When we got to Assembly Hall, the parking lot was just crowded with people. They were just so excited about us going to the Final Four. That was my most fond memory.
Do you have any regrets from your six seasons here?
I don't. Everything was a learning experience for me. It was a process for me. I never thought I would have been at Indiana for 20 years. I never thought that. And I don't have any regrets to be honest with you because, honestly, it was such a great opportunity for me.
Switching gears a bit, last season you led Texas Southern to the NCAA tournament — the third team you've taken to the big dance. How much did you enjoy last season, and how important was Aaric Murray to your team's success?
Well the year before we had won the conference outright but we couldn't go to the NCAA tournament. And then last year we won the tournament. And it was more of the kids trying to do it for me, because that was my third school that I took to the NCAA tournament and the third school that I won the conference with. So it was really more of a celebration for me, from my players.
And Aaric Murray had problems at West Virginia and La Salle, and I thought I turned him around. I thought I got a lot out of him, and he really had one of the best years he ever had in college basketball. He scored 48 points against Temple, and last game of the NCAA tournament he scored 39 points. So he was a success story, and nobody thought that he could play the way he played. Everybody thought he had talent, just could never get it together. And we did that, but we had to do it.
What will be the biggest challenge for Texas Southern this season?
Well, I'm looking forward to it. Two of our starters from last year — they won't be able to play. One (senior forward Jose Rodriguez) is out for the year, and one (senior guard Madarious Gibbs) is out for three weeks. So we'll lose two of our starters from last year. And then we have another kid that won't be able to play — he's still at home — he'll be our starting four or five guy. So right now, we're just trying to get better every day in terms of getting ready for our conference season in January. And playing these games is more of can we go into the arena, concentrate, execute and give a great effort every night.
Do you feel any particular importance for the season opener against Eastern Washington?
It's a lot of travel. We've been flying all day today. Get up and fly out, back and forth across the country. But that's the point of what we do. I've embraced it. Our first 16 games, we have only one home game. It's tough, but I have embraced it, just trying to make sure that our guys stayed focused and they keep working.
How much have you followed Indiana over the years?
I follow them a lot. I follow them a whole lot. I watch a lot of their games. And like I said, my oldest son, Mike, he has friends there and they talk about the games. My youngest son, Antoine, he talks about the games and he still has friends there that he hasn't seen in eight years, I guess.
There was plenty of offseason turmoil surrounding Indiana over the past several months. What are your thoughts on what has been going on?
Well what's the point of Indiana and what a young kid has to understand? When you sign on the paper with Indiana, if you do anything it's going to be highlighted all over the country. They love their program. They love their basketball. So you really have to think about things before you do it when you're part of the program.
How difficult is it to manage guys off the court?
It's almost impossible. What people don't understand is that when you sign a kid who is 18 years old, he is who he is and who he has been for 18 years. And then you're trying to mold him, first of all, into a team guy. And so once he leaves you, you don't know what kind of music he's listening to, you don't know what kind of conversations he's having with his friends, we have no detail what kind of guy he is outside of basketball. So you don't really get a chance, when you talk about recruiting, to spend that much time with them. So there are signs, sometimes, that can tell you what a kid's character is and what he's about. And what he believes is normal for him may not be normal for us. So it's very difficult. You never know.
Do you sympathize with Tom Crean?
Oh yeah, any coach. Any coach. I talk to my guys on a daily basis, because where I am, you may not hear about some things that our guys are doing. But I know that they have to compete in the real world against other players and other people from all walks of life. It's a challenge that I embrace, as far as trying to teach them and mold them into men and being able to take care of their families. But you get them and you have them for a month or a year or sometimes three or four years, but they've been doing this for 18, 19 years.
Do you anticipate any members of the 2002 Final Four team being in attendance on Monday night?
I hope so. (Tom) Coverdale now, we texted the other day, and he sent me a video of my mom getting out of the car and checking into the hotel for the Final Four and he gave me a video of his senior night when they gave him a standing ovation. It was a really, really, really great time for me to see that. Just to confirm everything that I thought — that the place I coached and the place I'm going back to on Monday gave my family and I some great memories.
How much do you value that 2002 team as the years have passed?
You always think that when you have a team, a lot of times you don't appreciate that team and the effort they gave. You appreciate it, but you don't truly appreciate it until you start coaching other players, other teams, and you realize that they're not giving that same effort. They never come together and make this a real team. That was a real team. Not a great conference team, but it was a real, real, real team. We beat people that we just had no business beating. But we were a real team. Dane Fife, Coverdale, Jared Jeffries, Jarrad Odle, those guys, they made a commitment to do something special for Indiana. That wasn't about me, that wasn't about them, they wanted to do something for Indiana. And that's what made it a real team.
What are you most looking forward to on Monday night?
I just want my kids, both my boys, to be with me and really just enjoy it and give (Indiana) appreciation for what they've done for us. Because I never would have had the UAB job and definitely wouldn't have had the Texas Southern job if I wasn't the head coach at Indiana. If I hadn't played for a national championship. So, you know, I want to be able to enjoy it. Just let the people at Indiana know how much I appreciate them.
Have you thought about the potential crowd response you might get?
It hasn't crossed my mind. I think I may be the only head coach that ever coached at Indiana to go back as an opposing coach, to coach an opposing team, I would think. I don't think anyone else did — I know they've had former players do it but not a former head coach, I don't think. Maybe an assistant coach, but not a former head coach. I just want to show my boys, and thank them. As I look back on it, I just want my two boys, who are old enough now, to really, really appreciate it and enjoy it.
What enjoyment for you will there be in just being back in Assembly Hall?
I can't wait. I can't wait. I wish we weren't even playing at Eastern Washington because I'm ready to get to Bloomington. I went back one year and we played at Butler, but I didn't go to Bloomington. So this will be the first time I'm going back to Assembly Hall. I almost took my son to an elite camp last summer in Indiana, but something came up and I didn't get the chance to make it up there. But we'll get the chance to practice a little bit, get a little shoot around in and shoot in the gym. It will be good for us. It will be good for my family.
(Photo credit: Peter G. Aiken/Getty Images)
Filed to: Mike Davis, Texas Southern Tigers