The Minute After: Mississippi Valley State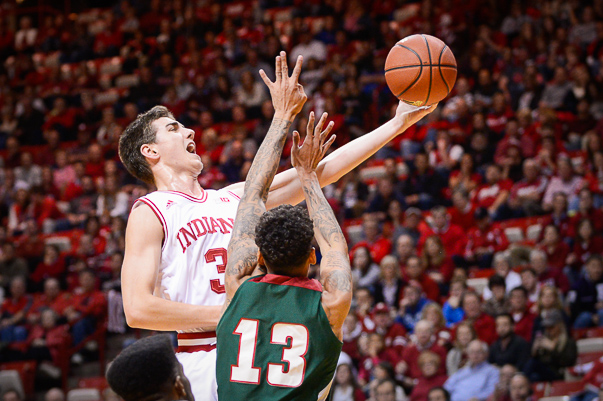 Thoughts on a 116-65 win over the Delta Devils:
I. Indiana showed splendor. The spacing, the ball movement, the shots which all seemed like they were going to fall. The numbers are absurd: 116 points, the most-ever in the Tom Crean era. Eleven made 3-pointers, more than the Hoosiers made in any game a season ago. Five players in double figures (James Blackmon Jr.: 25, Max Hoetzel: 19, Nick Zeisloft: 16, Robert Johnson: 15, Yogi Ferrell: 15). A mark of 1.44 points per possession. An effective field goal percentage of 75.4. An offensive rebounding percentage of 54.5 and a free throw rate (FTA/FGA) of 62.7. They made 27-of-37 from the line.
It's nice and it's fun, but it came against the Mississippi Valley State Delta Devils. This was a David vs. Goliath matchup with Goliath swallowing the opponent whole.
Indiana showed slop, too. In this up-and-down affair, the Hoosiers turned it over on 30 percent of their possessions heading into halftime. They were much cleaner in the second half with just six turnovers, but a 23.5 turnover percentage by game's end is reminiscent of last season and isn't going to be as easily negated when the Hoosiers' shots aren't falling like tonight against better competition.
II. Three games straight of a consistent Hanner Mosquera-Perea. Yet again, he stayed out of foul trouble with just one in 21 minutes. He snagged a career-high 12 boards and just missed a double-double with nine points. (A 3-of-7 mark from the line saw him miss double-digit scoring.) Yes, he was again loose with the ball and a little wild at times, but he knocked down another jumper from the right corner and even had a bucket in the post that started with his back to basket.
We also got to see the debut of Jeremiah April. He hit a contested jumper out of the right corner for his first bucket as a Hoosier. In nine minutes of play, April also grabbed two boards and added a steal, block and an assist. It's a limited sample size, but April appears to not be as big of a project as some other big men in the Crean era — though that's not to say he doesn't have a lot of work to do to find minutes this season despite IU's lack of depth up front.
Join DraftKings.com's 1-day fantasy basketball league. Inside The Hall readers will receive FREE entry with their first deposit.
III. If there's one word to sum up the freshman class early this season, it may be this: confidence. Blackmon and Johnson know what they're doing and go about their business on the court. Hoetzel, though overzealous at times, isn't afraid to attack the rim or shoot the trey. He even was running and initiating the offense late in this one with all of Indiana's ballhandlers done for the night. And Priller and April in limited minutes have met the game head on.
Speaking of Priller …
IV. Let it be known: The Assembly Hall faithful loves Tim Priller. He entered the game to much applause in the second half and quickly went to work — a block followed by a tip-in on the other end. The "Tiii-iiim Prill-er" chant rang down from the rafters. When Indiana faces more worthwhile competition and returns their suspended players, Priller is unlikely to see the floor much. But when he does, the crowd appears primed to go bananas during Priller Time.
Filed to: Mississippi Valley State Delta Devils