Hoosiers 'ready to play' as season opener awaits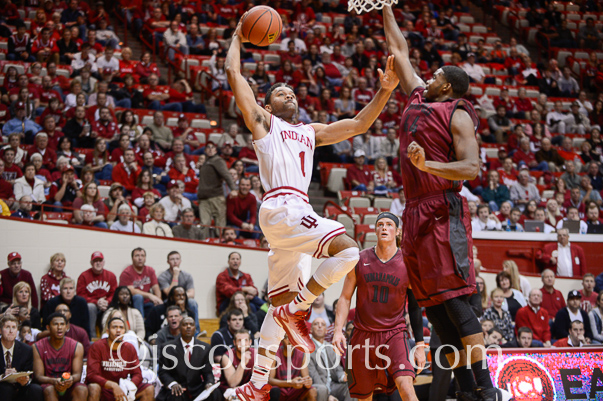 It has been 246 days since Indiana last played an in-season basketball game. 246 days mixed with plenty off-court drama and new, on-court looks. The wait ends tonight.
With a roster that was overhauled over the offseason — nine of the Hoosiers' 15 players this season are new to the squad — the team will take Branch McCracken Court tonight at 7 p.m. for their season opener against Mississippi Valley State.
"I've been so excited to play here," freshman guard James Blackmon Jr. said on Thursday. "So I don't think it came too quick. I've been ready to play these games, so I'm just glad it's here."
In the more than eight months since Indiana played a regular season game at Assembly Hall, plenty has changed. Several players transferred. Newcomers arrived. Others faced legal troubles and suspensions. New opportunities arose.
After two exhibitions against Northwood (Mich.) and Indianapolis, the Hoosiers will have their first chance to make a result count since last March 13, a 64-54 season-ending loss to Illinois in the Big Ten tournament.
Now, the 2014-2015 Hoosiers can make a statement of their own.
"It's just going out there and doing what we did in the exhibition games and picking up from our mistakes," Blackmon said. "In practice, we've been getting a lot better at what we need to do to improve every game, so just go out there and doing that."
"I think the same thing, just focusing on the things that hurt us in the exhibition games and now that it's really the real thing," freshman guard Robert Johnson added. "We have to make sure we get better from those mistakes and not keep making the same ones."
For some, Monday's performance against Indianapolis was a painful reminder of last season's struggles. Against the Greyhounds, the young Hoosiers turned it over on 26.5 of their possessions. In comparison, the Hoosiers' turned the ball over on 25.8 percent of their possessions in their season-ending loss to the Fighting Illini.
As Indiana coach Tom Crean has admitted on several occasions, if the Hoosiers want to play fast, there will be turnovers. It's simply a side effect of the system. But to Crean, there's a tipping point. "You don't want them to be risk adverse," Crean says. Rather, "you want them to make basketball plays."
Last year's squad struggled with that reality — ranking 330th in the nation in turnover percentage. Thus far, Crean is trying to get the message across to this season's group.
"I think this team has adapted real well to knowing that we can't turn the ball over and knowing we have to get up and down the court because we're kind of small," Blackmon said. "I think as we keep getting up and down the court faster, we're a quick team and that's going to help us."
"I think the key is going to be just making the easy play," Johnson added. "I think sometimes as younger players, you sometimes try to make the home run play or the spectacular play. I think the key for us is just making the easy, insider plays."
The Hoosiers will get a quick first test of that patience. Though undersized, Mississippi Valley State showed several defensive wrinkles in their exhibition win against Stillman College, forcing more than 20 turnovers, according to Crean. It also was Crean's first look at first-year Delta Devils coach Andre Payne.
"He mixes up his defenses," Crean said. "A lot of full-court pressure, some three-quarter court, loves to trap at the top of the key, loves to trap in the corners, plays a 2-3 zone with a trap on it and mixes up his coverages on the ball screens."
Tonight's game, though, is just the tip of the iceberg in what is going to be a quick succession of games to start the season — five in the first 11 days. And despite a depleted, still-young Hoosiers squad, there will be a lot to learn over the next several days as they begin the season and move past the prior several months.
"Maybe (there's) a little bit with pressure, but not much," Crean said. "You know, I've tried to get that across to them. It doesn't matter if we're playing six or if we're playing 10. It really doesn't matter right now. We're going to play the win the game, whatever it takes."
Other notes
Freshman center Jeremiah April (ankle) is still limited in practice but is now participating in some contact drills, Crean said on Thursday. Freshman forward Max Hoetzel (shoulder), meanwhile, still could potentially be on a minute-limit tonight despite playing in Monday's win over Indianapolis.
Sophomore Devin Davis was able to attend his sister's basketball game at Warren Central on Thursday night as he continues his recovery and rehabilitation in Indianapolis. Crean mentioned that Davis is working "extremely hard" and that "he's anxious to be back with this team, as this team is anxious to have him back," though Crean did not give any exact timetable on when that might be.
Filed to: James Blackmon Jr., Robert Johnson, Tom Crean