Five takeaways from Indiana's win over the University of Indianapolis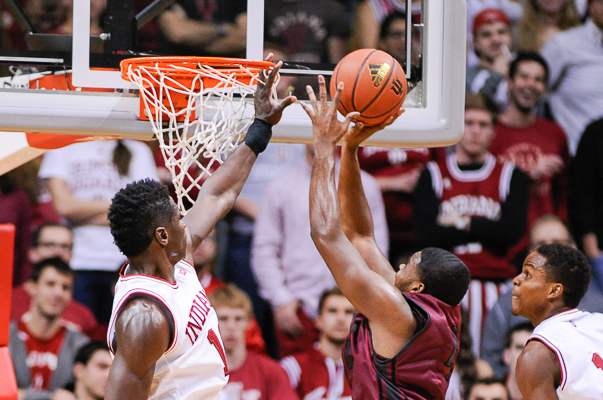 In its final tuneup before Friday's season opener, Indiana beat the University of Indianapolis, a Division II opponent, 76-63, on Monday night at Assembly Hall.
Here's a look at five takeaways from the win:
· Encouraging signs come with plenty of reasons for concern: We'll dive into a couple of these topics a bit more in-depth, but after watch seven exhibition games (five in Montreal, two in Assembly Hall), there's plenty to like about Indiana and there is a lot to be concerned about, too.
On the positive side of things, the ball movement is better, the shooters are better and the potential for improvement in taking care of the ball exists, although we didn't see much of it last night. On the negative side of things, Indiana allowed the University of Indianapolis to rebound 45.8 percent of its misses last night and looked very shaky on defense early on as the Greyhounds built an early 11-point lead.
Should we draw major conclusions from any of these performances? Not quite. But the rebounding is a major concern and that isn't changing give IU's lack of frontcourt depth.
Join DraftKings.com's $1,000 1-day fantasy basketball league. Inside The Hall readers will receive FREE entry with their first deposit.
· A little more on the rebounding: To put UIndy's offensive rebounding performance into some perspective, Indiana allowed just three teams last season to rebound more than 40 percent of their misses. Coincidentally, Indiana won all three of those contests (at Penn State, at Northwestern and Iowa).
The problem, however, with having a major deficiency on the defensive glass is that it's not going to be sustainable against opponents that can disrupt Indiana's offense. Indiana is going to have a difficult enough time generating offensive looks around the basket and if it's allowing opponents to grab offensive rebounds and score second-chance points, the team generating the better looks is typically going to come out on top.
Will the rebounding improve some with Troy Williams, Stanford Robinson and Emmitt Holt added to the mix? It should to an extent. But Indiana is going to need to crash the defensive glass and team rebound to avoid long nights on the boards.
· Robert Johnson does a little bit of everything: The freshman guard from Richmond (Va.) is going to have nights where he struggles with his perimeter shot and he'll have some nights like Monday where he scores in double figures and does so efficiently. Johnson hit all six of his field goal attempts and both of his free throw attempts for 15 points.
But it was Johnson's contributions elsewhere that really stood out. He spent plenty of time at point guard while Yogi Ferrell moved off the ball and turned it over just twice in 35 minutes. Johnson also grabbed 10 rebounds, a team-high, but rather than taking credit, opted to praise his teammates instead.
"Coming to the game was something that we wanted to focus on," he said. "We knew it would be a key for this game and basically a key for the season. Really those guys just made it easy for me. Hanner (Mosquera-Perea) and Collin (Hartman) were going to hit those guys so I just go in and get the ball and clean it up and made it easy to get rebounds."
· Hartman provides spark off the bench: After tearing his ACL in mid-March, it's pretty remarkable that Collin Hartman has already found his way back into the Indiana rotation. But not only was Hartman on the floor on Monday night, he was making an impact. He blocked a pair of shots, picked up a steal, a couple of rebounds and knocked in a pair of 3-pointers in 18 minutes of action.
Hartman only made five field goals as a freshman, but Tom Crean said last night he was recruited more for his work away from the ball than anything else.
"We recruited him — I always remind him of this, we didn't recruit of his shooting ability because I thought it was pretty good," Crean explained. "We didn't recruit him because he's a good young man, though he is. But we recruited him because he moved without the basketball and he could really play and find people."
· At the first sign of adversity, IU didn't panic: Yes, it was a meaningless exhibition game. But given what's transpired in recent weeks, there's tremendous pressure for Indiana to perform. And when the Hoosiers found themselves in a fairly sizable hole early on, there wasn't panic, which has to be viewed as an encouraging sign.
Trailing 28-20, Indiana ripped off 22 straight points to take a comfortable halftime lead and while the Hoosiers were challenged somewhat down the stretch, the result was never really in question.
"What I learned about this team is guys didn't get down," Ferrell said. "New guys especially, they didn't get down at all. We were down by almost 15, and guys kept each other up, pounded each other on the butts and stuff. So I think that is the biggest thing for us is to never get down when people go on runs because the game is all about runs. So if you just know how to overcome those runs, we'll be okay."
Filed to: Collin Hartman, Robert Johnson