Hartman, still in rehabilitation from torn ACL, impresses in Indiana's win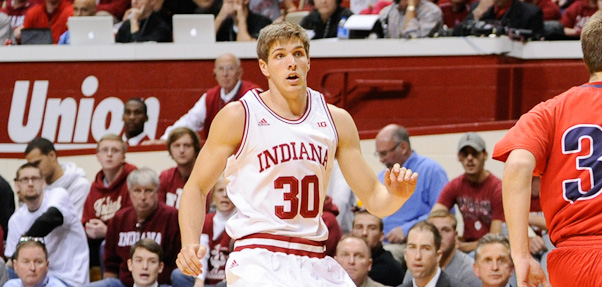 Early in Indiana's 76-63 win over the University of Indianapolis on Monday night, sophomore Collin Hartman was substituted in and received his first look of the evening off a pass from junior Yogi Ferrell.
Without hesitation, the 6-foot-6 forward — donning a heavy brace on his right knee — caught the pass from behind the 3-point arc and shot it. It went in.
Despite not making a single 3-pointer last season, the Indianapolis native, who is still recovering from a torn ACL he suffered in March, finished the game with two, making both of his attempts. In his second game back — and still on a minutes limit — Hartman finished with eight points, two rebounds, two assists, two blocks and one steal in 18 minutes of action.
"He's shooting it with more confidence," Indiana coach Tom Crean said. "But I just liked the fact that he's out there and getting real reps, real game speed, real game action. And frankly, if I had to look at this a couple months ago and say we would have had him for the exhibition games even though the doctors were optimistic, I wouldn't have shared the same optimism.
"But, fortunately, I was wrong, and he's worked really hard, and he wouldn't be out there if he wasn't helping."
Just two days after Indiana's 2013-2014 season ended, Hartman went down with a torn right ACL during a workout. After a freshman season in which Hartman rarely ever played — partaking in 16 of Indiana's 32 total games and averaging 4.5 minutes of action per game — his offseason took a dramatic turn.
Instead of improving on his game over the summer, Hartman found himself having to rehabilitate, with playing time in the 2014-2015 season in question. But as he said on Monday, Hartman's immediate reaction was that of optimism. He planned on being back in time for the start of this season.
"The day that it happened I kept telling myself I'm going to be back for next season because of a six-month period, six-and-a-half months away," he said. "I know it's kind of the early end of it, but the whole mindset I've always had, and these guys have always been telling me 'you can be back, you can be back,' and that's what the staff has been preaching to me. If I'm in there every day and I'm working, then it's a very attainable goal."
Thus began the lengthy rehab process that still is going on. Working with team doctor Steve Ahlfeld and strength and conditioning coach Je'Ney Jackson, Hartman began the road to recovery. He even started working with the "shot doctor," assistant coach Tim Buckley, before practices to help get his shot back.
Though Hartman missed out on the action in the Hoosiers' preseason trip to Montreal, by then he was warming up with the team. And by last Thursday's exhibition, Hartman was the first off the bench for the Hoosiers.
"I'm not really surprised to see him come out there and play the way he did," Ferrell said. "Like he said, he's been shooting with Coach Buck before practice almost every day. I see him out there, and we call him the shot doctor, Coach Bucks. So the shot doctor will get your shot right, that's for sure.
"You've got to have that confidence. He went out there today and showed what he's been doing, and how well he's been doing it."
Despite playing with the knee brace on Monday and on a limited 19 minutes of action, Hartman ran the court and was active on both ends of the floor. He did not hesitate when he had an open shot — he made all three of his attempts from the floor — and he was opportunistic on the defensive side as well — energizing the Assembly Hall crowd with two blocked shots.
Both Ferrell and Crean noted that it seems Hartman is getting his confidence back, but Monday's performance reminded Ferrell of exactly why Hartman was recruited to Indiana in the first place.
"He's kind of looking like his old self a little bit when he played at Cathedral and with the EG10s," Ferrell said. "I think the thing is like I said before, his confidence got up, and I think that is the biggest part. If he just does everything that coach says, he can get out there on the court and definitely contribute for us."
Other notes
Freshman Max Hoetzel, who missed Thursday's exhibition against Northwood due to a shoulder injury, made his debut on Monday night. Playing on a minutes limit, the 6-foot-8 forward recorded 12 minutes of action and scored two points.
The Hoosiers gave up 22 offensive rebounds to the Greyhounds on Monday, allowing them to snag 45.8 percent of their misses. Granted, it was an exhibition game, but it was the worst rate Indiana has allowed since a win over Iowa on Feb. 27 in which the Hawkeyes rebounded 41 percent of their misses.
6-foot-4 freshman Robert Johnson recorded a double-double, scoring 15 points and adding 10 rebounds (nine of which came on the defensive end). In just his second game as a Hoosier, Johnson also went 6-for-6 from the field and recorded three assists on the night.
Filed to: Collin Hartman