Notebook: Hoosiers knock off anxiety in 94-70 exhibition win over Northwood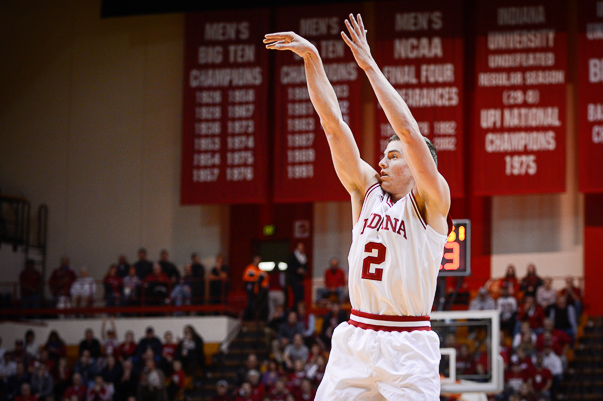 Indiana coach Tom Crean could see it during Wednesday's practice.
His players were "really, really anxious" to play in Thursday's exhibition against Northwood.
After what had been a turbulent six days, the Hoosiers played their first game of the 2014-2015 season with only nine players active, knocking off the Timberwolves by a 94-70 score in Assembly Hall.
"Everybody was anxious to play," Crean said. "I know that. You could really feel it in practice yesterday, that they were really, really anxious to get to the court. I thought they played that way today."
The Hoosiers suffered from a slow start on Thursday evening, trailing 15-8 through the first 6:57 of the game. After a week in which one of their teammates was hospitalized with a traumatic brain injury and the program was placed under scrutiny, the Hoosiers started the game tight.
But as the game progressed, the Hoosiers settled in. Among the positives, despite the lack of size due to suspensions and injuries, they had a plus-seven rebounding margin, shot a 55.3 effective field goal percentage and had only a 13 percent turnover rate — a feat they achieved just once last season.
"The joy of the game was present out there for them tonight," Crean said. "Now they just have something else to go talk about with Devin (Davis). And they'll get ready for practice tomorrow, and the two-a-days we'll take on the weekend and all those type of things and get ready for the next one."
With one game under their belts and the turmoil potentially behind them, junior Hanner Mosquera-Perea (10 points, 12 rebounds) insisted the team is ready to move forward.
"We have been dealing with that stuff, but we cannot let anything really get in between us right now," he said. "We just need to keep being strong, just keep working hard because we have a long season ahead of us."
Zeisloft scores 24 in debut
Just 58 seconds after tipoff on Thursday, junior Nick Zeisloft, who was playing in his first game at Indiana, took his first shot as a Hoosier.
The vaunted 3-point shooter got an open look. He missed badly.
That, however, was not a sign of things to come as the junior transfer from Illinois State eventually went 4-for-8 from beyond the arc, netting 24 points in the Hoosiers' 94-70 win over Northwood.
"I'm not surprised by how he played, and I'm not also surprised that he shot one off the other side of the backboard when he took his first shot," Crean said. "It's a big deal for him to play at Indiana.  It's a big, big deal, and it's a big deal in our mind to have him here because he stands for a lot."
Since the time Zeisloft arrived at Indiana, the former Illinois State captain already has taken on a vocal leadership role. In practice and during Thursday's game, Zeisloft was actively communicating and leading on the court. He also was thrust into an off-court leadership role on Wednesday, when he spoke alone in front of the media in light of the Hoosiers' recent off-court struggles.
But in Crean's opinion, Zeisloft is only scratching the surface of what he can do for Indiana in his upcoming two seasons in Bloomington.
"He's going to become a more all-around player, a more complete player," he said. "I don't have any doubt about it.  That's one of the reasons that I was so excited after I watched all of his film and watched every shot that he took for the entire season and then watched a bunch of game tapes, and you could see that there were places where he did what he had to do for his team at Illinois State, but you could see that there were areas where he could continue to expand, and that's what he's trying to do.
"He's got a great work ethic.  His mindset is excellent. There's a maturity about him. He's getting more and more comfortable in a leadership role here, and obviously the quicker the better."
And as for the open miss early, Zeisloft said he simply had to just "stay with it." He finished as the second-leading scorer on the evening, just behind freshman James Blackmon Jr. (26 points), shooting a 10-of-10 free throw mark and grabbing six defensive rebounds, as well.
"I mean, you've just got to stay with it," he said. "Shooters know that you just got to let the last one kind of go, and you've got to stay with it, and my teammates were great tonight getting in the lane and making passes.  They deserve all the credit for getting me open tonight."
Davis progressing in recovery
Devin Davis's condition is continuing to improve after Saturday morning's accident that left him with a "traumatic brain injury," according to Crean.
During Thursday's postgame press conference, the Hoosiers coach commended the medical team at IU Health Bloomington Hospital for its care of the IU sophomore and said he expects to see Davis to continue to make progress in his recovery.
"The whole medical team, the nurses, the attendants, everybody that's been with him has been fantastic," Crean said. "I can say that on behalf of their family, and he's dealing with some definite issues inside of his head.  We're dealing with a traumatic brain injury is what we're dealing with.
"I'm not going to pretend to be a doctor and get specific on that, but I've not been given anything that leads me to believe that he will not continue to improve, and he's definitely making progress, and every day it's just — it's unbelievable to see it."
Progress, as Crean pointed out, has come in small doses. Davis went for two walks on Wednesday, and Crean called it "a big day." Davis also is undergoing speech and physical therapy, at the moment.
Crean said he and several players planned on visiting Davis in the hospital following Thursday's game and that he has especially been proud of his players for spending time with Davis over the past week, as well.
"We've all been seeing Devin regularly," Zeisloft said. "We've been conversing with him a little bit, and he's been moving forward, and he's going to continue to do that."
Other notes
— Max Hoetzel and Jeremiah April participated in pregame warmups on Thursday, but neither played due to ongoing injury issues. Both are limited to non-contact drills during practice, though Hoetzel (shoulder) is expected to return next week, Crean said. April (ankle), meanwhile, still does not have a timeline for a return.
— Suspended players Troy Williams, Stanford Robinson and Emmitt Holt watched the Hoosiers' win from their locker room, keeping charts throughout the game. They each got 30-45 seconds to speak to the team during halftime, in which they encouraged their teammates to move the ball around more and not allow Northwood any second-chance rebounds.
— The Hoosiers had just five bench points on Thursday — all of them coming in the final 1:30 of the game. Freshman Tim Priller provided the first bench points with 1:29 left in the game with a 3-pointer that banked off the backboard. Just 18 seconds later, freshman walk-on Nate Ritchie added to the total with a two-handed dunk.
Filed to: Devin Davis, Nick Zeisloft, Tom Crean