Notebook: Crean feeling 'tremendous amount' of responsibility for recent struggles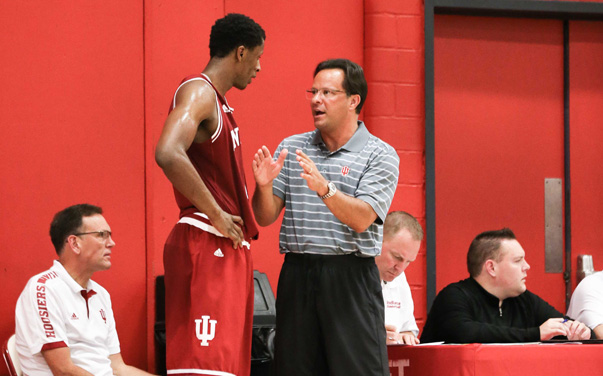 Late in Tom Crean's lengthy press conference on early Wednesday afternoon, the Hoosiers head coach was asked to clarify a comment he made earlier in the press conference regarding how else he would have handled the events of last Friday night.
After more than 40 minutes of speaking on the team's multiple offcourt issues, the coach beginning his seventh season at Indiana paused, holding back emotions, and gave an answer.
"If I could go back and do it again the other night, I would have had them in there until midnight, would have gotten some sleep and then would have come right back in (at 5 a.m.)," Crean said, pausing at times during the answer to contain himself. "And I would have never let them out of my sight. Not sure if that's realistic, but that's what I would have done. Could I do that every night? I don't know, but that's where we're at."
Just after Indiana's practice ended on Friday afternoon — the night of Halloween — Crean spoke to his team for more than 20 minutes on what not to do that night. Hours later, he was in the emergency room at IU Health Bloomington Hospital with sophomore Devin Davis in serious condition and freshman Emmitt Holt scarred, rattled and cited by police.
During Wednesday's press conference, Crean said he feels "a tremendous amount (of responsibility)" for what occurred that night — not because his players did not listen to him after practice but rather that he had to confront Davis' parents in the hospital just after.
"My passion level for what my responsibilities are are as high as they can possibly be," Crean said. "And when it doesn't go right, it's the responsibly that falls on my shoulders. Am I disappointed? There's absolutely no question about that. Am I extremely disappointed for my family, for our coaches, for their families? No question about it.
"But when you do this, you feel the responsibility to the kids. You feel the responsibility to the parents."
As under fire as Crean has been recently, though, he said on Wednesday he will continue to do everything he can to get the team's decision-making to improve and to get his players' immaturity to become maturity.
But he knows the thoughts of late Friday night and early Saturday morning won't leave his head any time soon.
"You are always going to wonder what you could have done better, and that's where the beat-up is because you constantly beat yourself up over that," Crean said. "At the same time, you've got to keep communicating, you've got to keep going with it and you can't stop. You've got to continue to have those people around you that can help you enlist that message the best way possible."
Zeisloft, Crean discuss lack of leadership, maturity
Only having come on campus about four months ago, junior Illinois State transfer Nick Zeisloft spoke alone in front of the media on Wednesday, discussing the events of the past week and the team's perceived lack of leadership.
He refused to say he was "embarrassed or mortified" by the recent events, but he did admit there needs to be change.
"We just need to grow up as men," Zeisloft said. "Yes, being an IU basketball player you have all eyes on you. We understand that from the day we get in here. And we haven't been doing a great job of that."
During Crean's press conference just prior, the Hoosiers coach openly said the team is "not doing a great job in leadership at all," that "it's a growth process and it's certainly not growing fast enough."
"It's got to start at the beginning," Crean said. "Who has the courage and the conviction of their own values that of their friendships to say, no, we're not doing this, no we're not going in there?"
Crean said he has seen a close bond from his players, but it's come in the form of them being "buddies" instead of having true friendships. The difference, he said, is clear.
"At the end of the day, friendships and being buddies are on two different ends of the spectrum," he said. "Because true friendships are like comrades. They're not worried about the popularity of that friendship to get you to not be at the right place. The problem is in this day of age, and where we're sitting right now, we have too many people that are in the same spot. And that's what we've got to continue to outgrow.
"And do I feel a responsibility for that? Can't tell you how much. I really can't."
But perhaps the recent events have struck a chord with the Hoosiers players, Zeisloft suggested. He said watching Davis in the hospital has impacted the team significantly.
"I can see each and every one of my teammates growing up from here on out," he said, "and understanding that being here at IU, is bigger than each and every one of us."
Suspensions include exhibitions because of 'timing'
The reason Holt and sophomores Troy Williams and Stanford Robinson are suspended for four games — including exhibitions — are due to the timing of the suspensions, Crean said.
"It's all about the timing of it, "Crean said. "If it were two weeks from now, it wouldn't be for exhibition games."
According to the IU student-athlete handbook, suspensions begin immediately from the time they are issued, and they include all games. Since Williams' and Robinson's suspensions were given due to events over the summer, and Holt's from Friday night, they will start with the Northwood (Mich.) exhibition on Thursday.
Crean's four-game suspension is just one more than the mandated three-game suspension. However, he also said there is ongoing internal discipline for both Williams and Robinson that started at the beginning of the school year.
First exhibition tomorrow against Northwood, tip at 7 p.m.
With Indiana's first exhibition of the season on Thursday evening against Northwood, the Hoosiers will be without Robinson, Davis, Holt, Williams and freshmen Jeremiah April and Max Hoetzel.
Though the Hoosiers will be limited in personnel, Crean said the team is excited to play — even in spite of all of the off-court buzz surrounding the team at the moment.
"I'm excited about it, to play," Crean said. "I know they are, too. But at the same time, it's not like any of what we're dealing with, with Devin or any of those things, are going to go away. But I think everybody will be excited to play basketball."
Crean noted he does not expect his team — which will include sophomore Collin Hartman, who suffered an ACL injury in March — to be at its best on Thursday but also hopes his players can play the best they can against Northwood.
The Timberwolves have multiple Division I transfers on its squad, as well.
"They're a talented group," Zeisloft said. "They're ready to come in here and put their best show towards us, and we're going to do the same."
Filed to: Nick Zeisloft, Tom Crean