Hulls: IU players must hold each other accountable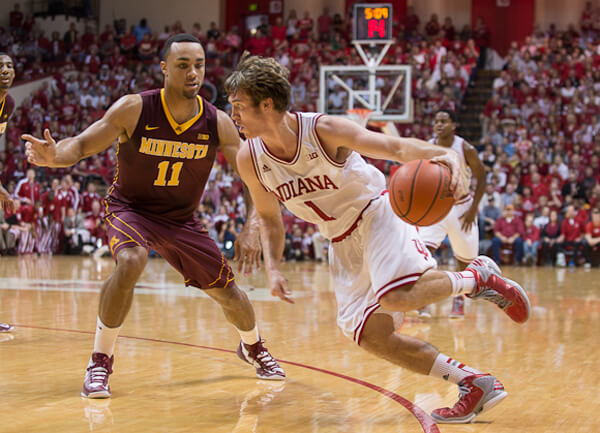 Jordan Hulls may be playing professionally in Kosovo, but he's keeping a close eye on what's going on in Bloomington at his alma mater.
Hulls, who played at Indiana from 2009 to 2013 and was an integral part of the rebuilding process under Tom Crean that ultimately led to the program's first outright Big Ten championship in 20 years, said on Wednesday he understands the fan frustration that's come as a result of recent offcourt issues.
But he also believes that Indiana has the right man in charge to navigate through the issues.
"It's definitely frustrating, I would definitely share that with the fans," Hulls told Inside the Hall. "I'm 100 percent loyal to Coach Crean and I have complete faith that he's going to try and do all of the right things."
Leadership, or lack thereof, has been mentioned as a potential issue since the end of the 2012-2013 season when Hulls, Derek Elston, Victor Oladipo, Christian Watford and Cody Zeller departed Bloomington.
The Bloomington native, who starred in high school at South high school and won the Mr. Basketball Award, says he views leadership a little different than most.
"You've got to hold each other accountable and look out for one another on and off the floor," he said. "Coach Crean can't be there all the time holding their hands. He put them all in dorms. Living off campus, that's a privilege and an honor to be able to do that, but he's trying to do his best and trying to wrangle these guys in. Ultimately it's on the guys to take ownership of the situation and put basketball and school as the priority. That's what they are there for."
The solution, as Hulls sees it, is straight forward.
Accountability, laying ground rules between teammates and communication are three points he hit on multiple times during our conversation.
"I'm not saying that these kids can't go out and have fun," Hulls said. "It's college. I understand that. But you've got to be smart about these kind of things that all of these guys are getting in trouble for. It's simple things."
As for any suggestions that Crean's job should be on the line for the recent actions of his players, Hulls called that notion "ridiculous."
"People don't know what is going on within the program. They're just outsiders looking in. So for them to say that Coach Crean doesn't deserve to coach a game this season is ridiculous. How would that even help the situation, honestly? That's not going to do anything.
"Throwing out those, I don't even know what you'd call them, those rants, I think he's more than deserving of coaching this season and the season's coming as long as things go the way that they can go. Like I said, it's a lot on the players. They're making his job harder right now bringing up all of this off the court stuff. It's happened, it's done with and they've got to attack it."
Filed to: Jordan Hulls, Tom Crean