Indiana fans are hurt and for good reason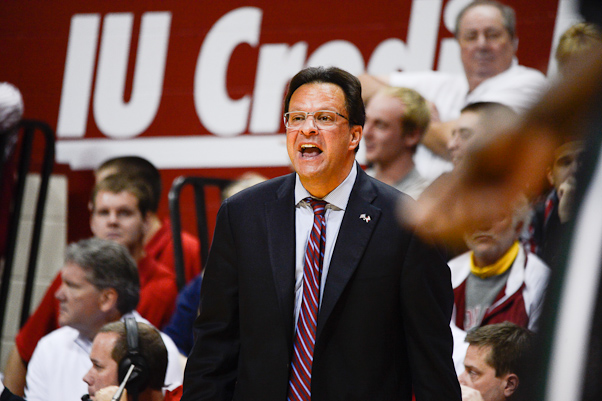 Indiana basketball fans are hurt and they should be. The emotions are wide ranging: There is anger. There is disgust. And there's sadness.
Two days out from the exhibition opener at Assembly Hall, the last 72 hours have been the most tumultuous of the Tom Crean era in Bloomington.
Sophomore Devin Davis should be preparing to show off the game he worked so hard in the offseason to improve. Instead, he remains in IU Health Bloomington Hospital with a serious head injury after a senseless accident that should have never happened.
His teammate, freshman Emmitt Holt, will sit out four games for his involvement in that accident and is unquestionably dealing with emotions stemming from it that make basketball seem unimportant.
Sophomores Stanford Robinson and Troy Williams will also sit four games, two exhibitions and two regular season contests, for failed drug tests. It's totally fair to question if those suspensions were harsh enough, but both players must accept the punishment that comes from their selfish actions.
And then there's Crean, who is ultimately the one responsible for the program as its leader and head coach. While it is true that Crean can't control the behavior of the young men who he has recruited to be a part of his program, he's the one who ultimately has to be responsible for it. He's being questioned from all angles right now and many of those inquiries are totally legitimate.
Start with the punishment for last spring's arrest of Hanner Mosquera-Perea, who sat for just two games after running a vehicle into a curb while intoxicated. Was he punished severely enough by only sitting two games? Some questioned whether he was at the time, but given that it was the first player arrest since Crean took over in the spring of 2008, many were willing to forget and move on.
But after the last three days, no one is forgetting anything that's happened in the last nine months of IU basketball. And when looked at in composite, the view is not pretty.
The questions that need to be answered by those in charge at Indiana is why this has become a pattern and what needs to be done to correct it. Those answers are unclear at this point, but the sooner they are addressed, the better.
The issues clearly extend beyond basketball and truly hit home for many early Saturday morning when it was announced that Davis was in serious condition. Most of what happened last spring had been forgiven up to that point, but that went out the window with what took place in the early morning hours on Saturday.
Many will say that college kids will be college kids, but being a basketball player at IU comes with the responsibility to act as a model citizen and realize the privilege of receiving a free education while simultaneously getting the opportunity to play in front of the country's best fans.
It is not to be taken lightly nor with any sense of entitlement.
The players that came before the current roster clearly understood that responsibility, which is a major reason that Crean was able to lead the program out of an abyss and back to national prominence. There are players on the roster now who understand that, but either aren't in a position to lead just yet or haven't chosen to do so.
Perhaps these last 72 hours can serve as a wakeup call or rallying point that team success requires individual accountability and respect for your teammates. A line in the sand must be drawn.
Ultimately, the season will go on, the games will be played and fans will support the name on the front of the jersey as they always have, even at the lowest of points.
But make no mistake about it: Indiana fans are hurt. As they should be.
Filed to: Tom Crean