Recapping Tom Crean's radio show on Monday night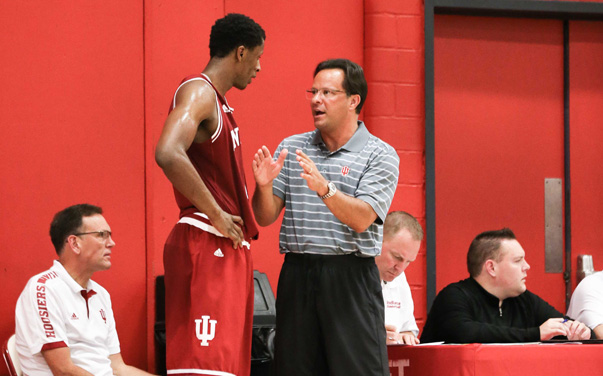 On Monday night at his first radio show of the 2014-2015 season, Indiana coach Tom Crean faced several questions from both host Don Fischer and fans regarding the Hoosiers' multiple off-court issues.
During the hour-long show, Crean addressed the condition of sophomore forward Devin Davis, announced suspensions for freshman Emmitt Holt and sophomores Troy Williams and Stanford Robinson, commented on leadership issues and updated the injury status of several Hoosiers heading into Thursday's exhibition against Northwood.
Davis remains hospitalized
Following Monday night's radio show, Crean said he would immediately return to IU Health Bloomington Hospital to spend time with Davis, who remains hospitalized following Saturday morning's accident in which Davis was hit by a car driven by Holt.
During the show, though, Crean discussed how painful the incident was to him on a personal level — getting visibly emotional on multiple occasions and choking up on air, as well.
"I think our team is hurting big time," Crean said. "We know mistakes are made. But our team is hurting big time."
In the hours leading up to the accident, Crean noted that Davis was the last one off the court following practice on Friday. He said Davis had his best week of practice yet, and that "he was the process of really what we're trying to get accomplished."
And during the first 24 hours following the accident, he described how pivotal every advance in his condition was.
"When we're with him, he's got his memory," Crean said. "He's got his speech. And the other day, it was such a pivotal thing where little steps were milestones."
Davis, though, still has a long way to go, according to Crean. And he said they will deal with his recovery in the weeks and months ahead.
But for the coach with three children of his own, he recalled just how painful that early Saturday morning was.
"You never stop coaching and trying to make them better and wanting them to be successful," Crean said. "And we won't. And that was very hard a couple hours later.
"Nothing, nothing, nothing, nothing, nothing is worse than having to put a family through what I was a part of the other night."
Crean talks discipline as Holt, Robinson and Williams are suspended
Just 15 minutes before the scheduled start of the show, Jeff Goodman of ESPN.com broke the news that Indiana had suspended Robinson and Williams for "failed drug tests."
During Crean's appearance, he confirmed that Robinson and Williams will be suspended four games for their actions, which occurred over the summer. He also revealed that Holt will be suspended four games, too, for his actions on Saturday morning.
"We had a couple guys make bad choices," Crean said. "The rules say that they sit a certain amount of games, I say they sit more."
Indiana's policy for a second failed drug test is a three-game suspension. Holt, Robinson and Williams' suspensions also include the Hoosiers' two exhibitions — meaning the trio will miss the Mississippi Valley State and Texas Southern regular season games.
They will be eligible in time for the early-season game against preseason No. 22 SMU.
"The bottom line is it all comes down to choices," Crean said. "And we try to have an understanding as much as possible that there's punishment and there's discipline. And they're two different things and they both have a very strong value because ultimately what we try to do is change behavior — or build behaviors. Build the right habits and eliminate the bad ones."
When asked following the show about if he has disciplined junior Yogi Ferrell following his arrest in April, Crean said the punishment is over and it was taken care of in-house. During the show, Crean mentioned how there are public and private domains, and that he prefers to keep as much of his matters "in-house as much as possible."
But Crean mentioned how he certainly is not pleased at the moment, and that he still needs to get a message across to his team.
"We've got to get our team to understand that there is nothing normal about being a college athlete," he said. "You don't get to have the same freedoms that maybe others have when you have that responsibility. And we've got to continue to get that across in the most powerful way we can."
Crean admits leadership an issue
During the call portion of the show, Crean was asked how much of an effect there has been of not having three- or four-year experienced players on Indiana's roster anymore — something the Hoosiers had during the successes of the 2011-2012 and 2012-2013 seasons.
"It might play a part of it," Crean said. "But it's not as much as you think it would."
That said, though, Crean did admit the team is "lacking" in leadership, and that it has contributed to some of the off-court difficulties.
"Leadership matters the most when we're not around, when there's nobody of authority around and decisions have to be made that aren't comfortable or easy, teammate-to-teammate," Crean said. "That's leadership and that's probably what we're lacking as much as anything else."
Hoetzel injured, April and Hartman on the mend
Freshman Max Hoetzel was injured in practice last week, Crean said, after getting a slam-dunk attempt blocked in practice by junior Hanner Mosquera-Perea. Crean "wouldn't expect" the forward to play during Thursday night's game unless "something were to really change," as well.
Crean also said that freshman Jeremiah April is "making strides," and that he has started non-contact drills. That said, Crean noted it's "going to take a while" for him to return to full action. Sophomore Collin Hartman is still limited as well, Crean said,"but those limits are coming off more and more."
As of now, the Hoosiers will be without Davis, April, Holt, Hoetzel, Robinson and Williams for Thursday's exhibition opener.
Filed to: Devin Davis, Emmitt Holt, Stanford Robinson, Tom Crean, Troy Williams