Indiana in strong position early with top 2017 in-state prospects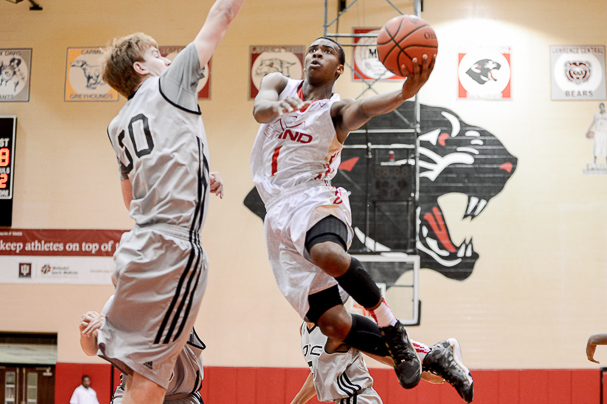 Mike Peterson has traveled a lot to Bloomington over the past couple years. And he knows he will continue to make the hour drive to IU plenty of times in the near future.
As the head coach of the Indy Hoosiers Grind AAU program, perhaps the top 15-and-under team in the nation this past summer, Peterson has had many of his players earn interest from Indiana.
Just this past Saturday, Peterson took several of his players to Bloomington for Hoosier Hysteria. And though it was not their first trip to IU, Peterson said he got the same reaction from his players that he usually gets following a trip to Bloomington.
"I think they all enjoyed going down to Bloomington and seeing that crazy fan support and getting the chance to see the new players and talk to coach (Tom) Crean," Peterson told Inside the Hall on Thursday. "I'm not really hearing anything negative about IU from them. I think coach Crean and coach (Tim) Buckley have almost built like a close family oriented atmosphere with the kids. Everybody knows each other on a first-name basis. We're down there a lot. I think they're very comfortable with IU.
"I think the distance helps. I think the history helps. I think the way the coaching staff allows them to play and not only that, but the biggest thing is when you land in Bloomington, you leave a bigger, stronger, better athlete, better player than when you came. And that's huge."
Before three of Peterson's players even played a game in high school, Crean extended scholarship offers.
Last year, the Hoosiers offered guard Paul Scruggs (Southport) and forwards Kris Wilkes (North Central) and Zach Gunn (Hamilton Southeastern). The trio led the Hoosiers to an undefeated record in 15U AAU action this past summer, including wins in the Under Armour Jayhawk Invitational, Under Armour Invitational and Under Armour's The Finals.
Both Scruggs and Gunn were in attendance Saturday night, and several other Indy Hoosiers with potential IU interest — including Jalen Adaway, Tra Landers and 2018 prospect L'Christian Smith — were also there. And while Peterson noted they all enjoyed the dunk contest and 3-point shootout, his players most enjoyed the 20-minute scrimmage that followed.
"I think once the game was going and you see the freedom but structure that IU plays with," he said, "I think every kid, every recruit wants to have a bit of freedom to showcase their ability but they want to be in structure and have a great fan-base and win. And I think IU provides a lot of those things. There's no place like Bloomington and Assembly Hall and the crazy atmosphere. The fans are great. But I think they really enjoyed the scrimmage more than anything."
Following the event, both Peterson and Crean talked about Scruggs, who said he "loved" his most recent visit to Indiana. The 6-foot-3 guard, who also has a 6-foot-10.5-inch wingspan according to Peterson, is in the process of adding point guard skills to his résumé in addition to perimeter play and increased strength and maturity.
Just this past Thursday, Scruggs gained national recognition by being ranked Scout's No. 23 prospect in the class of 2017.
"Honestly, I don't believe there's 22 people better than Paul," Peterson said.
Scruggs was joined by Wilkes in the top 50, as the 6-foot-7 forward was slotted at No. 15 overall by Scout. Wilkes was unable to attend Hoosier Hysteria due to homework and AAU games the following day, according to Peterson, but he also noted his interest in Indiana is high as he continues to refine his game before his sophomore season.
"He's hitting 3s at a good percentage," Peterson said. "That will bode well for his stock but he still needs to remain his nasty, dominant self near the basket as he improves away from it."
As for how important the two top-25 players are to his squad, Peterson said they're both "invaluable" assets to have.
"They're the heart and soul of our team," he said. "We've faced teams that are stronger than us, bigger than us. But those two guys have always kept us in it."
Peterson also noted that Gunn has been "underrated" as of recently, and that he is "turning the corner," as well.
And though it is still considered early in their recruitments, Peterson did not hesitate as to where he believes Indiana stands in his players' minds.
"At the top, it's close to the top," he said. "They'll all be a factor in the end."
Filed to: Kris Wilkes, Paul Scruggs, Zach Gunn