Hoosiers transitioning from practice to 'game shape'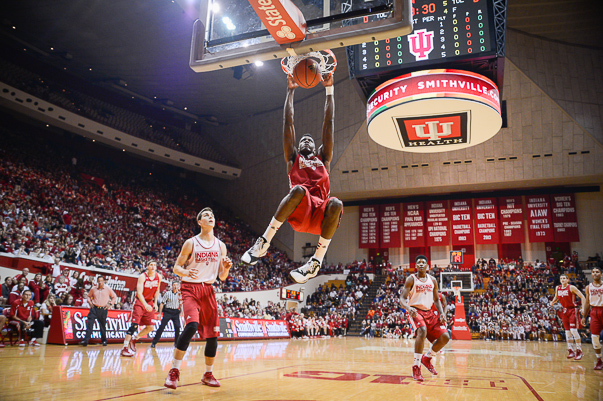 Whether Indiana's 2014-2015 squad is ready or not, the season is fast approaching.
The Hoosiers' first exhibition against Northwood University is now just a week from today, and the season opener against Mississippi Valley State is only two weeks from Friday.
With that time-crunch, Indiana coach Tom Crean said he faces the annual challenge of getting the team into "game shape." But as of last Saturday, Crean said the Hoosiers still have a long way to go.
"I think we have a lot to learn," Crean said following Hoosier Hysteria. "I think we're learning a lot. Like I said to them, right now, we're in practice shape. And we've got to get more and more into game shape. And you only get game shape by being in games and being in multi-scrimmages. And we haven't had a lot of scrimmage situations."
Since the Hoosiers traveled to Canada in August for their five-game exhibition tour, the team has yet to scrimmage at an extensive level. Saturday's Hoosier Hysteria was the longest the team had even scrimmaged this preseason — and that was for just 20 minutes.
Crean said on Saturday that he has spent more time than usual "breaking it down," as this year's squad is behind in their details of in-game speed. With nine newcomers, it is not their fitness that is lacking, however, more of their defensive awareness, Crean said.
"So what happens is it's not the fatigue that shows up real easily, well this guy didn't run hard, or this guy didn't cut hard or this guy didn't have his feet ready," he said. "No, it's the fatigue defensively. It's the fatigue where maybe we're not as vocal, or we don't have our ball-side foot up on the weak side, or we don't have our hands up as much or we're not stunting and stepping, all the little things we're trying to teach."
But Crean has taken encouraging signs from the Montreal trip.
Though he did not have junior Hanner Mosquera-Perea or freshman Emmitt Holt, he called the experience "invaluable" as he has seen carry-over in spacing, ball movement and attacking off the dribble.
That said, Crean said he still wants to see more from his team on defense — something he observed in Canada and has seen carry over into practice.
"I'm watching us come off shooters, and we never do that," Crean said. "That's the one adjustment that we made constantly being in the Big Ten is that you cannot chase the ball in penetration when there's so many good shooters in the league. You've got to defend the shooter. Stop the ball, but defend the shooter. That kind of slippage is there, but we'll work that out."
Nonetheless, with the season fast approaching, Crean noted he will not rush things for this year's team. After all, he said he does not want the team peaking early.
"We've just got to continue to build it up, and the pace will come," Crean said. "And we haven't even put our presses in and things like that yet and we're not trapping yet or trapping ball screens.
"But we've got to continue to build our base before we can start to really extend it. And we're still in right the middle of trying to build the base."
Filed to: Tom Crean