Michael Jordan on Vonleh: "We never thought we'd have an opportunity to get him"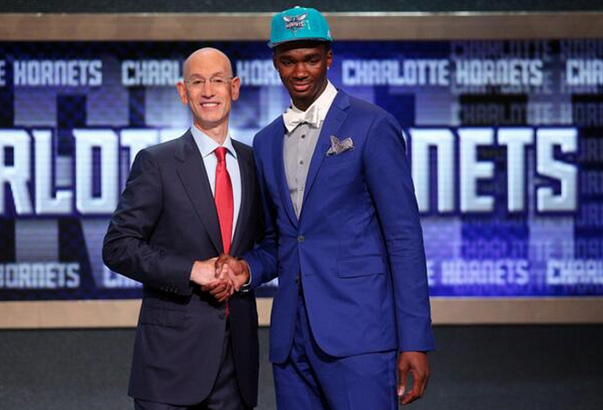 After a one-year stop in Bloomington, Noah Vonleh is set to begin his NBA career as a Charlotte Hornet on Wednesday night against Milwaukee.
Like Cody Zeller, another former IU player drafted by Charlotte, Vonleh enters a unique situation as a rookie selected high in the NBA draft. Most lottery picks are thrown into the mix immediately out of necessity, but Vonleh will be brought along slowly on a team that once again has playoff aspirations.
"I felt very fortunate (to go to Charlotte)," Zeller told Inside the Hall over the summer. "I learned a lot. We have a good group of veteran guys and making it to the playoffs as a rookie was a big opportunity."
The 6-foot-10 Vonleh will join Zeller in Charlotte's frontcourt with hopes of helping the franchise get back to the playoffs. His pro career, however, got off to a slow start as he missed time in the preseason following surgery to repair a sports hernia that he suffered over the summer.
He did return recently to appear in one preseason game and scored four points and grabbed four rebounds in 19 minutes.
"He's got a lot of talent. He's eager and athletic," Hornets coach Steve Clifford told The Charlotte Observer after his preseason debut. "There was a lot of good, a lot of bad (in his first game). Noah was the one guy who could not afford to miss September and October."
While Vonleh is not expected to be in Charlotte's rotation to begin the season, Hornets owner and chairman Michael Jordan said earlier this week that drafting Vonleh at No. 9 in June's draft was an opportunity he didn't believe he would have.
"Vonleh is a big body. A young, 19-year old kid. We never thought we'd have an opportunity to get him," Jordan said. "He kind of fell to us. He has talent that could exceed what everybody's expectations may be. Now, with that comes a lot of work. And the kid has a good head on his shoulders, he loves to work and he picked up some weight and strength this summer.
"The game is going to help him develop. Once he sees how fast the game is, the talent pool, things of that nature, he's going to have his ups and downs. Same thing Cody (Zeller) went through. And there will be stretches where he's going to get it. He's going to provide some signs of what can happen for us in the long run. "
Filed to: Michael Jordan, Noah Vonleh