What to watch for: Hoosier Hysteria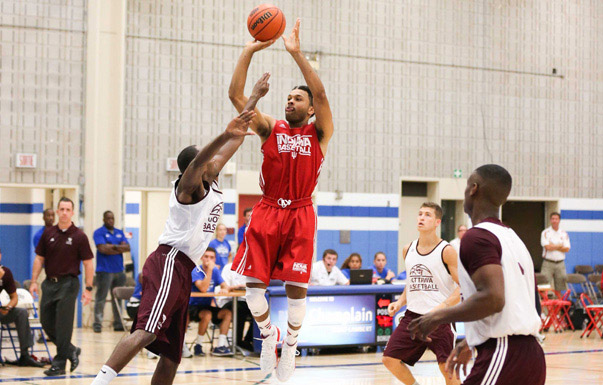 With the 2014 version of Hoosier Hysteria just a day away, the Inside the Hall team looks at three things to watch in Assembly Hall:
· A bigger focus on basketball: Hoosier Hysteria is never short on entertainment and there will be plenty of pyro and bright lights to ensure that element is still present, but you can also expect some enhancements to make the event better from a basketball perspective.
For example, the 3-point shootout is expected to be preceded by shooting drills so that the participants — James Blackmon Jr., Robert Johnson, Yogi Ferrell, Nick Zeisloft, Max Hoetzel and Collin Hartman — are ready and warmed up before any shots go up.
Hysteria is also expected to include a brief scrimmage and a dunk contest. But unlike the last two years where the event seemed to drag on at times, this year's version will focus more on shooting and tightening the script. It will be, we're told, an "ode to fans." — Alex Bozich
· A chance to get a first glimpse at offseason progress and the newcomers: Indiana's trip to Canada in August gave us a sneak preview of what to expect heading into the 2014-2015 season, but neither Emmitt Holt or Hanner Mosquera-Perea made the trek, which still leaves some intrigue heading into Saturday.
Mosquera-Perea will be a player that many are excited to see in live action given the role he's expected to take on as a junior. Will his progress jump out immediately?
The program has also added several high-level shooters like Blackmon Jr., Johnson and Zeisloft, who should help shore up a major deficiency of last year's team. How all three of those guys operate in concert with point guard Yogi Ferrell is a major storyline heading into the season.
There's also the intrigue of getting a glimpse at Troy Williams, who is expected to be thrust into a more prominent role after an offseason of improving his strength, conditioning and perimeter shooting. — Alex Bozich
· A major night for recruiting: Always an event that attracts high-profile recruits to Bloomington, this year's Hoosier Hysteria will welcome several top prospects to Assembly Hall. Both class of 2015 commitments — Juwan Morgan and O.G. Anunoby — will be in attendance, but this year's group of Hoosier Hysteria attendees will feature several top uncommitted prospects, as well.
Leading that list is expected to be three top-100 prospects from Huntington Prep (W.V.), including 6-foot-11 forward Thomas Bryant. Bryant, of course, took an official visit to Indiana last weekend, and the No. 25 prospect in the 2015 class is expected to make his second trip to Bloomington in as many weekends. Joining Bryant will be juniors Miles Bridges and Curtis Jones. Bridges, a 6-foot-6 wing rated No. 23 in the 2016 class, according to the 247Composite, was offered by Indiana this past week. Jones, a 6-foot-3 guard also is expected to attend and the No. 56 prospect received an Indiana offer this week as well.
In addition to both Bridges and Jones, Rawle Alkins, the No. 30 prospect in the class, is expected to attend just a night after going to Villanova's Midnight Madness, and it will be his first visit to Bloomington. 2016 Cathedral guard Eron Gordon also is expected to be in attendance.
The Hoosiers also plan on having top-25 2017 prospect Paul Scruggs in Blomington as well as his AAU teammate Zach Gunn and Fort Wayne Snider big man Malik Williams, among others. And, of course, there is always the possibility of other high-profile prospects showing up, though no names have been confirmed as of yet. Hoosier Hysteria always is an event important for Indiana's recruiting, as it is a showcase of the atmosphere surrounding Hoosiers basketball. And though there might not be any imminent commitments looming, this year's event will have several recruits in attendance that will take Indiana very seriously when making their college decisions. — Jordan Littman
Filed to: Hoosier Hysteria