The Inside the Hall Mailbag: October 21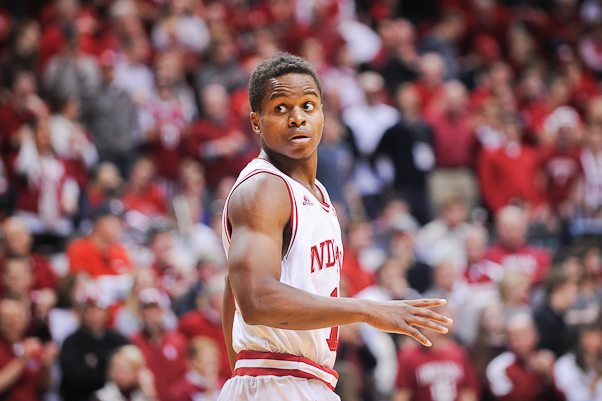 The Inside the Hall Mailbag is a collection of questions tweeted to us via Twitter (@insidethehall), submitted on our premium forum and sent to us via our Facebook page. Submit your questions and we'll answer as many as we can.
hoosiersftw on the premium forum writes: In the opinion of the ITH staff, what are reasonable expectations for this team? An improved B1G record? A return to the NCAA tournament? More?
For this question, I solicited the opinion of ITH co-founder Ryan Corazza as well beat writer Jordan Littman. Corazza: "I think a return to the tourney qualifies as reasonable, which would likely mean an improved Big Ten record." And Littman: "Well firstly, I think a reasonable expectation for this team would be a return to being regarded for its shooting. This year's squad has many more capable shooters than last year's, and multiple in-game scoring droughts last season certainly did not help the Hoosiers. As far as results-based expectations are concerned, though, it's a bit difficult to say as nobody has seen this team in action. And 60 percent of the entire roster has never even played a game in the cream and crimson. That said, though, there always is a pressure for Indiana to make the NCAA tournament, and I think that also is an expectation for this season."
Assuming Indiana improves its Big Ten record, it should be in contention for a NCAA tournament bid. That would mean it would have at least eight conference wins and if you reasonably assume ten non-conference wins, 18 wins (at minimum) going into the Big Ten tournament at least gives the Hoosiers a chance. I think getting back to the NCAA tournament is certainly reasonable to expect. — Alex Bozich
Mike Stepp on Facebook writes: What's the latest status of the Jeremiah April injury? And if healthy what kind of role can we expect him to play this season?
The latest on April, per Tom Crean's comments last week at Big Ten media day in Chicago, is that he remains sidelined with a left ankle injury and could start practicing again around the time of Indiana's first exhibition game, which is early next month.
I think at this point, it's probably best to just table any expectations for April until we see him in some live action, which hasn't happened to this point. — Alex Bozich
Mark on the premium forum writes: Who is our best defensive player, and why? IMHO it is Stan.
I'd go with Yogi Ferrell. Robinson has the potential, but isn't consistent enough from what I've observed. Robinson can be very good on the ball, but there's more to being a good defender than just ball pressure.
Go back and watch the film of Indiana-Michigan last year at Assembly Hall and what Ferrell was able to do to Nik Stauskas and it's tough to argue against him. — Alex Bozich
kmark22 on the premium forum writes: Three things that need to happen for IU to make the NCAA tourney?
I'll get to the point on this one, with the caveat that it was tough to limit this to just three things: 1. Considerable improvement on the turnover issue that derailed last season; 2. Consistent and somewhat productive frontcourt minutes out of Hanner Mosquera-Perea (25 per game); 3. Find a third consistent scorer beyond Ferrell and James Blackmon Jr. Doesn't need to be the same guy every night, but Indiana needs to be balanced. — Alex Bozich
Chad Doerr on Facebook writes: Life-long Fan but first Hoosier Hysteria. Coming with my young boys. Historically, what can we expect regarding entry into Assembly Hall. With it being a free event I'm assuming long lines and first come first serve seating?
Assuming you arrive early, I would expect to wait in line, but generally the lines move fast and folks are able to get to their seats in a timely manner. And yes, the seating is first come, first served. It's a great event to bring children and let them get their first IU basketball experience. Enjoy. — Alex Bozich
dmacer1227 on the premium forum writes: Due to our size (or lack thereof), do you think we will be able to hold our own against B1G opponents if we aren't shooting well?
There are going to be some teams who try to pound the ball inside against Indiana, but this team is going to have to combat that with speed and quickness. Having size isn't necessary to becoming a good defensive team, but playing as a cohesive unit that communicates well is.
I suspect there will be some frustrating nights for IU fans when the Hoosiers face an elite post player that knows how to exploit a mismatch, but if you look around the Big Ten, there aren't exactly a lot of elite post players. This isn't going to be a team that can rely on one or two guys carrying the defense, it has to be a group effort. — Alex Bozich
airnel48 on the premium forum writes: It seems like most experts are picking us to finish 8th-9th in the B1G. What would you say are the absolute best case finish and worst case finish in terms of B1G standings?
I picked Indiana to finish eighth in a set of predictions that BTN.com asked me to participate in, but I could see the Hoosiers finishing as high as fourth or fifth or as low as tenth. Beyond Wisconsin, the league seems wide open and with such an unbalanced schedule, there are going to be several deviations from how the league is being picked in the preseason. There are surprises every year and this one will be no different. — Alex Bozich
Jon Robling on Facebook writes: Will Crean play Hanner and Devin at the same time or do you think that he'll sub them for each other?
I don't see them starting together with any regularity, but I could see them playing together as Davis is certainly a guy you can plug in at the four. Obviously, it would be difficult to play them together for long periods of time just because of the risk of foul trouble, but I don't see any reason why they can't play together, certainly against teams with a lot of frontcourt size. — Alex Bozich
Hoosiers88 on the premium forum writes: Will the freshman (Robert and James) be able to hold their own on perimeter defense in the B1G? Thoughts?
Johnson looks like the better defender of the two so far from what I've seen and while there will be some growing pains as there are for every freshman, he should be solid in that area right away. I still need to see more out of Blackmon Jr. in terms of being physical, but he's certainly working to get better in that area. He knows it's something he needs to improve upon and like any player who aspires to be great, is making it a focus in his development. — Alex Bozich
cheeseman18 on the premium forum writes: From what you've seen, how many players will be in our rotation this year, and who do you believe they will be?
Rotation as I see right now would be, in no particular order, Blackmon Jr., Ferrell, Robinson, Johnson, Zeisloft, Williams, Mosquera-Perea, Davis and Holt. Hoetzel would probably be next in line for a spot. — Alex Bozich
@ARealWolverine on Twitter writes: Anything on when Bryant will announce?
Not a lot of news on that front to report other than it appears he'll wait until the spring to sign a National Letter of Intent. I haven't heard anything firm on a decision timetable. — Alex Bozich
HoosierDadE on the premium forum writes: How are the plans moving along for the Assembly Hall renovation project? Any new design pictures than the ones first reported?
Fred Glass said late in the summer that they're continuing to meet and finalize the plans for the project, which will start immediately after this season, continue through the 2015-2016 and then be completed in time for the 2016-2017 season. As for any new design photos, none have been released to my knowledge. — Alex Bozich
Oleman on the premium forum writes: There has been talk about IU's need for a pressure defense to keep other teams from slowing the pace on us. Do you see more of that being implemented this year?
It's been talked about, but realistically, once you get into the grind of conference play, it's really tough to play fast. I think Indiana tries to push pace by running off of made baskets by their opponents, but in terms of using defense to speed teams up, it's not something that comes easily against teams like Wisconsin and Northwestern. Indiana's best chance to put pressure on teams, in my view, is to push the pace as much as possible offensively while taking care of the ball better. I'd be shocked to see any kind of full-court pressure defense played with any regularity. — Alex Bozich
BK39 on the premium forum writes: CTC I believe stated he wanted 3 shooters on the floor. Yogi, JBJ, RJ, NZ, certainly would be shooters. Has anyone else shown or proven they should be included on this list that will play in more than just situational minutes?
Possibly Max Hoetzel, but he still needs to become stronger to include him in that group. He's not lacking in confidence, but strength and conditioning must continue to be major focuses for him. I'd say right now he's more situational than rotation regular. Depending on how the health of Collin Hartman progresses, he has a chance to earn some minutes as a potential floor spacer, but he needs to develop some more confidence and assertiveness to include him on any list of this team's top shooters. — Alex Bozich
"WILL" take charge on the premium forum writes: We've heard many stories from some people about Hanner being improved. All of the people are together in saying that he is better, as he should be. But at the same time these people aren't really raving like his improvement is all that dramatic . Realistically (without playing a game yet) do you believe he has improved enough to give us 20-25 solid minutes?
I've only seen one practice, so it's really tough to say if he's improved enough to give solid minutes. But whether he's ready or not, he's going to play quite a bit, so we're going to find out quickly. I'll share what I wrote about Mosquera-Perea following that practice in the premium forum below:
"Mosquera-Perea is definitely better, but it's really hard to say how much because a lot of this practice was drills and there was only a little bit of 5-on-5. He still needs to become better in traffic, but he seemed to be more comfortable out there. He's not really going to need to score much, so the question becomes, can he play 25 minutes and get 7 rebounds per game without fouling? If he can, that can be huge for this team." — Alex Bozich
@mattyork1941 on Twitter writes: What is the status on the health of the entire team? It seems surprises seem to come up every year with players health.
As discussed above, April is still out and Hartman is easing his way back into things, but everyone else was healthy as of Monday, Oct. 13, which is the date when I watched practice. — Alex Bozich
Olde Hoosier on the premium forum writes: Who do you see getting the most playing time this season, Nick or Rob?
Can I say this one is a push? I think they'll both start some games and play a healthy amount of minutes. Zeisloft is a guy who I've had a lot of praise for because he's an intelligent player who appears to be confident. And Johnson is just solid across the board and doesn't play like a freshman. I think Johnson is likely to get more minutes overall because of defense, but I expect both guys to play pivotal roles. — Alex Bozich
Knuckledrager on the premium forum writes: With all the controversy over subbing last year how will fans react with so many options on the bench this year? I think it made sense to spread the minutes around to produce a more well rounded team, but there was a lot of second guessing CTC and his decisions. I think we will be a run and gun team and this wears out both teams so the bench will be the difference on how well this works. So, if this is the game plan there will be a lot of subbing. Go Hoosiers.
One reason there was a lot of subbing last year is that the staff was looking for answers and quite frankly, there weren't many of them to be found on the bench. So when something didn't work, the natural reaction was to try something else.
Naturally, if the team is pushing pace, there will be a fair amount of subbing, but I'm not sure I see more than eight or nine guys playing consistently when the meat of the schedule kicks in. The best chance to win is to play your best players the most minutes possible without wearing them down by March and that's what I see happening with this group. — Alex Bozich
TomJameson on the premium forum writes: If the B1G is in a down year with a lot of unknowns about how they rank amongst themselves, and they beat each other up during conference play leaving a core group in the middle hovering around the .500 mark in conference, how many teams do you think the B1G will take to the NCAA tourney?
Seven is probably a realistic number in that scenario. Maybe eight if the computer numbers are really strong and some of the bubble teams have some nice wins in the non-conference. That would probably set up a very intriguing Big Ten tournament in Chicago with plenty of NCAA tournament implications. — Alex Bozich
Filed to: Twitter Mailbag