Announcement primer: 2015 guard Shake Milton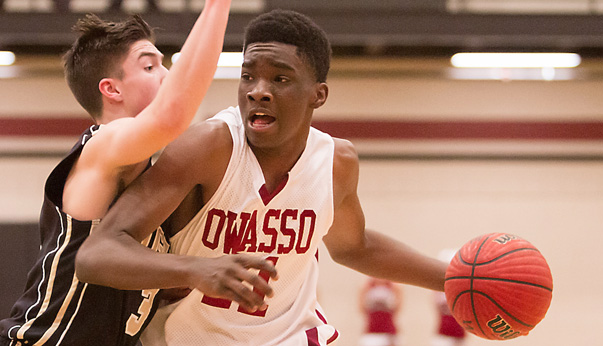 On Wednesday afternoon, class of 2015 Owasso (Okla.) guard Shake Milton will announce his college decision at his high school. The announcement is expected to come at 4:30 p.m. ET.
Here's our primer for the announcement with everything you need to know:
The essentials
Guard, 6-4, 185 pounds, Owasso (Okla.), MoKan Elite
247Composite: 4-star (84); ESPN: 4-star (71); Rivals: 4-star (66); Scout: 4-star (NR)
Offers: Baylor, Creighton, Houston, Illinois, Indiana, Missouri, Oklahoma, Oklahoma State, SMU, Texas A&M, Tulsa, Wake Forest, Wichita State
Official visits: Oklahoma, SMU, Indiana
The primary contenders
Milton cancelled a previously scheduled official visit to Illinois, leaving him with a final three of Oklahoma, SMU and Indiana. He will be choosing from the three schools he took official visits to.
· The Indiana recruitment: Indiana got the final official visit from Milton after heavily recruiting him this past summer and getting him on campus for an unofficial visit in June. He took his official visit during the weekend of Sept. 27 and said he enjoyed how much of a basketball school Indiana is.
· The Oklahoma recruitment: The home-state school, Oklahoma is the closest of the three finalists Milton is choosing from. The Sooners were the first official visit Milton took, traveling to Norman on the weekend of Aug. 22.
· The SMU recruitment: The Mustangs have been recruiting Milton quite hard and have travelled to Owasso multiple times recently to show their commitment in their efforts. Milton took his second official visit to SMU on the weekend of Sept. 5, more than a month ago.
The timing
Milton has taken his time in making a decision, as it has been more than two weeks since he finished his last official visit.
As for his upcoming decision, Milton told Inside the Hall it will come down to where "I'm most comfortable and where I can trust the coach to help me reach my goals."
The 247Sports Crystal Ball currently favors SMU at 43 percent, followed by Oklahoma at 33 percent, Indiana at 17 percent and Baylor at 8 percent.
The fit
· At Indiana: The Hoosiers already have plenty of guard depth, but the Hoosiers hope to add Milton more as a point guard than as a shooting guard. Indiana has pitched the idea of Milton being someone who will get the offense up and down the court quickly and someone who will help in driving to the basket, as well.
· At Oklahoma: Oklahoma's three starting guards from last season all return this season. And all of them are expected to return for what would be Milton's freshman season. The Sooners, though, have been recruiting Milton the longest and the lure of staying at home always is an attractive option.
· At SMU: The Mustangs have pitched Larry Brown's experience in the NBA toward helping Milton to get to that level. He would have an immediate opportunity for playing time in Dallas, as well, a city that Milton said he really likes and enjoys being in. He also has said he has a strong relationship with his recruiter at SMU, K.T. Turner.
How to follow the announcement 
We'll be following the announcement via various outlets who are expected to be on hand and will have a quick story posted as soon as the announcement is made. Additionally, below is a link to our Twitter account to monitor. If any live streams become available, we'll post a link to those below.
ITH on Twitter | Jordan Littman on Twitter
In closing, please remember this is the college decision of a high school kid. Please adhere to the comment standards that have been set forth over the past seven years here on Inside the Hall regardless of the outcome.
Filed to: Shake Milton