2015 guard Shake Milton recaps his official visit to Indiana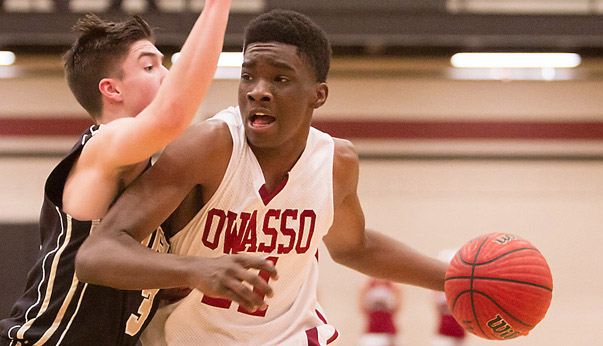 Heading into last weekend's official visit to Indiana, 2015 Owasso (Okla.) guard Shake Milton said he knew Indiana fans were passionate about Hoosiers basketball. But he had yet to see the full extent of it in person, having taken an unofficial visit to Bloomington during the summer in June.
This past weekend, though, Milton said he got a better understanding of how passionate IU fans truly are. And he left Bloomington on Sunday impressed, saying the visit "went really well."
"Me and coach (Tom) Crean were walking back from the football game and we were trying to have a conversation but couldn't because everybody was coming up asking for pictures and saying they can't wait for the season and stuff like that," Milton told Inside the Hall on Sunday night. "I like the fact that it's a real basketball school and people there are really passionate about basketball."
The 6-foot-4 Milton is the No. 84 prospect in the 2015 class, according to the 247Sports Composite, and took his official visit to Indiana as his final one. During the visit, which was shortened due to his flight being cancelled on Friday from the FAA radar fire in Illinois, Milton was able to see campus, speak with strength and conditioning coach Je'Ney Jackson and spend time with this year's team. Milton also had the chance to play with the team on Saturday, calling the experience "a lot of fun."
But for Milton, perhaps the most valuable part of his official visit came on Sunday, during a "pretty personal" conversation with Crean.
"I feel like they could get me to where I want to be," Milton said. "I feel like he has my best interests for me if I were to come to Indiana."
After all, when making his eventual college decision between the Hoosiers, SMU and Oklahoma, Milton said it will likely come down to where "I'm most comfortable and where I can trust the coach to help me reach my goals." That decision will likely come within two weeks, he said.
Indiana has pitched the idea to Milton of being a combo guard within the Hoosiers' system, one that would assist in their efforts to get up and down the court quickly.
"They basically said I could be a point guard and I can actually play the two some, too," Milton said. "They just talked about how fast they're going to get up and down the court and they talked about driving, which is something I'm pretty good at. I feel like I can fit in to their system and the college setting and stuff like that. I could see myself fitting in."
Milton also is close with the Hoosiers' only commit in the 2015 class, Juwan Morgan, as AAU teammates on MoKan Elite. The two have even talked about potentially playing together in college, as Milton said "it's definitely a bonus" in his chances toward choosing the Hoosiers.
However, Milton noted, "at the end of the day what's best for Juwan might not be best for me." And while he has come away impressed by Indiana, he admitted he has a difficult decision ahead.
"There's a lot of strengths to all three of the schools," he said. "All three of the schools I feel like give me a good opportunity to be successful, academically and in helping me reach my goals. As far as weaknesses go, I don't know. Each school has such strengths that pretty much weigh each weakness. It'll be tough."
Filed to: Shake Milton