Indiana ranked preseason No. 28 by Lindy's Sports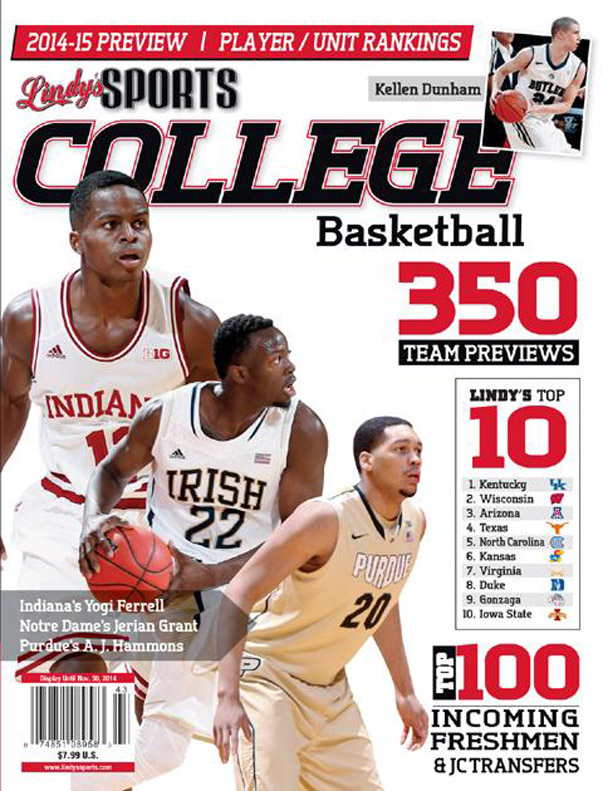 Earlier in the week, we shared some preseason prognostications from The Sporting News college basketball yearbook and now a second college basketball annual has arrived.
The Lindy's Sports college basketball preview for the 2014-2015 season is predicting a bounce back season in Bloomington as it has the Hoosiers ranked No. 28 in its preseason top 40 and also has IU as a NCAA tournament team.
Lindy's has Indiana as the eighth place team in its Big Ten preview, but has nine of the league's 14 teams in its preseason top 40.
Junior point guard Yogi Ferrell is featured on a regional cover for the magazine along with Notre Dame's Jerian Grant and Purdue's A.J. Hammons.
Some more Big Ten and IU-centric notes from the yearbook after the jump.
· The nine Big Ten teams in the preseason top 40 are Wisconsin (2), Ohio State (14), Nebraska (19), Minnesota (21), Illinois (22), Michigan (24), Iowa (26), Indiana (28) and Michigan State (35).
· The Big Ten is rated the second best conference in the country behind the ACC.
· Troy Williams is recognized as one of the country's 10 breakout players, a list that also includes Michigan's Zak Irvin.
· Ferrell is ranked as the nation's 20th best point guard, is third team All-Big Ten and is listed as the league's "best playmaker."
· James Blackmon Jr. is listed as the league's best incoming shooter and also as the recruit who will "have the most impact."
· Two of IU's non-conference opponents are ranked in the preseason top 40: Louisville (11) and SMU (17).
· The complete predicted Big Ten order of finish: Wisconsin, Ohio State, Nebraska, Minnesota, Illinois, Michigan, Iowa, Indiana, Michigan State, Maryland, Northwestern, Penn State, Purdue and Rutgers.
Filed to: 2014-2015 season preview