Indiana announces 2014-2015 basketball schedule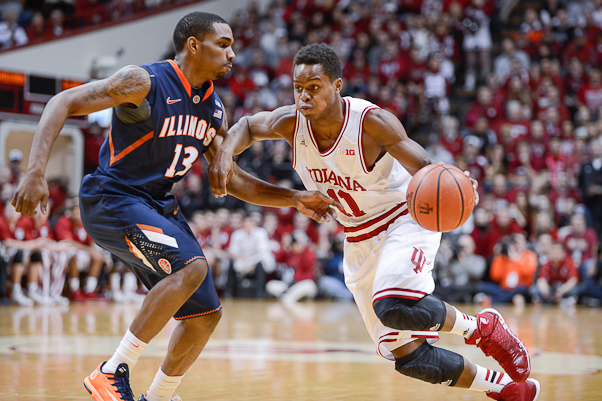 Indiana on Friday evening released its non-conference schedule for this upcoming season, completing the Hoosiers' 2014-2015 slate.
The 13-game lineup includes the likes of SMU, Pittsburgh, Louisville and Georgetown, and starts with the season-opener on Nov. 14 against Mississippi Valley State.
Following the opener, former Indiana coach Mike Davis and Texas Southern — a 2014 NCAA tournament participant —will come to Assembly Hall on Nov. 17.
Additional non-conference opponents include Butler, Savannah State, UNC-Greensboro, Lamar, Eastern Washington, Grand Canyon and New Orleans.
The Hoosiers also will play one home exhibition, on Nov. 10, against the University of Indianapolis.
Indiana's full 2014-2015 schedule is available on our schedule page. Tom Crean's comments on IU's non-conference schedule are below:
"I'm glad we can bring a tournament tested team like Texas Southern for our tournament. Mike Davis has that program headed in the right direction and I'm sure he is looking forward to being back in Assembly Hall. SMU, when we decide to do that, it was really last early fall and then they went out and had a phenomenal season. They are adding players left and right and are going to be nationally ranked to start and without question they will bring in an experienced team.
"The fact that we are getting a home game with a team like Pittsburgh says a lot. We had a lot of battles with them when we were at Marquette and played them our second year here at Indiana in the Garden. We have had great battles with them over a period of time.
"The Louisville game is something that has been in the works for a while and we are excited to play them in the Jimmy V Classic. They are another team we became familiar with in the Big East at Marquette and we had some intense games. The Georgetown game is a unique opportunity to play right after Christmas at Madison Square Garden against a great team. It is certainly not what you are used to doing in that sense of playing somebody that strong right after Christmas, but it will be really good for us.
"Butler is Butler and they are always going to be a tough team to play. They get Roosevelt Jones back, who is one of the tougher matchups in college basketball, not to mention Kellen Dunham and the rest of the guys they have."
Filed to: 2014-2015 schedule