Indiana confirms addition of Emmitt Holt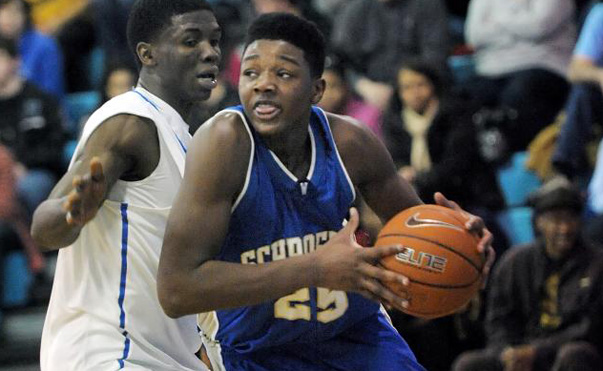 Emmitt Holt, who committed to Indiana last Wednesday during an official visit, is in Bloomington and enrolled in classes for the fall semester, which began on Monday.
Earlier this afternoon, IU media relations confirmed the addition of Holt to the 2014-2015 roster in a press release, which you can read below:
Indiana University men's basketball coach Tom Crean has announced that Emmitt Holt, a 6-7, 225-lb power forward from Webster, N.Y. has accepted an offer of financial aid to attend IU and play basketball for the Hoosiers beginning this season.
He graduated this past spring from Webster Schroeder High School where he played for coach Matt Spadoni. He averaged 19.8 points, 14.6 rebounds and 5.0 blocks per game as a senior. He boasts a 7-3 wingspan and earned second team All-State honors and was a finalist for Mr. Basketball in New York. He also earned Democrat and Chronicle All-Greater Rochester team honors in 2013 and 2014.
"I think Emmitt has unlimited potential, he kept getting better and better," noted Spadoni. "He is a team player, and I think when you put him in a highly competitive environment like that it will bring even more out."
During the summer, he played in the Nike Elite Youth Basketball League (EYBL) for Albany City Rocks and coach Jim Hart. In EYBL games, he posted averages of 11.6 points, 7.1 rebounds and 2.1 blocks per contest while shooting at a 60 percent clip from the field this summer. He had originally planned to go to prep school in 2015 and was encouraged to do so by many high major programs, before Crean and his staff offered him a chance to play in the Big Ten this coming year.
"He was our most important player," noted Hart. "A lot of qualities you'd want in your point guard, he gives in your front court," Hart said. "Most bigs don't make perimeter guys better."
He is the sixth member of a recruiting class that is ranked 17th in the country and includes guards James Blackmon, Jr. and Robert Johnson, forwards Max Hoetzel and Tim Priller and center Jeremiah April.
Crean on Holt
"We are excited to bring Emmitt to Indiana at such a late date. We determined that we needed another quality player up front and we were able to uncover Emmitt's potential availability. He is coming off a very impressive high school season and also an outstanding spring and summer with the Albany City Rocks. He would have been a high level recruit this coming year and we are happy to have him now."
"Emmitt has a plus 7 wingspan which he uses to rebound, score around the basket, and block and alter shots. His energy and competitiveness come to life quickly when you watch him. We are very impressed with his feet, touch and feel for the game and look forward to his ever growing development."
"Chuck Martin utilized his vast network of connections to find Emmitt and we are excited about this. Chuck brings the whole package to Indiana and has the ability to identify players and their upsides, which adds to what we are about."
First day of school pics are an IUBB tradition. We are so happy Emmitt is here! @holt_real pic.twitter.com/HTg0zFRVR1

— Marni Mooney (@MarnOnTheMoon) August 26, 2014
Filed to: Emmitt Holt