The Minute After: UQAM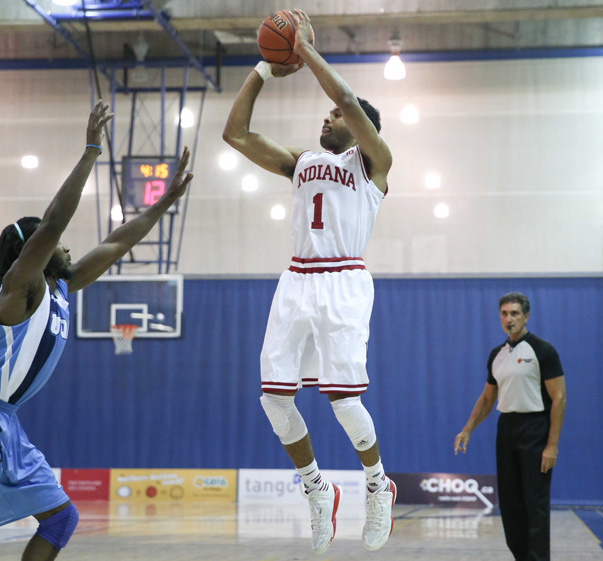 MONTREAL — Thoughts on a 109-77 win over the University of Quebec at Montreal:
Indiana's five-game trip through Canada came to an end on Wednesday afternoon and in a lot of ways, the game felt much like the first game of the trip for the Hoosiers.
The opponent had little in terms of size, IU was clearly the more athletic and talented team and once it took control, there was little doubt as to what the result would be.
Still, there were positives to draw out of the effort, particularly when you consider this team was playing its fifth game in six days.
The bounce back effort of Robert Johnson, who went scoreless on Tuesday, is near the top of the list. The freshman guard from Richmond (Va.) finished with 17 points, hit all four of his 3-point attempts and also added five rebounds, four assists and three steals. In his postgame comments, Tom Crean mentioned that he didn't even realize that Johnson failed to score on Tuesday because he was contributing in other facets of the game.
Devin Davis also had a strong final effort on the glass, corralling a team-high 10 rebounds in 17 minutes off the bench. While Davis wasn't consistent with his rebounding totals on the trip, he's definitely worked on his body in the offseason and seems more comfortable when he catches the ball near the block. While he's still undersized, the added strength should allow Davis to hold his own as he role continues to grow.
Troy Williams was also outstanding on this afternoon with a team-high 21 points, seven rebounds and four assists and said one of the reasons he's more comfortable right now than he was last season is that his left hand is completely healthy. Crean has talked a lot on this trip about getting his team to understand that it's often better to just make the simple play and Williams, with his elite athleticism, is a great example for a player where this should be the focus.
In addition to the strong afternoon from Johnson, fellow freshman James Blackmon Jr. also finished the trip strong with 20 points on the afternoon on 8-of-12 shooting. Blackmon Jr. translates immediately to the college game because he can score in so many ways. Over this five-game trip, we saw the complete arsenal: He scored from behind the 3-point line, he hit some mid-range jump shots and floaters and he was excellent finishing at the rim and in transition. He's a player that is going to take a tremendous load off of Yogi Ferrell. Ferrell also had an efficient afternoon: 16 points (6-of-8 FG, 3-of-4 FT) to go along with five rebounds and four assists.
From a team perspective, IU's numbers were, for the most part, strong in this finale. The Hoosiers scored 1.27 points per possession, posted an effective field goal percentage of 67.3 and rebounded almost 42 percent of their misses. The turnovers weren't where they need to be eventually — 17 on the afternoon for a turnover percentage of 20 — but just as the shooting numbers aren't likely to be indicative of where this team will ultimately end up, the same goes for turnovers given the circumstances (five games in six days, half of the roster being newcomers, etc.).
Now, Indiana heads home to Bloomington and the team will get a break before the fall semester begins. The Hoosiers leave Montreal with a 4-1 record, but more importantly, much needed experience and a checklist for the coaching staff of where things need to improve before now and the start of practice. With the start of practice less than two months away, Hoosier Hysteria is on the horizon.
Filed to: 2014-2015 foreign tour, Devin Davis, James Blackmon Jr., Robert Johnson, Troy Williams, Yogi Ferrell