Indiana recruiting 2015 forward Emmitt Holt — as a 2014 prospect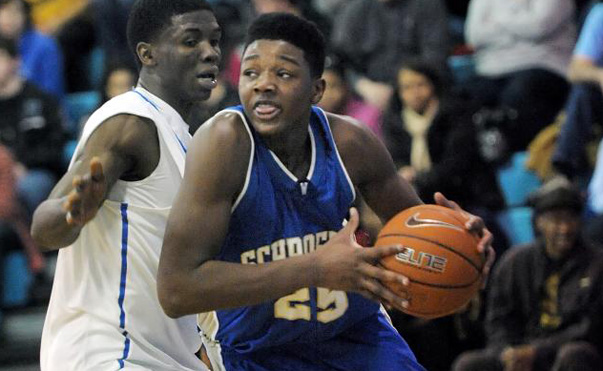 When Emmitt Holt chose to attend Vermont Academy for a postgraduate year after his senior season at Webster Schroeder (N.Y.). High, Holt had little hesitation in becoming a class of 2015 recruit.
"I felt for playing and academically in college, it will help me get my head on straight," Holt told the Democrat and Chronicle when he made the decision in July.
After the 6-foot-7, 225-pound forward averaged 19.8 points, 14.6 rebounds and 5.0 blocks per game in his final high school year, over the summer, Holt worked on his game, picked up multiple mid-major offers and even trimmed his list to 10 schools as recently as a couple of weeks ago.
That list included St. Joseph's, George Washington, Siena, Towson, Rice, Quinnipiac, Northeastern, St. Bonaventure, Canisius and Duquesne.
But as of recently, Indiana has been in touch with Holt and his camp. Still actively recruiting a big man for this upcoming season, the Hoosiers want Holt as a 2014 prospect. Vermont Academy coach Alex Popp said the Hoosiers are the only school recruiting Holt for this upcoming season, in fact.
And both sides are moving quickly. It has been reported that Holt will take an official visit to Indiana starting next Tuesday, August 19, and Popp told Inside the Hall it could come even sooner than that.
Indiana also is recruiting 6-foot-9 power forward Ray Kasongo for the final 2014 scholarship slot, and the former Oregon signee has Indiana and LSU as his final two.
(Photo credit: Democratandchronicle.com)
Filed to: Emmitt Holt