The Minute After: Laval University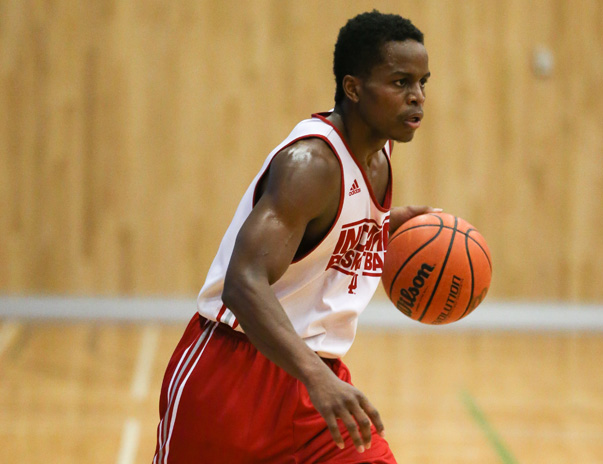 MONTREAL — Thoughts on a 110-70 win over Laval University:
After an offseason full of arrivals and departures, the first look at the 2014-15 Indiana Hoosiers was unveiled on Friday night on the first game of a five-game tour through Canada.
And the early returns were promising.
On a night where Indiana was without junior Hanner Mosquera-Perea (visa issues) and freshman Jeremiah April (ankle), Tom Crean opted to go small from the get-go with a starting lineup of Yogi Ferrell, James Blackmon Jr., Robert Johnson, Troy Williams and Nick Zeisloft.
The Hoosiers wasted little time scoring early in possessions as a 24-second shot clock produced a frantic pace that only Indiana could keep over a full 40 minutes.
After Laval hung in for a quarter and even led for portions of the first 10 minutes, Indiana finally exploded in the third quarter. The Hoosiers hung 34 third quarter points and were on their way to a comfortable win.
A look at some of the tempo-free numbers: Indiana's effective field goal percentage was strong (57.3) as was its offensive rebounding percentage (38.4). The Hoosiers did, however, turn it over on 18.3 percent of their possessions. And while Indiana did clamp down defensively in the second half, holding Laval to just 27 points over the last two quarters, it did allow an effective field goal percentage of 50. That was driven, in large part, by Laval hitting 11 of its 30 attempts from behind the 3-point arc.
Individually, there were several standouts.
Junior Yogi Ferrell was more vocal on the court than we've seen him in the past and just as effective as both a scorer (22 points) and distributor (six assists to just two turnovers).
Sophomore Troy Williams has put on significant muscle in the offseason and is just as explosive as ever. He finished with 21 points on 9-of-13 shooting and consistently wowed the crowd of about 400 with a variety of dunks.
The two freshman guards, James Blackmon Jr. and Robert Johnson, both put together well-rounded stat lines. Blackmon Jr. finished with 14 points, six rebounds and five assists while Johnson chipped in 12 points, five rebounds and five assists.
And when shots didn't fall, sophomore Devin Davis was there to clean up any misses. Davis, who also looks as if he's added mass this offseason, grabbed 16 rebounds on the night and against a team without significant size in its frontcourt, it was plenty to survive without Mosquera-Perea and April.
This, of course, was just the opening night and the road gets tougher from here. The Hoosiers will play arguably their two toughest games of the tour next with Ottawa University on Sunday and Carleton on Monday.
But on a trip that was as much about the 10 practices that preceded it and the experience that it will give to a team that will surely be one of the Big Ten's youngest, Friday night felt like a positive first step to the 2014-15 season.
Filed to: 2014-2015 foreign tour, James Blackmon Jr., Troy Williams, Yogi Ferrell