Indiana making a late push for 2015 wing Terance Mann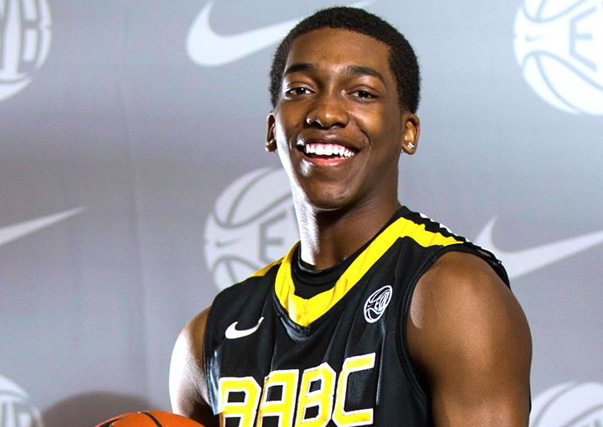 Indiana hasn't been recruiting class of 2015 wing Terance Mann for very long, but the Hoosiers have already made up a lot of ground with the four-star prospect.
The 6-foot-5, 180 pound standout from the Tilton School (N.H.) announced a list of six finalists on Sunday night and many were surprised to see Indiana among the list.
"I started hearing from them right after the Peach Jam," Mann told Inside the Hall on Wednesday. "I like how hard coach (Tom) Crean makes his guys work and the fanbase."
Playing with the Boston Amateur Basketball Club (BABC) at the Nike Elite Youth Basketball League (EYBL) finals at the Peach Jam, Mann averaged 9.2 points and 5.8 rebounds in 29.2 minutes per game.
The Hoosiers join Arizona State, Boston College, Florida State, Marquette and Rhode Island as Mann's finalists. Mann said Wednesday he doesn't plan to trim his list any further and intends to pick from the six remaining schools.
His mom, Daynia La-Force, is the women's basketball coach at Rhode Island.
"She has helped a lot (with the recruiting process)," he said. "But she kind of trusts me with it since I've been around it for so long."
Rated the No. 101 prospect nationally according to the 247Composite, Mann said he hopes to visit all six schools on his list, but added he doesn't have any firm plans yet on when he intends to do so.
Among the factors he mentioned as important when comparing his finalists and coming to a decision were his ability to come in and make an immediate impact, academics and his relationship with the coaching staff.
Mann said he spoke with former IU forward Noah Vonleh not long ago and the rookie with the Charlotte Hornets gave him a strong endorsement of the program.
"I talked to Noah a while back briefly," Mann explained. "He said he loved it."
Before trimming his list, Mann also considered offers from Florida, Georgetown, Miami (FL) and VCU.
Filed to: Terance Mann