2016 guard Rawle Alkins enjoying busy summer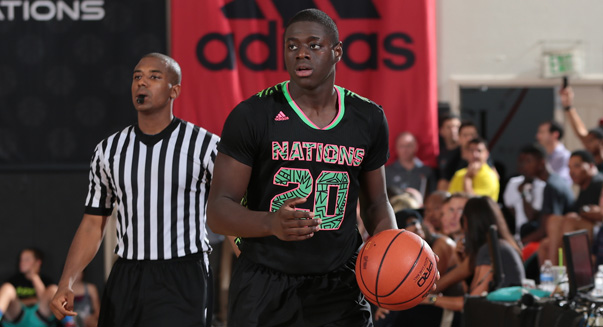 GARDEN GROVE, Calif. — It has been a long summer for class of 2016 shooting guard Rawle Alkins, and it was made clear on Saturday morning at adidas Nations.
As his team was partaking in a game against Latin America, the No. 34 prospect in the 2016 class was shuffling in and out of the action, dealing with back issues.
Despite the health concerns, though, Alkins scored a team-high 22 points in that game and ranked third overall during the course of adidas Nations with 18.2 points per game for Team Wall.
And the roller-coaster summer will continue for him this upcoming Saturday, too, when he plays in the Big Strick Classic in his hometown of New York City.
"Every day, something is new," Alkins said. "Every day, I'm getting calls, invitations to everything. Just getting to travel everywhere, it's amazing.
"It's like every weekend I'm going somewhere. I'm never in town, but I'm always repping New York."
Alkins has raised the eyebrows of the many scouts and college coaches who have watched him breeze past competition on the court, earning scholarship offers from Louisville, NC State, Miami and most recently, Kansas, among others.
He noted that most of the colleges have told him they like his upside more than anything. Especially when they learn at Alkins has never even participated in strength training.
"I've never lifted weights before in my life," Alkins said. "Everything I do is all natural, instincts and everything."
Indiana is one of those schools that has taken a strong interest in Alkins. The Hoosiers offered him a scholarship in June and have been in touch with him throughout the summer. Just this past Thursday, in fact, Alkins spoke with new assistant Chuck Martin.
"He was telling me how much he liked what I did on the defensive end, my instincts, my good feel for the game; fhings like that," Alkins said. "They just have a great atmosphere; a great fan club. I mean, they run their offense through their guards and I like that, especially since I'm a guard."
Alkins said he would like to visit Indiana, Louisville and Kansas, while Kentucky, Florida, UConn and Miami have extended interest.
But Alkins said his recruitment is wide open at the moment. He hasn't had much time to think about having favorites.
"I mean, I'm honored," he said. "They're big-time schools and they produce a lot of pros, but I mean, I have no favorites."
(Photo credit: Kelly Kline/adidas)
Filed to: Rawle Alkins