Five-star Thon Maker talks Indiana, continued improvement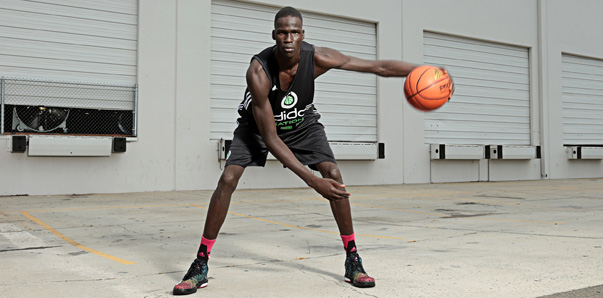 GARDEN GROVE, Calif. — One of the more highly-touted prospects in the 2016 class, 7-footer Thon Maker has had an impressive summer — picking up offers from Indiana, Kentucky, Kansas, Duke and Louisville, among others, and comparisons to Kevin Garnett.
This past weekend, Maker was in southern California for adidas Nations, playing for Team Lillard, the eventual champions in a 106-78 victory in which Maker scored 18 points and grabbed eight rebounds in the effort.
On Sunday morning, Inside the Hall spoke with Maker, the No. 3 prospect in the class according to the 247Sports Composite, following Team Lillard's 118-72 win over IU target Derrick Jones and Team Howard, in which Maker recorded a double-double — 14 points and 14 rebounds in just 18 minutes of action.
Maker discussed his ongoing improvement, what he still needs to work on and his interest in Indiana:
How much have you enjoyed getting to play in these games?
"I enjoyed it; definitely enjoyed it. Especially once we got the W after that, we just wanted to lock down first on the defensive end. And we held them to 39 in the first half and we had 60-something, so that says it all. We just wanted to get the W, and that's what we got because right now it's playoff basketball."
What have been some of the things you have improved on over the summer?
"Just basically dominating the game, believing that you're going to win the game and learning what you can do to affect the game."
How satisfied have you been with your overall game, and where do you feel you still need to improve?
"I got better. I know I got better. I did OK a few times and then a few other times played really good. But not to where I always want it to be. I always expect more out of myself. I've got to improve on my body first. I have to get a little bit stronger, definitely that part, and then after that we'll see."
Which schools are recruiting you the hardest, at the moment?
"I don't know, you would have to ask my coach that. If coaches want to speak to me, they call my coach and then he can pass that on to me."
Obviously, Indiana is one of the schools that have offered you over the summer. What did that offer mean to you, and are you planning on taking a visit there?
"It's a big offer, definitely. They are a great program and I don't know about the visits — right now, we are pressing for time. There's a whole lot of things going on and I'm trying to see the inside of the program by actually visiting and sitting down and speaking with coaches so I can really see what it is that they're selling."
What potentially is intriguing about the Hoosiers?
"Their coaching. Like Tom Crean, I've spoken to some of the media guys and I've been telling them about his late-game situations. And I've seen a lot of games on ESPN and other channels this past season and some old games of him coaching also where he's always cool, but you can see his face is like something has come up. Like, 'oh, OK. That's the situation? OK, I've got this for that.' I enjoy watching that every time. And the execution is marvelous."
Are there perhaps any schools sticking out in your recruitment right now?
"There's a lot of schools. But right now I'm fully concentrated on where I am right now."
(Photo credit: Kelly Kline/adidas)
Filed to: Thon Maker