2016 four-star forward Braxton Blackwell ends his 'crazy' summer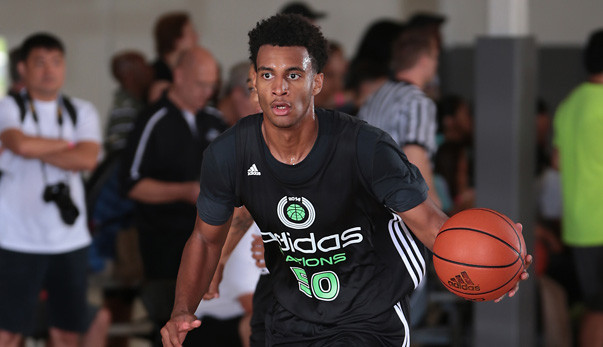 GARDEN GROVE, Calif. — Even though it was his last tournament of the summer, class of 2016 forward Braxton Blackwell was particularly excited to participate in adidas Nations this past weekend.
Playing alongside the likes of fellow Indiana targets Thon Maker, De'Ron Davis and Eron Gordon for Team Lillard, Blackwell said he had a good feeling just two games in that he would have a good weekend at the premier event for adidas.
"I think I've played pretty well, but defensively I think I could do a lot better," Blackwell said on Saturday morning following a 98-84 win over team Canada. "There's some great players obviously, but I think we play good as a team. We started off slow, but we've picked it up."
Blackwell's premonition proved to be accurate.
Team Lillard went on to win adidas Nations on Monday evening in a 106-78 victory over Team Wall, in which Blackwell recorded six points, three rebounds, three assists and two blocks in 22 minutes in front of a national television audience on ESPNU. He finished the five-game tournament with an average of 7.8 points per game.
"It means a lot to be here," Blackwell said. "Usually most events, it's individual, but here, we're just worried about winning. After all, you get to play on TV, which is pretty cool."
For Blackwell, adidas Nations was the culmination of a successful summer on the adidas Gauntlet circuit with Atlanta Celtics — despite a quarterfinals loss in the adidas Super64 against eventual runner-up Dream Vision.
Earlier in the summer, Blackwell received offers from the likes of California, Ohio State and Missouri, among others. And just a week ago, Kansas extended an offer to the No. 30 prospect in the 2016 class (according to the 247Sports Composite).
"It's pretty cool to get an offer from Kansas," Blackwell said. "Kansas is a really good school. Basketball really started there, so it's pretty cool. Great coach in Bill Self and great players go through there.
"Getting recruited, first of all, is a blessing. And having big-time schools like this is also a blessing. I'm just trying to soak it all in and enjoy it."
Blackwell said Providence, Indiana, Florida, Tennessee and Vanderbilt are the schools currently recruiting him the hardest, and he said he would like to visit Kansas, Florida and Providence soon. As for the Hoosiers, Blackwell said he will visit Bloomington again this season.
"I'm coming back up to B'town soon, probably for a game or something," he said. "I probably won't do Hoosier Hysteria again, but I want to go up for a game. I'm not sure when, though, I haven't seen the schedule or anything."
Blackwell already has his sights set on his upcoming junior season at Christ Presbyterian Academy in Nashville (Tenn.), in which he is hungry for a state title. He also said he is hoping to continue his improvement in the shooting category and earn the state's Gatorade Player of the Year and Mr. Basketball honors.
But with that still a ways away, first, Blackwell will take a much-needed rest.
"Thank goodness," he said. "It's been a crazy summer. But it's been fun."
(Photo credit: Kelly Kline/adidas)
Filed to: Braxton Blackwell