Derrick Jones takes hands-off approach to recruitment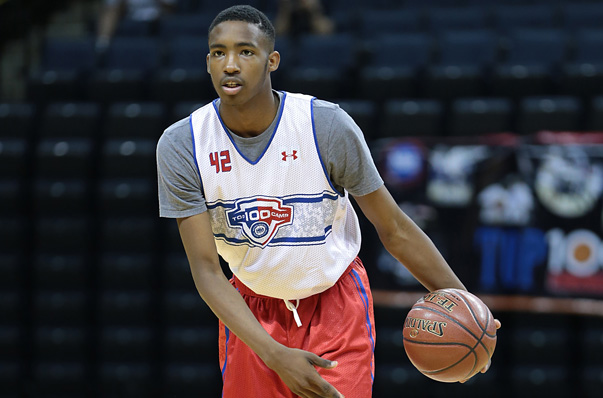 GARDEN GROVE, Calif. — Class of 2015 forward Derrick Jones does not know much about his own recruitment. And that was his own decision.
Earlier this summer, he told his parents and coaches that he wanted them to handle his recruitment. He wanted to just focus on basketball.
"And once I get that over with," he said, "then I'll talk with the coaches."
Jones, ranked No. 26 in the 2015 class, according to the 247Sports Composite, has been busy all summer from basketball with his AAU program, WE R1, to participating in this past weekend's adidas Nations. He still has the Elite 24 Game and another Reebok event on tap for this summer, too.
"But I was psyched to come out here," Jones said at adidas Nations. "It's really just such a great experience."
Jones has averaged 8.5 points per game thus far for Team Howard, which is playing in the third-place game today against Europe. He said he has specifically enjoyed the competition level thus far, which has given him a chance to test out some of the aspects of his game he has worked on over the summer — mainly his defending.
"I've been in the gym working on my jump shot and my ball handling, but when I've been playing games, I've been focusing on my defense," he said. "I mean, I'm a good defensive player, but you can never be too good. So I want to be a lock-down defender and a bucket-getter when my team needs me.
"It's great just being able to come out and play against the top talent in America, top talent in Africa and all these different countries."
But, of course, one of the main things for Jones looming overhead is his recruitment. Though he said he wonders about which colleges have been in touch with his family and coaches recently, he hasn't had much, if any, direct contact with them.
Just last week, though, Jones told ZagsBlog he is planning visits to Kentucky, Louisville, Indiana, Kansas and Auburn. He has offers from all of those schools.
On Saturday, he confirmed his interest in taking a visit to Indiana, though he said no dates have been planned as of yet.
"I think I am," Jones said. "Really, the people who play my position there have been very successful. I play the two or the three, and a couple years ago they had Victor Oladipo. And he's one of those players that have been very successful.
"I mean, they just produce a lot of good players."
Regardless, though, Jones has stayed out of the loop in much of his own recruitment this summer.
And he said he has enjoyed just being able to focus on his own game.
"It's very busy just because I've been going to a lot of camps, playing a lot of tournaments, a lot of basketball," he said. "I just told (my parents) to worry about recruiting, and I'll just play basketball."
(Photo credit: Kelly Kline/Under Armour)
Filed to: Derrick Jones