2015 wing Dillon Brooks continues his rise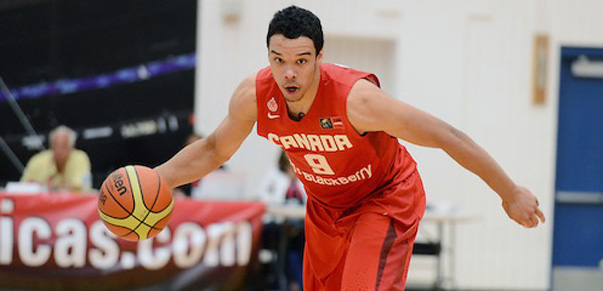 GARDEN GROVE, Calif. — Dillon Brooks admits he has been through a lot this summer.
The 6-foot-5, class of 2015 forward has played in FIBA Americas, AAU basketball for CIA Bounce, the LeBron James Skills Academy and most recently, adidas Nations.
But for the Ontario native who was struggling with ankle issues at adidas Nations, the past few months have been "great." The No. 94 prospect in the 2015 class, according to the 247Sports Composite, said he has added multiple high-major offers recently — including one from Indiana — and additional high-major interest.
And still playing with an injured ankle at adidas Nations, he averaged 23.5 points per game for Canada, which finished with a 3-2 record over the course of five games.
"It means a lot to be here, like just to be with all the NBA scouts, all the adidas Nations people — they all treat us well," Brooks said. "It's amazing to be here in California and having a great time."
Brooks came into this summer with little to no college interest — "I never had it," he said — but has made a quick rise through the ranks. For those unfamiliar with his game, Brooks believes he brings "a lot of attacking, a killer instinct" to the table, along with skill in the transition game, defending and facilitating.
"I'm a playmaker," he said. "I love to make plays and just win."
And colleges have taken notice.
Brooks said Michigan, Syracuse and Michigan State are showing interest, while Iowa State, Kansas State, Providence, Dayton, Maryland and Indiana have extended scholarship offers. He said Indiana offered "a couple weeks back" and that he has been in touch with associate head coach Steve McClain.
"It means a lot," Brooks said. "I used to watch them all the time when Victor Oladipo was there with Cody Zeller and all of them, and they were really good back then. And I think I can fit where Oladipo was and play the wing and attack from the wing."
He also mentioned the attractiveness of playing for a school that as crazy for its basketball as Indiana is.
"They're a basketball state, all about basketball," he said. "They have a great coach and I think I could learn a lot from them. And hopefully I could fulfill my dreams and get to play in the league."
Brooks said he has not determined any official visit dates or destinations as of yet. He said he is waiting until after the summer, when he returns to Findlay Prep, to make any decisions.
But Brooks emphasized the fact that he is not content, that he still needs to work on his 3-point shot and his ball-handling in order to become more of an all-around player.
After all, he was barely being recruited until recently.
"It's just a nice recognition, but it's not the only thing," he said. "You've got to work harder and harder because you can't let it go to your head."
Filed to: Dillon Brooks