Rising 2015 big Nick Marshall on IU's radar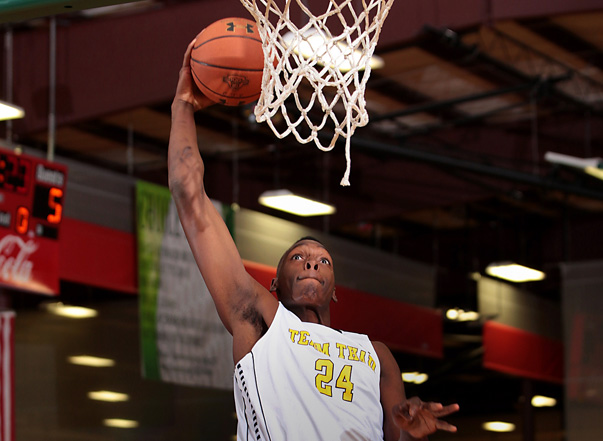 Andrew Hicks has only been on the job as the basketball coach at Lexington (Tenn.) high school for three months, but he already has a feel for the top player he's inheriting.
Hicks, who served as an assistant coach at Humbholt (Tenn.) before accepting the job at Lexington, is looking forward to the opportunity of coaching Nick Marshall, one of the top rising big men in the country.
"One of the best things that I've noticed about him in just the little time I've been around him is that he's a great kid as far as interacting with people and being around his teammates," Hicks told Inside the Hall on Wednesday. "He's a team guy. He considers his teammates his brothers in a sense."
The 6-foot-10, 230-pound Marshall had an outstanding summer for Team Thad. As a result, he's picked up several new scholarship offers, including one from Indiana.
The Hoosiers appear to be prioritizing Marshall in their class of 2015 recruiting efforts and Hicks said IU, along with Clemson, Mississippi State, Memphis, Tennessee and Florida State, have been in contact with him frequently. Connecticut and Florida are two other schools that have been mentioned frequently with Marshall in recent weeks.
The recent offer and increased interest from the IU staff seem to be resonating well with Marshall, according to his high school coach.
"I think one of the things that interests him about Indiana is the history," Hicks said. "We're going to sit down and talk style and fit, but one of the things they're stressing as far as his recruitment is the success they've had with bigs that can run the floor and do multiple things. So that's definitely something I think will pique his interest because he fits that mold at this point."
In the latest 247Composite rankings, Marshall is rated as a three-star and the No. 123 prospect overall, but his size and ability to run the floor are attractive to high-major programs.
"I think he does a lot of things that you can't teach," Hicks said. "Obviously, his size, but he just loves to run the floor and he loves to be involved and in action with the guards. A lot of post guys don't like to do that. Defensively, he's a lot further along than he is offensively but that's just more a matter of time and putting in the work and learning the offensive moves."
The next step in the process for Marshall will be sitting down with his family, Hicks and his AAU coach with Team Thad, Norton Hurd, to discuss the schools involved in his recruitment and figuring out which programs fit him best.
Hicks said Indiana has expressed "a pretty strong interest as far as wanting to get him on campus."
"We're going to sit down once school starts. His AAU coach has done really well with formulating a game plan," Hicks said. "We're going to sit down with his parents and just kind of figure out what's best for him as far as system and whatever other factors he wants to look at. Playing time is obviously going to be something that every kid looks at. It's still kind of early in the process as far as exactly what he wants.
"I think it'll be more important to find a great fit where he's going to get an education and be surrounded by good players and obviously have an influence on making it the best it can be."
Filed to: Nick Marshall