Class of 2015 guard Matt McQuaid will visit Indiana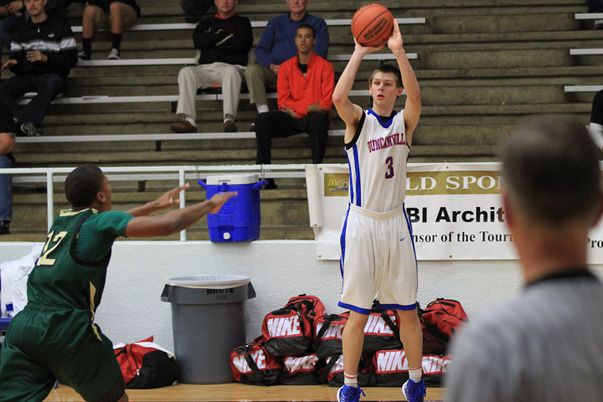 Class of 2015 Duncanville (Tex.) guard Matt McQuaid set out to show coaches he could do more than just shoot in July. Now that the three evaluation periods have come to an end, he feels like he did just that.
"I feel like I played really good," McQuaid, the No. 67 prospect in the 247Composite, told Inside the Hall. "I showed coaches that I'm not just a shooter. I put the ball on the floor and I thought I just played really good."
The 6-foot-5 McQuaid averaged 15.6 points on the Nike Elite Youth Basketball League (EYBL) circuit for Team Texas Elite. He hit 46 of his 102 attempts from behind the 3-point arc in 16 games.
Since re-opening his recruitment on July 20, McQuaid, who had been committed to SMU, is hearing from several programs, including Indiana.
The Indiana staff watched him diligently at the Fab 48 in Las Vegas last week.
"I've been talking to coach (Tom) Crean and coach (Steve) McClain a lot," he said. "They came to three or four of my games in Las Vegas. They really want me and they think they can develop me into a complete player and a really, really good player."
That interest has McQuaid eyeing a fall trip to Bloomington.
"I'm going to take a visit to Indiana for sure," McQuaid said. "Probably an official. The atmosphere (there) I've heard a lot (about). It's a basketball state. I'm really looking forward to seeing that. Coach Crean is a really good coach and it's a great opportunity."
In addition to the interest from the Hoosiers, McQuaid noted that he's also hearing frequently from Texas, Michigan State, LSU, Creighton and SMU, which continues to recruit him.
The most recent offer for McQuaid is from Michigan State, which he said he'll take an unofficial visit to in the coming weeks.
"Two nights ago Michigan State offered," he said. "I'm going to take an unofficial visit there next week while I'm up there to see family."
Filed to: Matt McQuaid