Four-star guard Jimmy Whitt hearing from Indiana "a lot"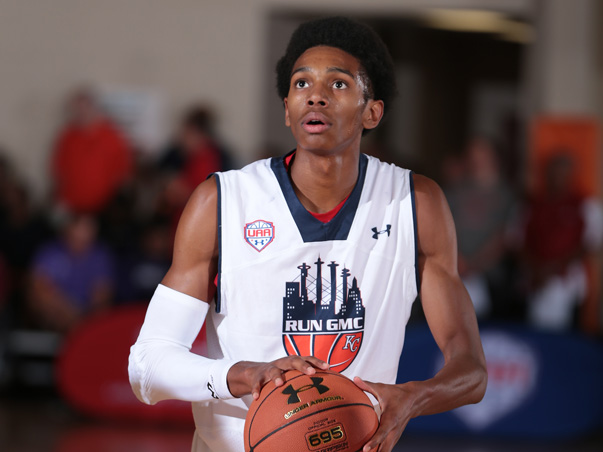 LOUISVILLE, Ky. — Class of 2015 Columbia (Mo.) guard Jimmy Whitt has been one of the biggest risers in the national rankings thanks to his play this summer.
The 6-foot-3 guard was a standout at last month's NBPA Top 100 camp and last week, he led his KC Run GMC team to the semifinals of the Under Armour Finals in Suwanee, Georgia.
As a result, Whitt has risen up to No. 51 nationally in the latest 247Composite rankings and has a strong list of schools in pursuit. After KC Run GMC dropped its opener of the AAU Super Showcase to BABC in overtime at Freedom Hall, Whitt went through some of the schools who are involved in his recruitment.
"SMU, Arkansas, Missouri, Creighton, Colorado, Marquette, Memphis, Illinois," he said.
Indiana, which scouted Whitt at the Under Armour Finals and had associate head coach Tim Buckley in attendance for his first game in Louisville on Wednesday night, is also in the mix, but has yet to offer a scholarship.
"I hear from them a lot," Whitt explained. "I hear from coach Crean. I've talked to them recently, I want to say in the last four days. We've just been catching up on the tournaments we're going to and how things have been going. It's been going real smooth."
Whitt is very familiar with the IU program as he took an unofficial visit to Bloomington earlier in his prep career and also has family that resides in Fort Wayne.
He also has a cousin who currently attends IU and another cousin who also plans to attend the school.
"Great program, great history of basketball," he said. "The whole state of Indiana, it's a basketball state. They love their basketball. The school loves their basketball. It's going to be a sellout crowd every night. To be able to play in front of people who love the sport the way you love the sport, it's huge.
"Coach Crean, he's a great coach, he knows the game so well. He develops players. I really like that about it and I really like the whole feel of the school, not just the basketball, but off the court, the people, the town, the city, it's just a great family feeling."
The next step in the process for Whitt, who averaged 22.5 points as a junior and can play both guard spots, will be to narrow his list down in August.
While IU has yet to extend an offer, it's clear the staff is keeping a closer eye on Whitt as July moves along.
"I think an offer would be huge because after this tournament, I'm going, in August, to start narrow my list down," he said. "Look at the schools who have offered and look at the schools that are showing interest and then just start to narrow the list down from there with my family.
"I feel like they (Indiana) just want to see me more and more, see the process of how I'm developing. I feel like an offer will come eventually."
(Photo credit: Kelly Kline/Under Armour)
Filed to: Jimmy Whitt