Zeller stands out in NBA summer league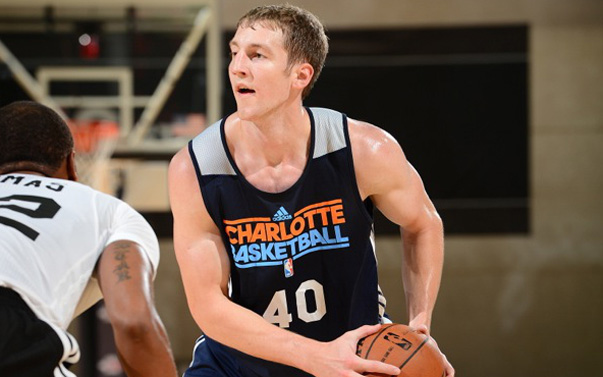 Five former Indiana players — Cody Zeller, Victor Oladipo, Noah Vonleh, Will Sheehey and Christian Watford — participated in the NBA summer league, which concludes later today in Las Vegas.
Oladipo played in the Orlando summer league, while Watford played both in Orlando and Las Vegas. Zeller, Vonleh and Sheehey played in Vegas. Here's a look at how all five players performed:
· Zeller, Charlotte: 15.7 points, 5.3 rebounds, 1.3 steals in 27.7 minutes per game.
The sample size was small — just three games — but the results were encouraging for Zeller, who may be in line for a bigger role following the departure of Josh McRoberts to Miami via free agency. Most impressive about Zeller's play was his shooting from the field (58.6 percent) and the fact that he got to the line 20 times over three games.
His play was enough to draw the praise of Amin Elhassan at ESPN Insider:
Zeller has looked a lot more assertive on the floor this year and more sure of himself, and that confidence has definitely manifested itself in the box score, where he has shot an impressive 63 percent from the field (over his first two games). His combination of size and speed makes him an extremely tough cover, and he's finding ways to get open looks around the rim by being active and taking full advantage of his physical gifts.
· Vonleh, Charlotte: 9.1 points, 10.0 rebounds, 1.1 blocks in 27 minutes per game.
Vonleh's rebounding prowess will likely translate immediately in the NBA and it did just that over seven games in Vegas. The Big Ten freshman of the year had four double-digit rebounding games, which was clearly the bright spot in his play.
On the not-so-bright-side of things were Vonleh's poor shooting and foul woes. He shot just 21-of-74 from the field in Vegas for 28.3 percent and only made one 3-pointer. He also recorded 39 fouls in 190 minutes or one foul every 4.8 minutes. That isn't going to get it done in the regular season if he has aspirations of becoming a rotation player for a team that could compete for a top four spot in the east.
For his part, Vonleh is talking like a player who knows there's plenty of work to be done:
"I knew rebounding was going to translate right away," he told reporters. "There's still a lot of things I need to learn on the defensive end, on the offensive end, but rebounding I know. This summer, I'm going to focus on getting a lot stronger, along with my post moves. My whole body strength, just to be able to maintain guys."
· Oladipo, Orlando: 17.0 points, 6.0 rebounds, 2.3 assists in 27 minutes per game.
Put bluntly, Oladipo didn't really "need" the summer league, but the opportunity to get him reps with newcomers like Elfrid Payton and Aaron Gordon gives the organization a jump on beginning to mold a young, but talented nucleus of players. Oladipo actually returned to Bloomington following the summer league, where he shot 42.5 percent over three games.
Most noteworthy from Oladipo's summer league appearance is that he's lost a considerable amount of weight since the end of his rookie season:
He said he weighed around 230 pounds at the end of his rookie season, but the 6-foot-4 Orlando Magic guard now tips the scales at his college weight of 210 pounds.

"I'm still strong, and I feel more explosive," Oladipo said. "I just feel better out there. Last year, towards the end of the season, if you told me to pick up full[court defense] . . . I would've looked at you like you were crazy. I'm just trying to become a great player."
· Sheehey, New York: 2.5 points, 0.3 rebounds in 7 minutes per game.
Viewed by many as a player who will likely land overseas or in the D-League next year, Sheehey didn't do much to change that perception in Vegas. He scored a total of 10 points in four games on 33.3 shooting.
· Watford, Detroit and Golden State: 2.7 points, 3.7 rebounds, 1 block in 12.3 minutes per game for Golden State and 8.5 points, 3.0 rebounds, 1 assist and 1 steal in 16.5 minutes per game for Detroit.
After spending his first pro season in Israel, Watford returned to the United States with the hopes of playing well enough in the summer league to catch an invite to a training camp this fall. Whether that happens remains to be seen. Watford was solid in Orlando for Detroit, where he scored 17 points over two games, but shot just 30 percent on 3s.
In a recent interview with Zach Osterman, Watford said he wouldn't be opposed to the idea of playing in the NBA Developmental League next season, if he can catch on there or returning to Europe:
"It depends. You've got to look at all the situations. I'm not opposed to (returning). I would go back over there. But if an NBA team wanted me to go down to the D-League, you know, I would do it."
Filed to: Christian Watford, Cody Zeller, Noah Vonleh, Victor Oladipo, Will Sheehey