Indiana offers 2015 big man Nick Marshall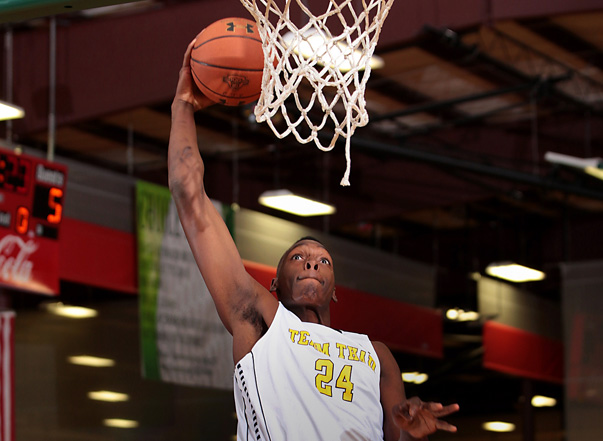 After Raymond Spalding's decision to commit to Louisville on Sunday, Indiana has moved on quickly with other frontcourt options remaining on the board.
The latest prospect to receive a scholarship offer is Lexington (Tenn.) center Nick Marshall, according to Brian Snow of Scout.com.
The Indiana staff scouted the 6-foot-10 center at the Under Armour Finals in Atlanta, where he was playing with Team Thad, this past week during the second July evaluation period.
Rated the No. 123 prospect nationally by the 247Composite, Marshall told reporters in Atlanta that Indiana is among his top five schools:
Nick Marshall anchors Team Thad's defense on the back end, and has had a terrific July in that role. The 6-foot-10, 230-pound big man is a great rim protector and does a very good job snatching up rebounds in his area. After clearing the boards, he's usually busting it down the court and looking for put-backs at the rim. He's not a finished product on the offensive end yet, but he's coming along in that area. Following Thursday morning's win, Marshall named a top five that consisted of Clemson, Indiana, Mississippi State, Ole Miss and South Carolina.
Other schools that have expressed varying degrees of interest in Marshall include Auburn, Georgia Tech, Kansas State, Tennessee and Texas A & M.
(Photo credit: Kelly Kline/Under Armour)
Filed to: Nick Marshall