Shake Milton talks recruitment, lessons learned from LeBron James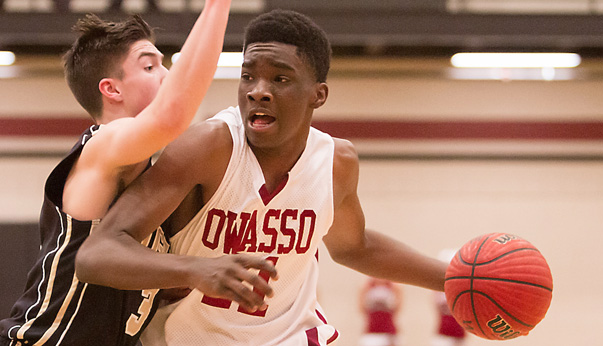 When 2015 prospect Shake Milton found out at the Nike Guards Academy in late June that he was invited to the LeBron James Skills Academy, his reaction was instant excitement.
"There was so much excitement," he recalled on Monday. "Not a lot of people got to do it, so just being able to have that opportunity and to learn from some of the guys, it's really helpful."
Little did the 6-foot-4 Owasso (Okla.) guard expect, though, that he would actually play alongside James at the camp. Doing so this past week in Las Vegas, Milton took note of what made James such a successful player after his up-close examination of the "best basketball player in the world."
"Just the way he leads, it doesn't matter who he's playing with," Milton said. "The way he puts in effort, he always tries to be the leader of the team."
Milton said he could take and apply those lessons to his own game. Especially as his recruitment has picked up, he valued his experience at the LeBron camp — in front of several college coaches — not just for on-the-court improvement, but also for off-the-court values.
While those at the camp emphasized handling pick-and-rolls and learning how to play with people you barely know, it also emphasized taking care of one's body after games.
"I feel like I'm in a pretty good spot, just always trying to continue to do better," Milton said. "I feel like to be the best, it's just being confident in yourself, and that's something everybody can improve on."
Colleges have chosen to invest in Milton, though. Rated the No. 75 prospect in the 2015 class, according to the 247Sports Composite, Milton has offers from Indiana, Oklahoma State, Baylor, SMU, Oklahoma, Illinois, Creighton, Wake Forest and Tulsa, among others.
As of Monday, Milton said Indiana, Baylor, SMU and Oklahoma were recruiting him the hardest, though he said he didn't have any list of favorite schools and that he doesn't plan on setting official visits until after July.
Milton did, though, take an unofficial visit to Bloomington last month. He said on Monday that the experience was "really cool," noting his time meeting the athletic staff and also how well Hoosiers fans treated coach Tom Crean — as a "celebrity," he put it.
Asked whether Milton would consider Indiana for one of his official visits, Milton replied: "definitely."
But there is still a long way to go in his recruitment, he admits. That said, he has a strong opinion of Indiana thus far.
"I just like the basketball tradition they have there," he said. "They are one of the top programs and I like the way coach Crean and his staff develop players."
Filed to: Shake Milton