Kenny Williams talks recruitment, experience at LeBron James Skills Academy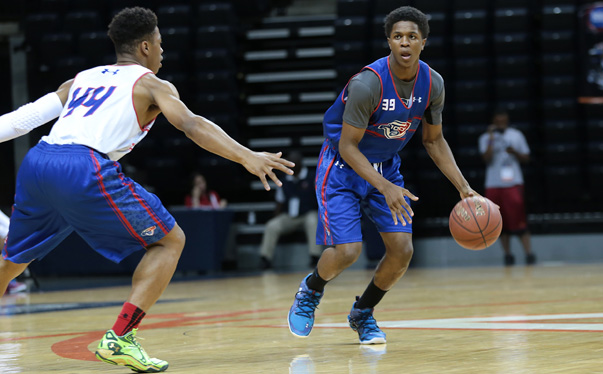 LAS VEGAS —  The summer of 2014 has been a bit of a whirlwind for class of 2015 L.C. Bird (Va.) guard and Indiana recruiting target Kenny Williams. Traveling across the country, Williams spent last week in Las Vegas as a participant in the LeBron James Skills Academy.
On Saturday morning, Inside the Hall sat down with the 6-foot-4 Williams to discuss his experience this summer and his overall recruitment. Our conversation with Williams is posted below:
What has the experience of being at the LeBron James Skills Academy been like, for you?
"It's been great. All of the top competition in the country, and then you have LeBron playing with us a couple times, it's always good to see how you match up against the top players in the class. You know you can't take a day off, and you know how you stack up with them. And I think I stack up well with most two guards in the country."
Was that something you expected coming in or was it something you learned through your experience?
"I really expected it just because I had confidence in myself. I know what I can do and I know I can stack up with the best in the country."
What has your summer been like, for you? And when did you find out you would be heading out to Las Vegas?
"It's been real busy, but I've just been learning as much as I can in the camps and using it outside of them. They gave me the invitation at the (Nike) point guard camp (from June 23-25). It was all really exciting."
What has it meant to you to be at the LeBron James Skills Academy?
"This is my first time out in Vegas. It just means a lot to know that I'm getting some recognition as one of the top players in my class."
With the end to your recruitment in sight going into your senior year, how often do you think about what your commitment will be like?
"I can't wait until it happens. It'll be like all my hard work paying off when I commit, but I'm also really anxious about it."
What are some of the schools that are recruiting you the hardest right now?
"Georgetown, VCU, UNC, Michigan and Indiana, those are the hardest."
Do you have any list of favorite schools or any official visits set at this point?
"There's no top five or official visits set. I'll probably do that after AAU season is over."
Indiana is a school that has shown interest in you, offering you a scholarship. How often are they in touch with you?
"They've been in touch pretty much every week, really on a weekly basis."
What does the interest from the Hoosiers mean to you? Have you thought about taking a visit to Bloomington?
"It means a lot. They just have so much tradition and so many good players coming out, so the fact that they see something in me, it means a lot. And I've had some thought about it, but because I'm so far it's hard to take visits."
(Photo credit: Kelly Kline/Under Armour)
Filed to: Kenny Williams