Swanigan motivated after LeBron James Skills Academy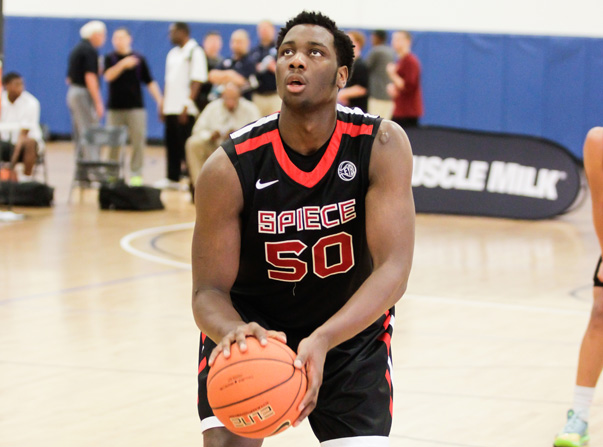 LAS VEGAS — Caleb Swanigan is not satisfied.
Playing at the LeBron James Skills Academy this past week more than a thousand miles from his Fort Wayne home, the 6-foot-8 big man has measured himself against some of the elite players of the 2015 class.
And though he is rated the No. 17 prospect in the class he recently reclassified to (from 2016), Swanigan found himself not fulfilled during his final day in Las Vegas.
"I've got to keep working on what I've been working on," he told Inside the Hall on Saturday. "It's not at the level it needs to be. Like my athleticism and stuff, there's still a lot of improvement. I've improved a lot, but it's still not there."
What Swanigan had, however, was hunger. Eager to get his looks of the top players not only in high school, but the college and professional ranks, too, he wanted to specifically learn what he could do to get better.
He was able to do just that.
"When you compete against the best players you only can get better," Swanigan said. "You know where you are and where you need to take your game to get at that level and dominate.
"It's a day-to-day fight against guys. You've got to win your spot, even if you're contracted and make a lot of money, you've got to win your spot every day."
Swanigan said he hopes to carry those lessons he has learned into the remainder of the summer — and beyond. Up next for the talented big man is this week's Peach Jam in North Augusta, South Carolina, where he'll look to lead Spiece Indy Heat to a title in Nike's premier summer event. In the EYBL regular season, Swanigan averaged 18.5 points and a league leading 12.1 rebounds per game.
With college a year closer, Swanigan's recruitment has intensified as of recently. The five-star Homestead recruit, who has been linked frequently to Michigan State, noted that Pittsburgh, California, Duke, Arizona, UCLA and Purdue are after him the hardest at the moment, though he is not close to making a decision.
He isn't planning on making any decisions on official visits until August or after summer, either.
According to Swanigan, Indiana has "mellowed" its recruitment of him. While he said he heard from Indiana a lot, early on, "as of recently, I haven't heard too much."
The possibility of playing for the Hoosiers, though, is something that does intrigue Swanigan.
"It's right there at home," he said. "And Bloomington is a great atmosphere playing there. I'm real close with James (Blackmon Jr.) and I just know they have a good program there."
Regardless of where he ends up, though, Swanigan said he is honored to receive this much college interest.
But he has learned. He said there is no point in becoming content.
"It means a lot just knowing that the hard work is paying off and stuff. But once you know you're going to college you've got to prepare for it.
"It doesn't stop."
Filed to: Caleb Swanigan