Jalen Coleman recaps experience at LeBron James Skills Academy, talks top six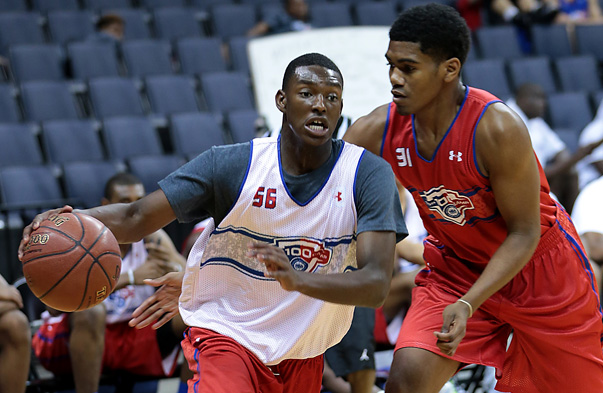 LAS VEGAS — When class of 2015 La Lumiere guard Jalen Coleman heard late in the Nike EYBL season that he was invited to the LeBron James Skills Academy, the Indianapolis native couldn't hold back his excitement.
Though he was rated as the No. 27 overall prospect in his class, according to the 247Sports Composite, he hadn't yet experienced this summer playing with and against only the top talent in his class.
"You can test out everything you've been working on," Coleman told Inside the Hall on Saturday. "As far as putting everything into it, this is where all of your working out, practicing and doing all that stuff shows."
For the 6-foot-3 Coleman, he specifically wanted to use the Cashman Center stage as a proving ground.
With college coaches watching on, he wanted to prove to them — and himself — that he could hold his own as a true combo guard, especially while playing against elite competition.
"I've got a lot to show as far as being a point guard and a two," Coleman said. "I've just been trying to show people I can play the one and be efficient, as well."
And while he was satisfied with the way he played over the course of the camp, which ran from July 9-12, he admitted there were significant challenges that came with it.
Though he has had the luxury of playing with his AAU teammates on All-Ohio Red, Coleman went into Las Vegas with no prior experience playing with many of the other campers. And trying to prove his legitimacy as a point guard, Coleman felt he learned a lot.
"It's kind of hard getting spacing and stuff with people who's never been together, but it's a process," he said. "It's something I'm going to have to deal with, even in college or playing at the next level. It's been a great experience for me."
Though his recruitment has spanned the course of three years — Indiana offered him in 2011, before he even began high school — Coleman's college basketball future is quickly arriving.
Two weeks ago, Coleman cut his list of potential schools to six — IU, Illinois, Notre Dame, North Carolina State, UNLV and Michigan — and is focusing on them as his recruitment winds down. Though he hasn't determined official visit dates yet, he does know that they will play a big factor in his eventual decision.
What else will factor in?
"A great coaching staff, a family-like coaching staff and good academics; I want to major in business," Coleman said. "The roster, who's coming in, who's leaving; things like that.
"Each individual school has something in particular or different. There's pros and cons to each school."
So where does that leave Indiana, the school that has been after him for years?
Well, the Hoosiers are right in the mix of it all.
"It has a lot of things I'm looking for — academics, especially the Kelley School of Business, basketball and success in that," Coleman said. "And of course, basketball is huge there; it's Indiana.
"And the coaching staff, I've been familiar with since eighth grade. They trusted me to offer me in eighth grade and trust my progression, and that shows a lot as far as their trust. I definitely am considering that."
(Photo credit: Kelly Kline/Under Armour)
Filed to: Jalen Coleman