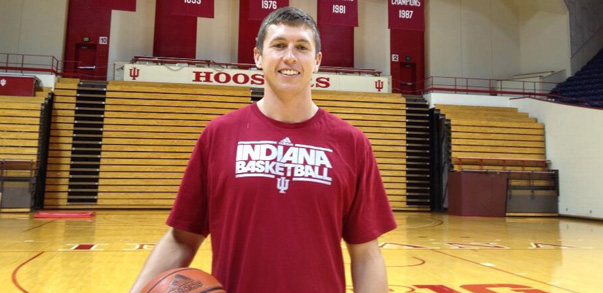 (Photo credit: seantmnews on Twitter)
Ryan Burton, a 6-foot-8 forward from Bedford, spent his first two seasons of college basketball at Bellarmine University, a Division II power in Louisville (Ky.) before deciding to transfer to Indiana to focus on academics.
After sitting out the 2013-2014 season, Burton expressed interest in walking on for the Hoosiers and began working out with the team earlier this spring. The Bedford North Lawrence product will be a part of IU's roster for the 2014-2015 season as a walk-on and last week, he talked to the media for the first time as a member of the IU team.
A full transcript of his comments is available below:
On the opportunity to walk-on at Indiana:
"Growing up just 20 minutes from here, my parents having season tickets all the time, me coming up here when I was little, it's definitely a dream come true. Playing at Bedford North Lawrence with Damon Bailey coming out of there, it's definitely an honor just to be mentioned in the same sentence as him."
On his decision to pursue walking on at Indiana rather than just continuing as a student:
"The first thought, I mean I was transferring mostly for the academics, going to the Kelley School (of Business), taking a year off to focus on that. But definitely, when the opportunity came up to play here at Indiana, the thoughts definitely changed about not playing anymore and I definitely focused on getting back in the routine and it's been a great experience so far."
On the adjustment from the Division II level to the Big Ten:
"It's definitely going to be a lot more physical than Bellarmine, the OVC (Ohio Valley Conference) and Division II. I'm adjusting well so far. I need to put on some more weight, I want to help push my teammates in practice and workouts throughout the season. I think that should be a good experience."
On where he's hoping to develop:
"Just getting bigger and stronger. Practicing with Hanner (Mosquera-Perea) and Devin Davis every day, they're big guys, a lot bigger than what I've faced before. It's definitely good for me and once I get that strength and quickness put on, I can help them every day in practice. I'm looking forward to that."
On how the opportunity to walk-on came about:
"I enrolled at IU this past summer (2013), enrolled in Kelley and got my academics straight. Then this spring, I actually contacted the coaches and tried to get a walk-on try out. So I worked out for about two weeks this spring around final exam time. Everything went good there, had a great experience and then we've been going at it about four weeks now and found out a week before workouts started on June 9, I think it was."
On what type of game he plays:
"At Bellarmine I played more of a bigger role because 6-foot-8 in the Division II game is a lot different than the Big Ten. Definitely going from playing the four position at the Division II level to playing the four maybe down to the three. I've been guarding Troy (Williams) and Stanford (Robinson) in practice every day, so I definitely need to work on my quickness and guarding a lot more versatile guys."
On whether he's talked to Damon Bailey:
"I have not talked to him since I joined the team but I've seen him around the gym (at BNL), but he's moved on to Butler now so I may not be seeing him too much. But I'm sure I'll get the chance to talk to him."
On what it's been like to work out with the team so far:
"It's a lot faster paced, obviously. Practicing with them every day is a lot different than say Bellarmine or even high school. They're just so much bigger and stronger, but even going away from the workouts, they're great teammates as well. They've really come at me with open arms and brought me in so that's been great."
Filed to: Ryan Burton